Trump Rally Crowd Unironically Chants 'Lock Her Up' As Michael Cohen, Paul Manafort Face Years in Prison
Just hours after Donald Trump's former campaign chairman was found guilty on eight charges of fraud and his former lawyer pleaded guilty to a variety of charges, the crowd at campaign rally given by the president in West Virginia Tuesday burst into a chant "lock her up." Paul Manafort, who ran Trump's campaign last summer, now faces up to 80 years in prison. Among the charges the president's former "fixer" Michael Cohen pleaded guilty to were campaign finance violations, which he said were committed at the direction of Trump.
Apparently, the crowd in Charleston didn't appreciate the irony of chanting "lock her up" just hours later. The chant was made famous during the 2016 election campaign as Trump repeatedly attacked his opponent Hillary Clinton over her private email server. At times, Trump has suggested that he could prosecute Clinton although he has never followed through on the threat. More recently, Trump has claimed, without evidence, that Clinton and the Democratic Party were colluding with Russia during the campaign.
Instead it is Trump whose presidency has been dogged by an investigation into Russian interference in the election and possible collusion with his campaign. It was as a result of that investigation that Manafort was found guilty Tuesday.
Trump, though, has attempted to distance himself from the Manafort trial and did so again at the rally, which was held on behalf of Republican Senate candidate Patrick Morrisey. Trump exclaimed "no collusion" while decrying the investigation as a "witch hunt."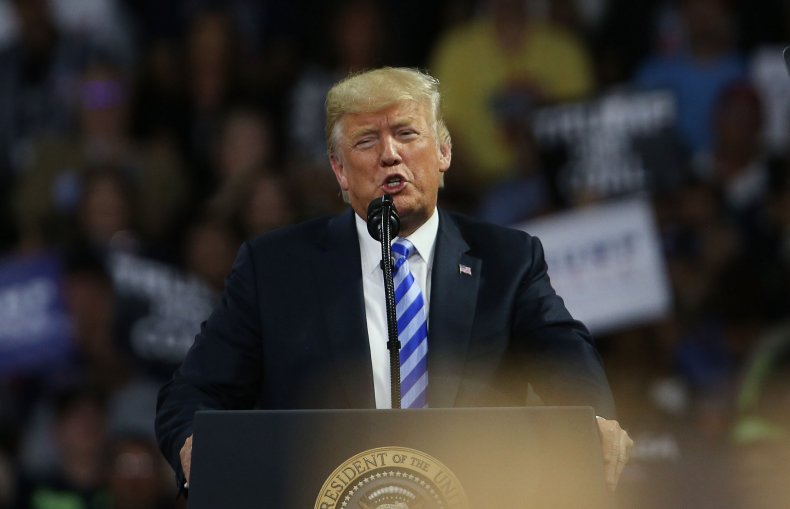 Also seemingly ignoring the events of the day, the crowd at one point broke into a chant of "drain that swamp." The slogan was coined by Trump during his campaign but has been used by Democrats to attack his presidency as his administration and his political allies have been engulfed in a host of scandals.
Trump refused to answer shouted questions about Cohen as he landed in West Virginia prior to the rally. He did, though, speak about Manafort, calling his one-time campaign chief a "good man" and insisting that the charges had "nothing to do with Russian collusion."
Trump's personal lawyer Rudy Giuliani similarly tried to distance the president from the Cohen proceedings.
"There is no allegation of any wrongdoing against the president in the government's charges against Mr. Cohen," Giuliani said. "It is clear that, as the prosecutors noted, Mr. Cohen's actions reflect a pattern of lies and dishonesty over a significant period of time."