President Donald Trump's Minneapolis rally will likely draw supporters and detractors to the venue. But those who want to watch from the comfort of their own home will also be able to tune in.
In his bid for a second term, Trump is scheduled to make a campaign stop in Minneapolis on Thursday night. It's not uncommon for people to wait in line before being allowed into a Trump rally and the Minneapolis event was no exception.
Supporters eager to see Trump live started lining up for the rally 48 hours before the president was slated to speak, according to MPR News. Ahead of the event, the Minneapolis Police Union also showed their support for the president through a t-shirt that said, "Cops for Trump."
The shirt featured an American flag in the shape of Minnesota and three law enforcement badges. With a price tag of $20, people could purchase a shirt at the union's headquarters or on the union's website. Trump praised the Minneapolis police for being "incredible" and claimed that the website crashed because so many people wanted to purchase the shirt.
For those who can't be at the rally in person to hear Trump speak, there were a number of ways they could watch the president live.
One option for those with a cable subscription is to tune in directly from their television. C-SPAN will broadcast the rally, which begins at 8:00 p.m. EDT. Channel information will vary based on location, but anyone with a cable or satellite subscription should be able to access the stream.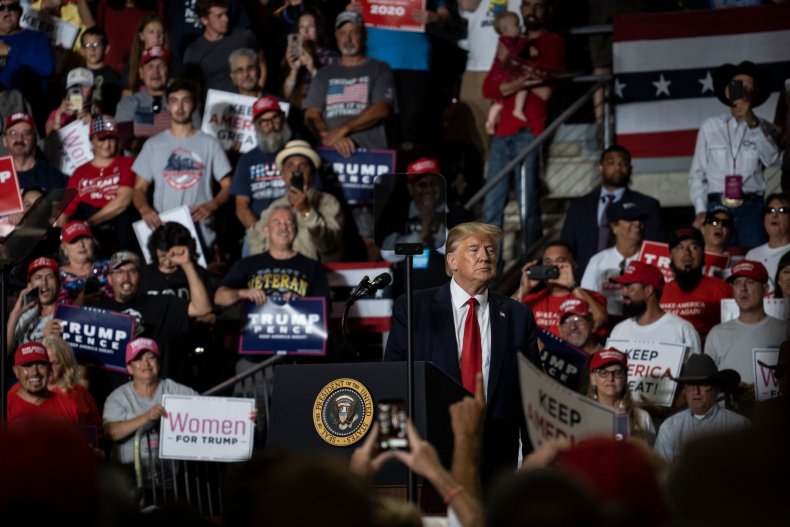 It's possible­, and in some cases likely, that other broadcast news stations will air the rally instead of their usually scheduled programming, however, at the time this article was published, television schedules didn't display the change.
Those who won't be at home during the time of the rally also had a way of tuning in through a mobile device or laptop. Along with streaming the rally on their television channel, C-SPAN's live-stream will be available on its website. However, to access the footage, viewers would have to log in with their television provider credentials.
So, what about those without a cable subscription? It's likely that multiple news outlets would set up live streams and promote them on their websites or social media pages, although they weren't available at the time of this article's publication.
However, KSAZ already had their live stream set up and ready to go on YouTube. The stream is scheduled to begin at 6:00 p.m. EDT.
Not everyone was feeling warm and fuzzy about Trump coming to town, though. Several groups decided to hold a joint protest against Trump's rally, saying that "America First," a phrase Trump frequently uses, was a "racist lie." Trump and Minneapolis Mayor Jacob Frey also had words after the president's campaign accused Frey of using a $500,000 security bill to try to deter him from holding the rally.