Trump Rally in Phoenix, Arizona, Live Stream: How to Watch President's 2020 Campaign Stop
On Wednesday, President Donald Trump will address his supporters at a rally in Phoenix and those who can't make it in person can tune in online and on their televisions.
Trump's 2020 campaign rally will begin at 7 p.m. local time and be live-streamed on the president's YouTube page. Viewers can watch the rally on their televisions and computers through C-SPAN 1, as well as listen to the network's radio station. To access content online, viewers will be asked to log in with valid television provider credentials.
The rally in Phoenix is the first of three the president will hold during a multi-day trip to the West Coast area of the United States. On Tuesday, he arrived in Los Angeles and traveled to the Montage Beverly Hills hotel, where he had a meeting with the U.S. Olympic and Paralympic Committee and L.A. 2028 organizers, according to KTLA.
Trump's trip west is intended to energize his base and create fundraising momentum for his reelection campaign. It will take him to four states—California, Arizona, Nevada and Colorado—and California is the only state he's not expected to hold a campaign rally.
Those who wanted to attend Trump's rally in Phoenix were required to register on his campaign website with their contact information. Although registration is required, admittance is on a first-come, first-served basis, meaning that signing up doesn't guarantee admission into the rally.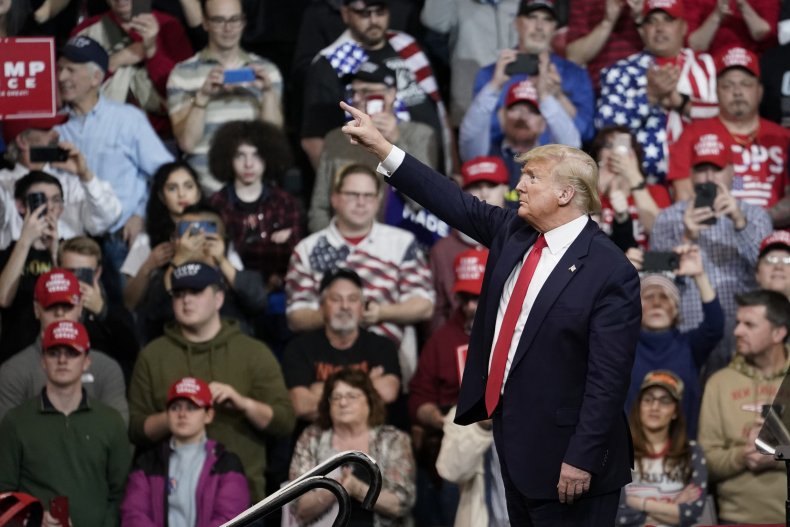 Authorities anticipated up to 20,000 people inside the Arizona Veterans Memorial Coliseum, where the rally will be held, according to KPNX. Doors won't open until 3 p.m. on Wednesday, but the president's supporters were already lining up outside the venue on Tuesday morning, video footage from KNXV showed.
In addition to his supporters, The Arizona Republic reported protesters were also expected to show up to Trump's rally. Ahead of the event, the Phoenix Police Department announced the space between 17th Avenue and 19th Avenue along Encanto Road would be reserved for the exercising of free speech rights. Among the groups planning to protest are the Arizona Jews for Justice, a social justice organization, the Puente Human Rights Movement, as well as Jeffrey Fetterhoff, a candidate for Phoenix City Council.
Protesters who block roadways used by motorists may be arrested for obstructing a public thoroughfare, a misdemeanor crime, according to the Phoenix Police Department.
After his event in Phoenix, Trump is expected to hold rallies in Colorado Springs, Colorado, and Las Vegas on Thursday and Friday, respectively.