Trump Rally in Phoenix Gets Thumbs Up from Alt-Right White Nationalist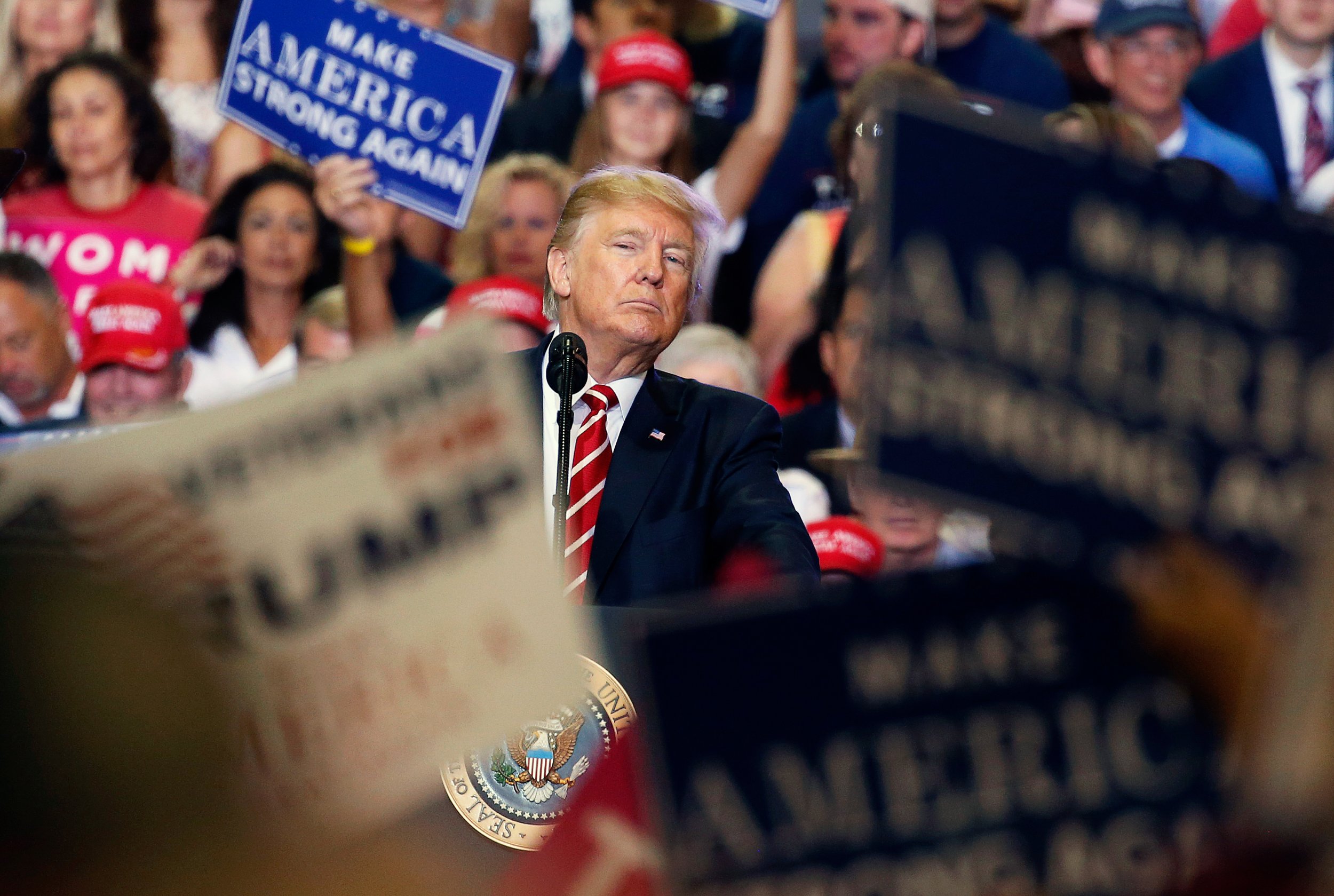 President Donald Trump's eighth campaign-style rally this year got a thumbs up from an alt-right white nationalist who lead a violent white supremacist march in Charlottesville, Virginia.
"Trump has never denounced the alt-right. Nor will he," self-professed racist Richard Spencer wrote on Twitter after Trump's speech in Phoenix, Arizona, early Wednesday.
Spencer praised Trump for calling out anti-fascist protesters who have fought back against groups like the alt-right. Spencer coined the alt-right label for the loose-knit group of white supremacists, white nationalists, conspiracy theorists, and misogynists who he counts among his followers.
During the rally Trump accused the media of "trying to take away our history and our heritage" by aligning with a growing movement to remove statues and monuments commemorating the Confederate Army. Many of these monuments to those who fought to protect slaveholders rights during the Civil War were put up in the 20th century during the rise of Jim Crow laws that enforced racial segregation in the American south.
In response to Trump's statements about the statues, Star Trek actor and gay-rights activist George Takei wrote online that "we all know the code he's speaking."
Read more: Trump has 'repeatedly' denounced white supremacists, says Mike Pence
Racists and white supremacists, however, aren't the main culprits for divisions in the United States, Trump said. "If you want to discover the source of the division in our country, look no further than the 'fake news' and the crooked media."
"Not only does the media give a platform to hate groups, but the media turns a blind eye to the gang violence on our streets!" Trump tweeted early Wednesday, repeating the theme from his rally.
The president spent the first 25 minutes of the Phoenix rally rereading statements he gave in the wake of the violent white supremacist Charlottesville march Saturday, August 12 to prove that he is not racist and that the media is twisting his words. The Charlottesville rally was held to protest a proposal to remove the city's statue of Confederate Army General Robert E. Lee.
On August 12 Trump said there was violence on "both sides" of the rally in statements immediately following the death of counter-protester Heather Heyer and injury of 19 others after they were rammed by a car, police said, was driven by a hard-right activist.
Trump condemned the KKK and neo-Nazis in a second statement on Monday August 14. But he received further criticism the following day when he said during a press conference at Trump Tower that there were "very fine people" marching among the white supremacists.
Former neo-Nazi Christian Picciolini, who runs the white supremacist de-radicalization nonprofit Life After Hate, said last week that he believes Trump's statements were a dog whistle to white supremacists. Both former KKK leader David Duke and Andrew Anglin, who operates the white supremacist website Daily Stormer, praised Trump's statements.
"I heard dog whistles all throughout the campaign and even as recent as two days ago," Picciolini told the podcast Reveal from the Center for Investigative Reporting, referring to the Trump Tower press conference.
Trump also attacked Arizona's Republican Senators John McCain and Jeff Flake, stating he wouldn't mention any names, but accusing at least one of them of being "weak on borders."
"One way or another we're going to get that wall," Trump said, referring to his efforts to get funding to build a larger, longer wall on the U.S.-Mexico border. He said he would shut down Congress if they refuse to give him money for it.
In a transcript of Trump's January 27 phone call with Mexican President Pena Nieto leaked this month, Trump told Nieto that the wall "is the least important thing that we are talking about, but politically ... might be the most important."
Ahead of the rally Arizona's mayor Greg Stanton pleaded with the president to hold off visiting until the rawness of the racial tensions inflamed by the Charlottesville rally subsided.
"America is hurting. And it is hurting largely because Trump has doused racial tensions with gasoline," he wrote in a Washington Post editorial Monday. "With his planned visit to Phoenix on Tuesday, I fear the president may be looking to light a match."