Trump Rally in Toledo, Ohio, Live Stream: How to Watch President's 2020 Campaign Stop
With the election year underway, President Donald Trump has hit the ground running, and less than 10 days into 2020, he'll hold a campaign event in Toledo, Ohio.
On Thursday, Trump is scheduled to address his supporters in a rally-style environment for the first time since the killing of Iranian General Qassem Soleimani. Soleimani was the target of a drone airstrike in Iraq last week, a move the president praised for protecting American lives while critics decried it for not following protocol and dangerously escalating tensions.
One of Trump's methods of amping up his supporters during his rallies is touting the success of his presidency, in contrast to his detractors' criticism. So, given the proximity of the rally to the airstrike, it's very possible the topic will come up in Trump's remarks.
As is the policy for many of Trump's events, people can register for two free tickets for the event, and entrance is on a first-come, first-served basis. Those who can't make it to the Huntington Center for the rally can tune in online to catch Trump's speech.
Phoenix-based news outlet KSAZ had a live stream set up on its YouTube page, and C-SPAN also planned to broadcast the rally. Viewers can watch the rally on their TVs by tuning in to C-SPAN 2 or go online at C-SPAN.org.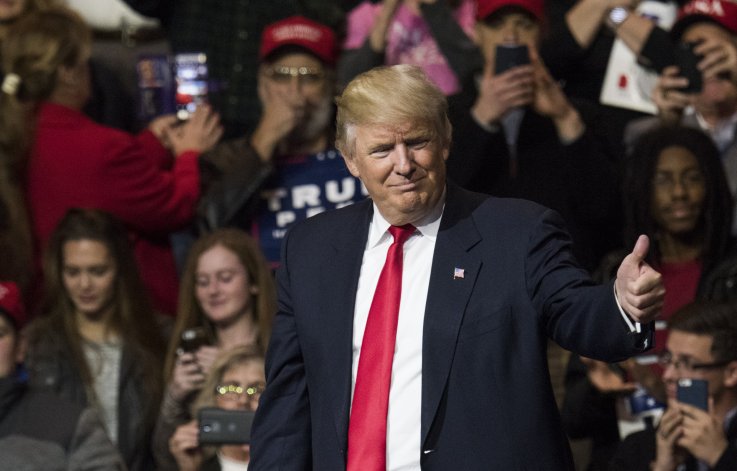 This isn't Trump's first time courting Toledo voters—he made more than one stop in the Glass City during his first bid for president. During an October 2016 rally, he touted repealing and replacing Obamacare, bringing jobs back to the U.S. and suspending entry of Syrian refugees into the U.S.
Trump claimed a decisive victory in both the popular and electoral vote in Ohio, but lost Lucas County, where Toledo is located, to Hillary Clinton.
Ohio isn't a done deal for Trump in 2020, and it's smart for candidates on both sides of the aisle to pay voters in the state a visit. In recent decades, Ohioans have voted for both Democratic and Republican candidates, including Presidents Barack Obama, George W. Bush, Bill Clinton, George H.W. Bush, Ronald Reagan and Jimmy Carter.
In September, the Republican National Committee kicked off a campus initiative, dubbed Make Campus Great Again, at Ohio's University of Akron. Youth voters historically support Democratic candidates, but Mandi Merritt, a regional communications director for the RNC, told the Akron Beacon Journal that Trump's campaign was "fighting" for that demographic.
Vice President Mike Pence is expected to appear with Trump at Thursday's rally. Bob Paduchik, a senior adviser for the Trump campaign and former co-chair of the RNC, told WVXU that winning Ohio was critical. "There's no real scenario where he loses Ohio and wins Pennsylvania or Michigan. It just doesn't happen. Ohio is a good bellwether of the country. Nothing's changed with that," he said.
Paduchik and Ohio Republican Party Chairman Jane Timken were confident Trump would be victorious in November because he's delivered on his promises. Timken told WVXU that Trump has a strong campaign presence in Ohio and that staffers are already connecting with voters.
Trump Rally in Toledo, Ohio, Live Stream: How to Watch President's 2020 Campaign Stop | U.S.