Trump Reaches Over GOP to Praise Bipartisan Stimulus, But Pelosi Won't Budge
To the dismay of congressional Republicans, President Donald Trump has undercut their negotiating leverage with Democrats by reaching over their heads to offer accolades for a bipartisan stimulus proposal.
The president has said he "agrees with a lot" of a $1.5 trillion package from the House Problem Solvers Caucus. And as for parts of it that he doesn't agree with, such as the $500 billion included for state governments, "we can probably negotiate."
But House Speaker Nancy Pelosi is having none of it, tightening the grip of her newfound influence to remain dead set on a $2.2 trillion proposition.
"I made my statement," the California Democrat told reporters of the Problem Solvers' proposal. "Just go read my statement."
She threw the group of bipartisan lawmakers a bone, but there was no meat attached to it.
"I respect what they're doing," she said. "This is not about perfect being the enemy of the good."
Bone or no bone, the political reality is that Pelosi and her Democratic committee chairs have outright dismissed the Problem Solvers' plan, saying the proposed package "falls short of what is needed to save lives and boost the economy." With Trump's sudden push for higher pandemic relief spending, the House speaker knows it puts Republicans in a box and is steadfast on her requirements.
But this outright rejection by Democratic leadership has further frustrated moderate and vulnerable rank-and-file Democrats, who are growing increasingly anxious and outspoken that they need to pass some form of additional aid before Election Day.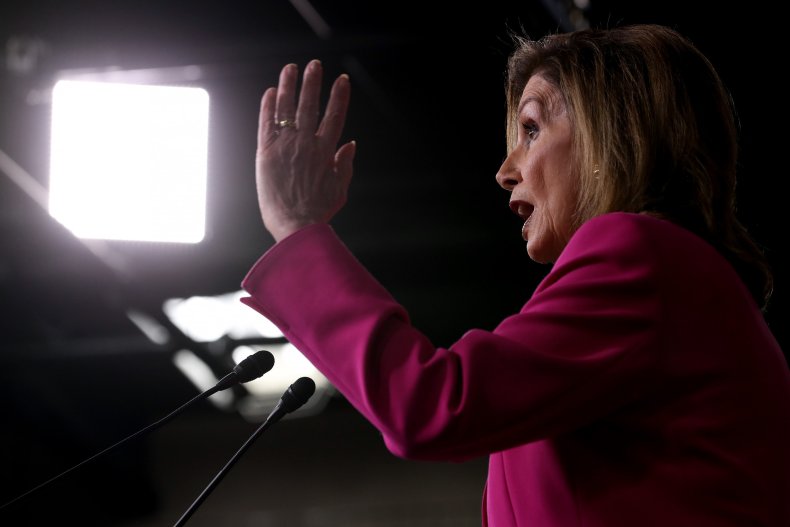 Pelosi on Friday continued to reject the bipartisan proposal that was meant to simply restart talks—not actually become law—by refusing to move off the $2.2 trillion she's demanded that the White House agree to as a starting point for negotiations.
Trump's praise for the $1.5 trillion plan—although stopping short of endorsement—pushes Republicans to support more expensive legislation than their previous offers, and reduces the leverage GOP senators have in any future stimulus negotiations.
Minutes after her press conference, Bloomberg TV asked Pelosi if something would be better than nothing. Her answer further cemented the plan's lack of future.
"It's a missed opportunity," Pelosi said.
Although Trump has undercut Republicans' messaging on passing another stimulus, which they say is too expensive and gives them "heartburn," they've shown more willingness to consider the proposal than Democrats.
Trump said he sees a middle ground that can be reached.
"I like the larger amount, I've said that," Trump told reporters on Wednesday. "Some of the Republicans disagree, but I think I can convince them to go along with it, because I like the larger number."
The president offered words of encouragement for the stalled negotiations that have yet to rekindle, and then pivoted to place blame for the economic downturn on a favorite target.
"We're getting closer," Trump said. "I do like a lot of money getting sent to people that really were hurt unnecessarily by China, because they could have stopped it."
The Problem Solvers' plan includes a second $1,200 check, enhanced weekly jobless benefits of $450 for the first two months followed by 100 percent wage replacement through January, $240 billion for the Paycheck Protection Program, $145 billion total for schools and childcare, $500 billion for states, $10 billion in food aid, $25 billion for rental assistance, $15 billion for the Postal Service, $400 million in election assistance and liability protections.
Republicans on Capitol Hill are adamant about their disapproval of the half a trillion dollars for state and local governments, calling it a "non-starter." But for Democrats, the lack of state and local aid, which would help offset massive budget shortfalls that could lead to large future job cuts, is a non-starter.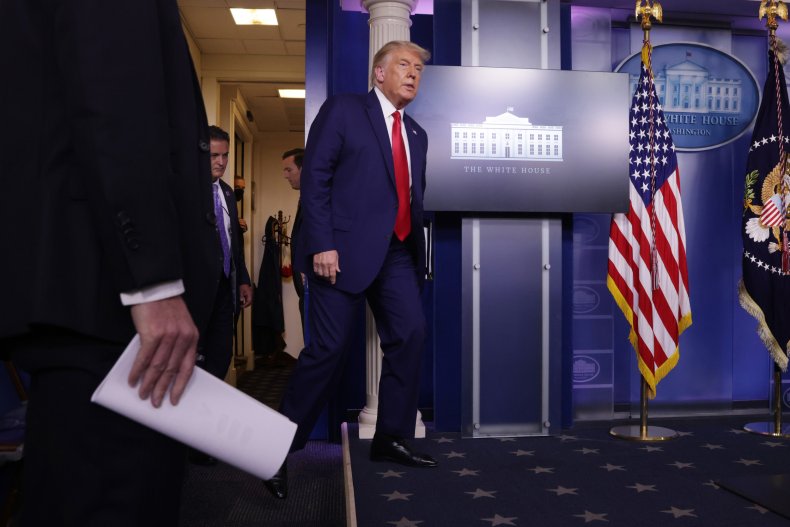 "State and local government is their big hang-up," Pelosi said of her colleagues across the aisle. "They have contempt for science and disdain for state and local government."
Pelosi's unwavering demand for $2.2 trillion roughly splits the difference between the $3.4 trillion HEROES Act that the House passed in May and a $1 trillion proposal, known as the HEALS Act, from Senate Republicans that ultimately never received a vote because of intra-party dissent.
Top White House negotiators Treasury Secretary Steve Mnuchin and White House chief of staff Mark Meadows have suggested they could go as high as $1.5 trillion. But GOP senators have pushed for an even lower number than their HEALS Act. They've tried to advance a roughly $500 billion bill that Senate Democrats blocked.
The House will technically remain in session until a deal is struck and passed, Pelosi announced this week, but lawmakers will return home in October to campaign. They'll be on 24-hour notice to return to the nation's capital for a vote.
A stimulus agreement is not expected before Election Day, given the refusal to budge by congressional leaders. Pelosi and Mnuchin talked this week, though the crux of their discussions have been about the looming government shutdown cliff and the need to pass a stopgap spending measure by month's end.
Pelosi suggested that Democrats may increase the pressure as time passes because of increased strain on certain businesses like restaurants.
"If some of these additions are to be taken into consideration, that means that in order to stay at halfway between where they are and where we were, that we'd have to come down further in some of our own original priorities in the bill," she said. "And that's what negotiation is about."