Trump in 'Really Dangerous Territory,' Maybe Committed 'Treason': Kirschner
Former federal prosecutor Glenn Kirschner said Friday that Donald Trump is in "really dangerous territory" legally, and that the former president may have committed "treason."
Trump faces multiple investigations into his efforts to overturn the 2020 election results, his business practices and his alleged mishandling of classified government documents. The former president's Florida residence was raided by the FBI on August 8 as agents sought to recover top secret and classified documents he had allegedly resisted turning over after leaving the White House.
In response to the raid, Trump initially floated the possibility that federal agents had planted the classified materials at his Mar-a-Lago home. He and his team, however, later pivoted to say that he had "declassified" the documents. Speaking to MSNBC on Friday, Kirschner pointed out that whether or not the documents were classified doesn't make a difference when looking at the laws the search warrant cited as having potentially been violated.
"Importantly, none of those three crimes require that the documents be classified," the legal analyst for MSNBC and NBC News said. "So Donald Trump forever carping about, 'I thought these things were declassified,' and so magically they were—that's not a defense. It doesn't matter."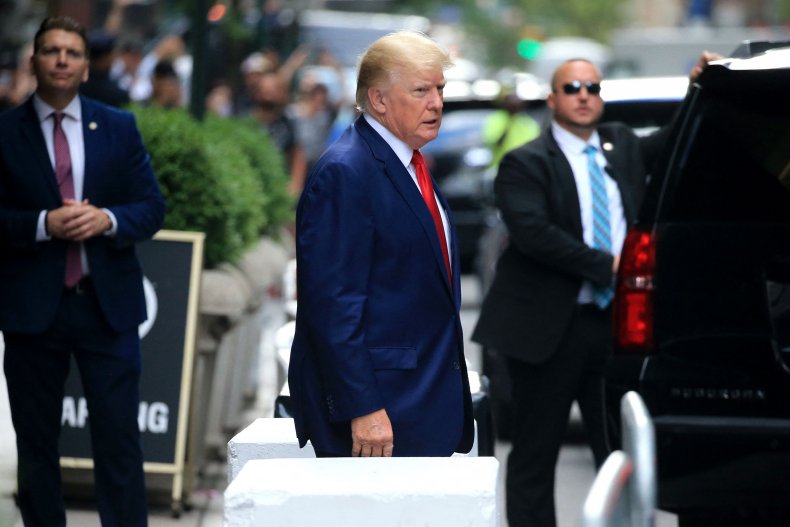 "This is some really dangerous territory for Donald Trump," Kirschner said, who also reminded viewers that the ex-president "launched an armed attack on the Capitol to stop the peaceful transfer of presidential power."
"Let's not forget about that little crime that may actually amount to treason," he added.
Trump's team last Friday evening released a statement saying that the former president had a "standing order" to declassify documents. Trump also said on his Truth Social platform that the materials at Mar-a-Lago were "declassified." However, two of Trump's former chiefs of staff, John Kelly and Mick Mulvaney, told CNN for a Thursday article that there was no such order in place when they worked as his top aide.
"Nothing approaching an order that foolish was ever given," Kelly said. "And I can't imagine anyone that worked at the White House after me that would have simply shrugged their shoulders and allowed that order to go forward without dying in the ditch trying to stop it."
Kirschner's remark about an "armed attack" was a reference to January 6, 2021, when hundreds of Trump's supporters violently rioted at the Capitol. That assault came after the then-president told them at a nearby rally to walk to the federal legislative building and "fight like hell" to save their country. Trump had lied for several months about the outcome of the 2020 election, claiming that President Joe Biden only won through widespread voter fraud.
His supporters apparently aimed to prevent the official certification of Biden's electoral college victory. Members of Congress and Vice President Mike Pence were convened to certify the election results when the attack occurred, and many of Trump's supporters chanted "Hang Mike Pence" during the riot.
Although Trump continues to say that the last presidential election was "rigged" or "stolen," no evidence has corroborated the allegations. Audits and recounts have consistently reaffirmed the former president's loss to Biden. Dozens of court challenges to the election results have failed, with prominent former Trump administration officials and leading Republicans also rejecting the false claims.
Trump contends that he and many of his allies have been targeted as part of a broad and wide-ranging politically motivated conspiracy, or "witch hunt." The former president said that he has done nothing wrong in connection to any investigation.
Newsweek reached out to Trump's press office for comment.