Trump's 'Reckless' Alaska Drilling Plan Could Kill Polar Bears, Ruin One of the Last Pristine Areas of U.S.
The Trump administration's "reckless" Arctic drilling plans for a remote protected area in Alaska will endanger the lives of animals, scar the landscape and exacerbate climate change, environmental groups told Newsweek.
Yesterday, the Trump administration took a significant step to opening up the Arctic National Wildlife Refuge in Alaska—one of the nation's last pristine areas of wilderness—to oil and gas drilling.
Secretary of the Interior David Bernhardt announced a leasing program on Monday that will make more than 1.5 million acres of the refuge's coastal plain area—around 8 percent of the total area —available for oil and gas exploration.
Bernhardt said Monday's announcement "marks a new chapter in American energy independence" and would lead to the creation of thousands of jobs. But environmental groups and some members of Alaska's indigenous communities strongly oppose the plans and lawsuits are likely to follow.
In addition to the fact that any drilling in the region will only lead to more greenhouse gas emissions, making it harder to mitigate the climate crisis, environmentalists are also concerned about the potential impacts on wildlife species in the refuge.
"The Arctic National Wildlife Refuge is the country's largest wildlife refuge and one of the last pristine places we have left," Kristen Monsell, a senior attorney at conservation non-profit Center for Biological Diversity, told Newsweek.
"It's home to an amazing array of wildlife, including polar bears, caribou, Arctic foxes, brown and black bears, muskoxen, rare plants and about 200 species of birds. The coastal plain is the birthing grounds of the Porcupine caribou herd and the most important land-based denning habitat for polar bears. The fact that all this drilling will happen in what is supposed to be a refuge for wildlife just adds insult to injury."
According to Monsell, animals will be at risk of harm at every step of the drilling development process, through noise pollution from construction of—and operations on—gravel and ice roads and airstrips, to potential oil spills during the drilling and transport of "this dirty fossil fuel."
"This reckless plan risks killing and injuring numerous species, including polar bears, caribou and migratory birds," Monsell said. "The large vehicles used in seismic and other oil and gas activity can kill and harm polar bears by crushing their dens. Noise pollution can disrupt essential behaviors like breeding and feeding."
Polar bears living in the Arctic refuge are threatened with extinction, with the Southern Beaufort Sea population, found within the refuge's coastal plain, already numbering as few as 900 individuals, having suffered a 25-50 percent decline from previous estimates.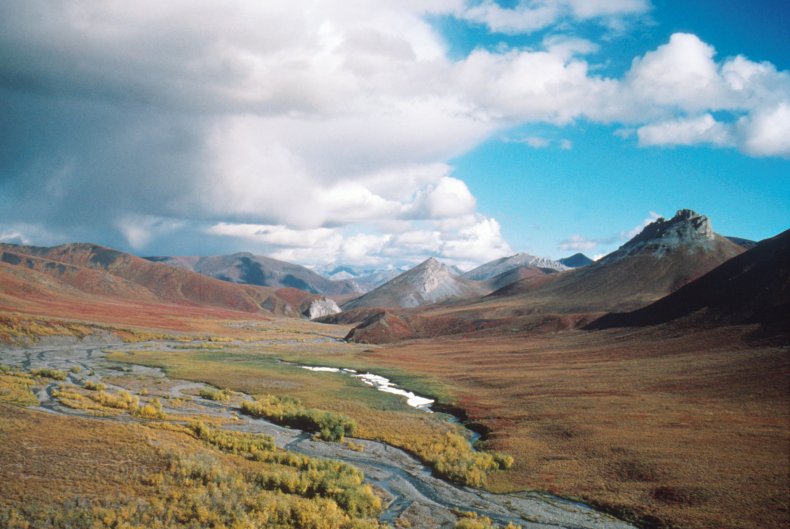 "The coastal plain of the Arctic Refuge offers the most important onshore denning habitat for this population," Nicole Whittington-Evans, Alaska Program Director at Defenders of Wildlife, told Newsweek. "Close to 77 percent of the coastal plain is designated critical habitat for threatened polar bears, which are increasingly coming ashore to den and raise their newborn cubs due to the climate-driven loss of sea ice."
"The Southern Beaufort Sea population is considered one of the most imperiled of the nineteen polar bear populations found throughout the circumpolar Arctic and will be further harmed by oil and gas development in the coastal plain of the Arctic Refuge. Industrializing this area could be the death knell for the imperiled Southern Beaufort Sea polar bear population."
Under the Marine Mammal Protection Act, polar bears are protected from human activities that may kill, injure, harass or disrupt essential behaviors like breeding, nursing or sheltering. To meet biological standards prescribed under this conservation law, the U.S. Fish and Wildlife Service cannot allow the death of a single Southern Beaufort Sea polar bear from oil and gas activities, according to Whittington-Evans.
The potential for oil spills in the pristine Arctic environment also risks harming or killing wildlife, particularly polar bears, Monsell said. Polar bears are particularly vulnerable to oil spills.
"Polar bears must maintain a pristine hair coat as insulation against the cold. When a polar bear comes into contact with spilled oil, it can soak a polar bear's fur and persist for several weeks, where it will be groomed and ingested, irritate the skin, and destroy the insulating abilities of the fur," she said.
"Studies show that fatalities can occur from effects on lungs, kidneys, blood, gastrointestinal tract, and other organs and systems. An oil-coated bear that is not cleaned and rehabilitated will probably die."
Polar bears, migratory birds, and several other animals in the Arctic refuge are particularly sensitive to changes in the climate, and thus will be "gravely threatened" by the greenhouse gas pollution caused by the drilling plans, Monsell said.
For example, recent research has suggest that if greenhouse gas emissions aren't curbed dramatically, polar bears could be wiped all but wiped out by the end of the century.
"The oil and gas activities proposed in the Arctic Refuge are irreconcilable with protecting the world's most imperiled polar bear population," Monsell said.
In addition, the federal environmental analysis of the drilling plans notes that many bird species that nest on the coastal plain are experiencing declines in their populations and many could suffer catastrophic consequences from climate change.
"The federal environmental analysis finds that these effects, combined with development-related impacts across the ranges of many bird species, may result in their extinction within 85 years," Monsell said.
Furthermore, oil and gas drilling could cause significant damage to the pristine ecosystem of the wildlife refuge, which harbors the greatest biodiversity of any area north of the Arctic Circle.
"Opening this amazing place to oil and gas activity will scar the landscape with drilling equipment, gravel roads, airstrips and hundreds of miles of pipelines. It will cause harmful air pollution and permanent damage to Arctic wetlands and tundra vegetation," Monsell said.
Newsweek has contacted the U.S. Department of the Interior for comment.