Trump Recruits Ex-Cops to Watch Polls In Minnesota Where Biden Leads By 8 Points
President Donald Trump is recruiting retired police officers in Minnesota to serve as "challengers" at voting locations as state polls show his Democratic competitor Joe Biden ahead by 8 percent.
On Wednesday, William Willingham, a senior legal adviser and director of Election Day operations for the Trump campaign, sent an e-mail to Minneapolis Police Federation President Lieutenant Bob Kroll asking Kroll to recruit 20 to 30 retired officers as "poll challengers" to work full or part-time shifts on Election Day in "rough neighborhoods."
"Poll Challengers do not 'stop' people, per se, but act as our eyes and ears in the field and call our hotline to document fraud," the e-mail, obtained by the Minnesota Star Tribune, said. "We don't necessarily want our Poll Challengers to look intimidating, they cannot carry a weapon in the polls due to state law.... We just want people who won't be afraid in rough neighborhoods or intimidating situations."
Kroll reportedly forwarded the email to other union members. Kroll is a Trump-supporter who joined the president on stage at an October 2019 rally to help tout Trump's law-and-order platform.
Newsweek contacted the Trump campaign and the Kroll for comment.
According to state law, only one poll watcher representing each political party is allowed per precinct and poll challengers aren't allowed to contest any voter's eligibility unless "they have personal knowledge of that voter's ineligibility."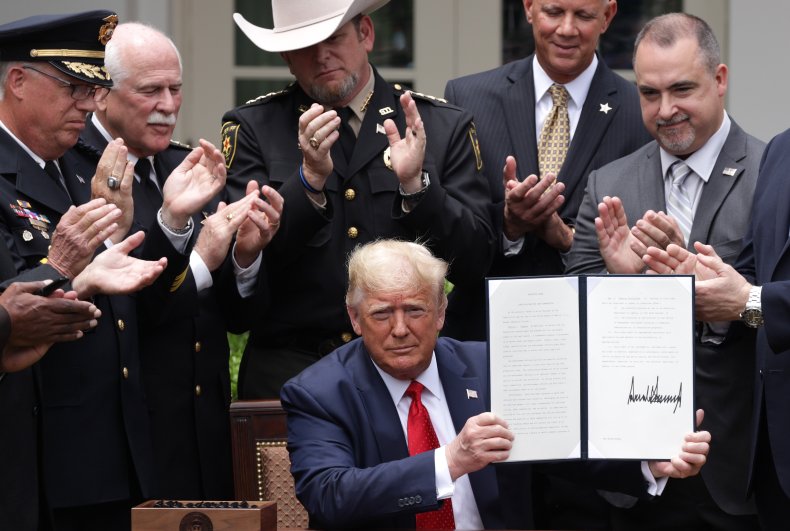 "To the extent that Bob Kroll wants to participate in a voter intimidation campaign, the city will take that very seriously," Minneapolis City Council Member Jeremiah Ellison told the Minnesota Star Tribune. "There's the clear dog whistle of 'rough area,' and we need people who aren't 'easily intimidated,' and people who aren't scared."
A "dog whistle" refers to language in political messaging meant to suggest potentially offensive things to particular groups without provoking opposition from others. In this case, Ellison believes a "rough neighborhood" may refer to predominantly non-white ones throughout the state.
Biden is currently leading Trump in the state with 50.2 percent of support compared to Trump's 42.2 percent, according to the polling aggregation site FiveThirtyEight.
In late September, Trump's son, Donald Trump Jr., appeared in a social media video ad asking people to join an "army" to stop the "radical left" from committing their plan to "steal" the election.
The president has also promised to deploy thousands of law enforcement officials to polling places on Election Day, a move that will discourage voting by people with a distrust of police.