'Black Voices for Trump' Advisory Board Member Once Said Homosexuality is 'Evil' and an 'Abomination'
A board member of a coalition of black leaders to reelect President Donald Trump who has made numerous misogynistic comments, also made demeaning remarks about homosexuality, including that it is "evil" and an "abomination."
Clarence Mason Weaver, a right-wing pundit listed as one of 35 board members of the 'Black Voices for Trump' coalition, spoke negatively about homosexuals on at least five occasions, the progressive watchdog Media Matters for America found in a report published on Wednesday.
In a November 2018 video posted to his YouTube channel titled "I don't like ads making social statements," Weaver criticized an advertisement with a woman married to a same-sex partner and said, "Homosexuality is an abomination."
"Not just a sin—it's abomination," Weaver said. "How can you find common ground with evil and sin?"
Weaver added that he can and has worked "with a lot of homosexuals" on political and social issues "but I'm not going to stand there and pretend like that's not a sin."
"I would not pretend, I'm not going to try to fool God to make you feel comfortable," Weaver said. "I appear on programs all the time with homosexuals. I will not appear on a program with a homosexual host and pretend like that's normal."
It is not clear when Weaver, a conservative social commentator and author, was added to the list of board members of the coalition Trump launched earlier this month at a rally in Atlanta. The coalition "will encourage the black community to re-elect President Donald J. Trump by sharing experiences and successes of everyday people as a result of the Trump administration," according to its website.
In January, Weaver tweeted a Reuters story about an Indian army chief getting flak for "no gay sex" comments and shared his take in all capital letters: "What is wrong with being homophobic."
The previous month, Weaver tweeted a story about a transgender Miss Universe contestant and opined, "This is not gender equality, it is gender delusion. You are a man. You don't have a womb, you are a guy. It is not gender equality because you don't equal a women."
In a February 2018 video post titled "Something is strange about these school shootings," Weaver said that one of the reasons he decided to homeschool his children was to "get them out" of possibly having to "worry about homosexual training."
In a May 2016 video shared on Facebook, Weaver accused then-President Barack Obama of seeking to "destroy the boundaries between men and women." Weaver complained, "homosexuality is all over TV. Soft men. In our dancing, in our music. Men are weak and women are strong."
The White House and Weaver did not immediately respond to requests for comment from Newsweek on Wednesday.
Weaver has broadcast his support for Trump and had photos on his Facebook page with the president, including some with both men flashing thumbs up, on Monday when Media Matters for America ran a story on his past statements belittling women. Weaver said women should be "handmaidens," be "submissive," and complained about them in the workplace.
On Wednesday, it appeared Weaver had removed photos with Trump and Trump campaign hats and reelection signs from his account.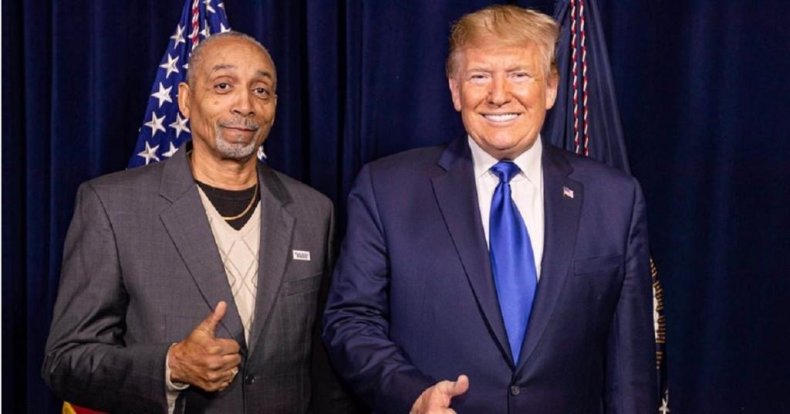 A former talk show radio host, Weaver has appeared on Fox News and Fox Business Network. He has written several books including It's OK to Leave the Plantation: The New Underground Railroad.