President Donald Trump ⁠—⁠ refusing to let go of his dubious claim that Alabama was threatened by Hurricane Dorian ⁠— on Thursday afternoon shared more maps of the storm's trajectory despite having been called out by meteorologists for giving out incorrect information.
During a discussion about early National Weather Service forecasts of Dorian in the Oval Office on Wednesday, Trump displayed a map that appeared to have been altered with a Sharpie marker to include Alabama in the storm's trajectory. "We got lucky in Florida, very, very lucky indeed," he told reporters. "We had actually our original chart was that it was going to be hitting Florida directly... And that would have affected a lot of other states."
The incident came after Trump was called out by the National Weather Service on Sunday claiming in a tweet that Florida, South Carolina, North Carolina, Georgia and Alabama were all states in the path of the looming storm. "Alabama will NOT see any impact from #Dorian," the agency tweeted in response. "We repeat, no impacts from Hurricane #Dorian will be felt across Alabama. The system will remain too far east. #alwx."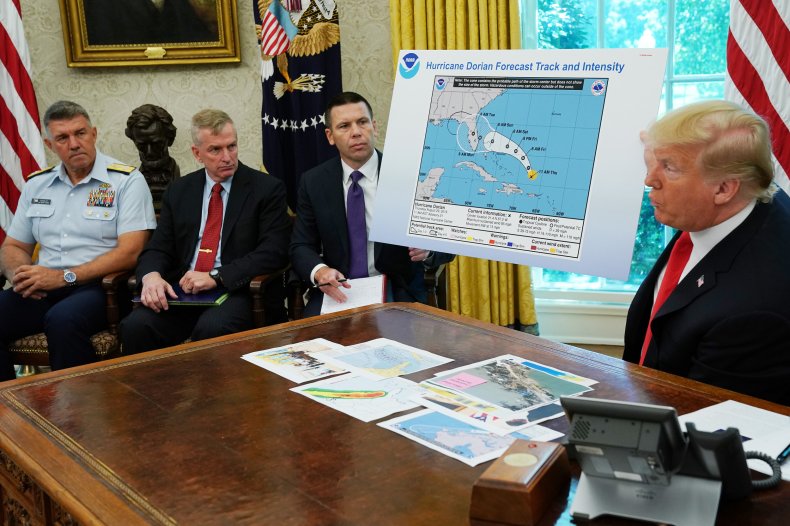 Despite facing widespread backlash for haphazardly doctoring the map, Trump refused to back down on Thursday and relentlessly defended his use of the altered visual.
"In the early days of the hurricane, when it was predicted that Dorian would go through Miami or West Palm Beach, even before it reached the Bahamas, certain models strongly suggested that Alabama & Georgia would be hit as it made its way through Florida & to the Gulf," the president tweeted earlier this morning. "Instead it turned North and went up the coast, where it continues now. In the one model through Florida, the Great State of Alabama would have been hit or grazed. In the path it took, no."
He added: "What I said was accurate! All Fake News in order to demean!"
Hours later, Trump tweeted several outdated National Weather Service maps, writing: "Just as I said, Alabama was originally projected to be hit. The Fake News denies it!"
The White House on Thursday stepped in to defend Trump from mounting criticism from Democrats, cable news and the public by issuing a statement from Rear Adm. Peter Brown, a Homeland Security and counterterrorism adviser. Brown said he briefed the president numerous times about Dorian, using models that demonstrated the storm's predicted path.
"These products showed possible storm impacts well outside the official forecast cone," Brown said. "While speaking to the press on Sunday, September 1, the President addressed Hurricane Dorian and its potential impact on multiple states, including Alabama."
"The president's comments were based on that morning's Hurricane Dorian briefing, which included the possibility of tropical storm force winds in southeastern Alabama," he added.
However, some meteorologists have denied that Alabama was ever in the hurricane's path. When asked on Sunday if Trump was briefed about Dorian's impact on the state, Christopher Vaccaro, a spokesperson for the National Oceanic and Atmospheric Administration said, "The current forecast path of Dorian does not include Alabama," according to AP.
"Trump should have just admitted he made a mistake and moved on!" Phil Klotzbach, a research scientist in the Department of Atmospheric Science at Colorado State University, told AP.
"Alabama was never in the five-day cone except for a tiny sliver of the southeast corner of the state at one point," Weather.com meteorologist Bob Henson added.