Trump Refuses to Acknowledge Threat From Moscow, but Will Arm Russia's Baltic Neighbors
During Tuesday's meeting with leaders of the three Baltic States—Estonia, Latvia and Lithuania—President Donald Trump pledged to provide Russia's neighbors with large caliber ammunition and to help train and bolster the region's military forces.
But when asked directly whether he and the Baltic leaders had experienced a "meeting of the minds" in regard to the threat Moscow poses to the sovereignty of these countries, Trump failed to mention Russia in his response.
"For centuries, the U.S. has stood with the Baltic people…. We're with them, we're friends and we're allies," Trump said during the press conference, refraining from mentioning Russia by name.
Since Moscow began supporting pro-Russian separatists in its neighbor Ukraine in 2014, the Baltic countries have been working to boost their defenses to prevent a similar invasion of forces nicknamed "little green men," or soldiers who appear professionally trained wearing Russian-style combat uniforms, but who lack any identifying insignia. These men have been spotted frequently supporting separatists in Ukraine, and are viewed as a sign of Russian interference.
Unlike Ukraine, however, all three Baltic States are members of the European Union and the North Atlantic Treaty Organization (NATO). Their membership means that other NATO countries, including the U.S., would be obligated to help defend their sovereignty if Russia were to invade.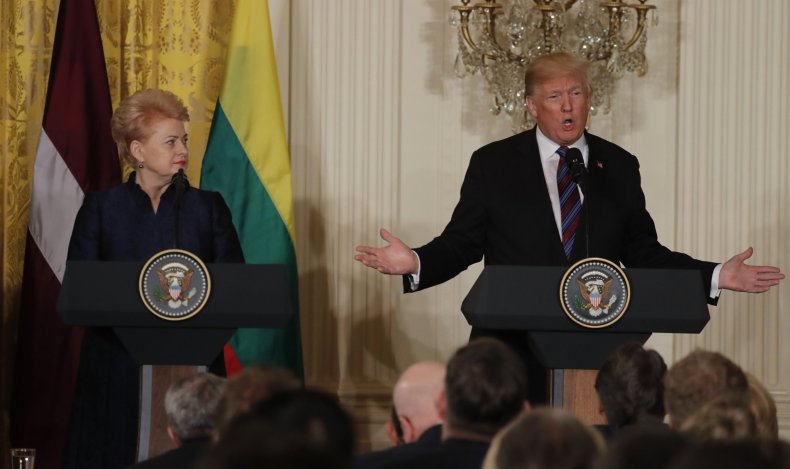 As such, official U.S. policy has been to support the military development of the Baltic countries. More than 5,000 U.S. troops will join multinational forces in this year's Saber Strike, the largest joint military exercise to take place in the Baltic region. The U.S. has also committed to allocating around $3 million to help the three countries build "public and institutional resiliency against disinformation by strengthening independent media outlets, public service broadcasters, and media literacy skills in the region," according to the White House. Russia is considered the biggest source of disinformation in the region.
But while official U.S. policy appears to back the Baltics against their larger neighbor, Trump himself continuously refuses to acknowledge that Russia is a threat. When Trump was pressed further on his position toward Moscow during the press conference, the president stressed that "getting along with Russia is a good thing," and "it's a real possibility that I could have a good relationship" with Russian President Vladimir Putin.
Meanwhile, Lithuanian President Dalia Grybauskaite deflected questions about Trump's views on Russian interference by touting the U.S. commitment to NATO.
"We expect together with the United States to go ahead with deep reforms of NATO, especially on decision-making, on decisiveness, on denial that we expect to see from Russia in case of aggression," Grybauskaite said during a meeting prior to the press conference. "Without the United States, this is not possible."