Trump Refuses to Answer When Questioned About Insults and Criticism of George H.W. Bush and Family
President Donald Trump declined to answer when asked by a reporter Saturday whether he regrets personal attacks launched against George H.W. Bush and his family before the former president's death.
During a meeting at the G20 summit in Argentina with German chancellor Angela Merkel, Trump was asked by a reporter "Do you regret any of your comments about Bush or the family in the past?"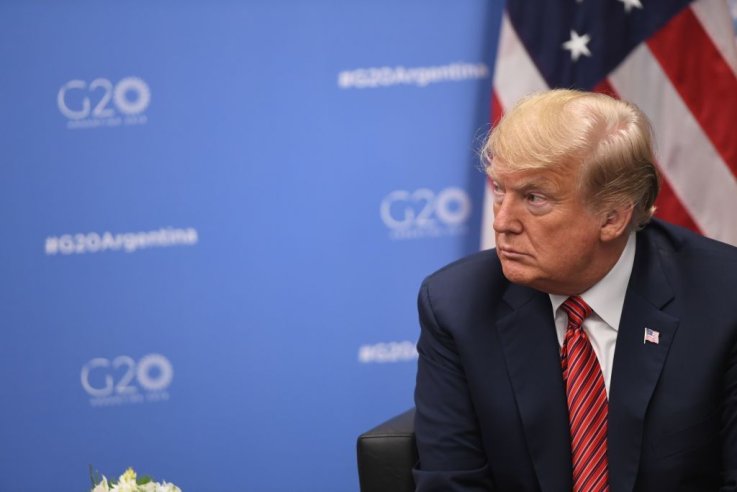 Trump listened to the question, said "Thank you very much, everybody," and motioned for reporters to leave.
On Friday night, Trump issued a statement in which he praised Bush's "unflappable leadership" and in a tweet described him as "a truly wonderful man and will be missed by all!"
Earlier in the meeting with Merkel Trump said of Bush that "he lived a full life and an exemplary life."
"I met him on a number of occasions," Trump said. "He was a terrific guy and he'll be missed."
He told reporters that he spoke by telephone with the former president's two sons, George W. Bush, who served as 43rd president, and former Florida governor Jeb Bush, to offer his condolences.
Trump has a fractious history with the Bush family, pitching himself as a political rebel against the Republican establishment they represent.
At a rally in July, Trump mocked George H.W. Bush's "thousand points of light" 1988 campaign slogan, in which the former president had described his vision of volunteer organizations, or "points of light," emerging across the country.
"What the hell was that, by the way, thousand points of light? What did that mean? Does anyone know?" asked Trump. "I know one thing: 'Make America Great Again,' we understand. Putting America first, we understand. 'Thousand points of light,' I never quite got that one."
It seems the former president was no fan of Trump, telling an author in 2017 he had voted for Hillary Clinton in the 2016 presidential election and describing Trump as a "blowhard."
Trump used Jeb Bush as a foil during the 2015 presidential primaries, taunting the former Florida governor as "low energy."
He has also criticised the legacy of George W. Bush, describing Bush's decision to invade Iraq in 2003 as "the single worst decision ever made" in a meeting with Republican donors and likening it to "throwing a big fat brick into a hornet's nest."
The White House announced earlier that Trump would attend Bush's funeral at the National Cathedral. The president did not attend the funeral of former First Lady Barbara Bush in April.
Trump Refuses to Answer When Questioned About Insults and Criticism of George H.W. Bush and Family | U.S.