Trump Refuses to Call Russia an Adversary Because They 'Really Helped Us' During World War II
President Donald Trump refused to use the word "adversary" to describe Russia during an interview, pointing to how Russia had helped the U.S. during World War II and saying he wanted the countries to "live in peace."
Asked by Fox News host Tucker Carlson whether the president viewed Russia as the U.S.'s chief adversary, Trump replied: "I don't want to use the word 'adversary.' We can work together, everybody can do well, and we can live in peace."
His refusal to describe Russia as an adversary comes shortly after his attempt to walk back controversial comments he made following a press conference with Russian President Vladimir Putin in which he appeared to suggest he believed Putin's denials on election meddling over information provided by his own intelligence agencies.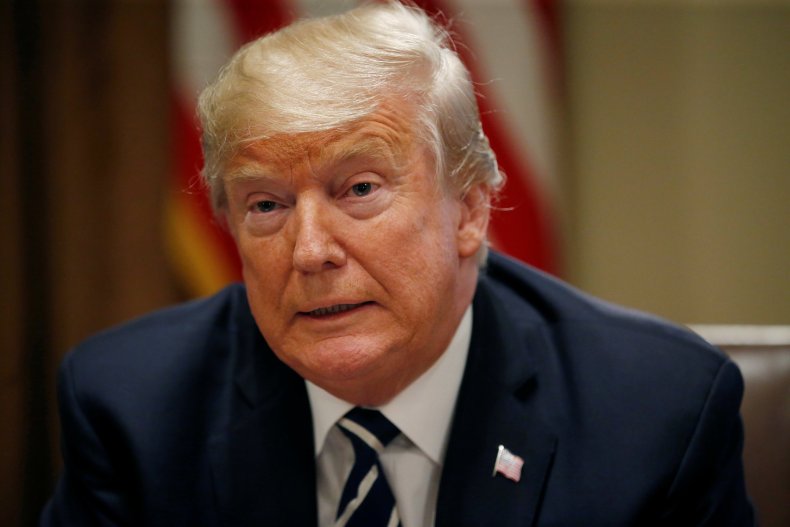 "They say it's Russia. I have President Putin. He just said it's not Russia," Trump told reporters following his press conference with Putin on Monday.
"I will say this: I don't see any reason why it would be…. I have great confidence in my intelligence people, but I will tell you that President Putin was extremely strong and powerful in his denial today," he added.
By Tuesday afternoon the president had "clarified" his remarks, saying he had actually meant to say the opposite of what he'd said.
"I have full faith and support for America's great intelligence agencies. Always have," Trump said while reading from prepared remarks. "I accept our intelligence community's conclusion that Russia's meddling in the 2016 election took place," he said, adding: "It could be other people, also. A lot of people out there."
The president said that when he had said he didn't see any reason why it would be Russia, he had misspoken.
"I said the word 'would' instead of 'wouldn't' and the sentence should have been: 'I don't see any reason why it wouldn't be Russia.' Sort of a double-negative," The Hill reported.
But in the Carlson interview, which aired Tuesday but took place in Helsinki following the press conference—before the president's trying to clarify his Putin comments—Trump appeared to once again question why U.S. lawmakers did not trust Russia, calling it "incredible" that the country would be seen as an adversary because of the help it provided during World War II.
"Russia lost 50 million people and helped us win the war," Trump said.
"I was just saying to myself the other day, you know, Russia really helped us. I'm not pro-Russia, pro-anybody. I just want to have this country be safe," he said.