Trump Regrets Some of His Retweets, But Not His Original Tweets
President Donald Trump said Tuesday he cannot remember any of his thousands of tweets over the last few years that he regrets, but it's not quite the same with his retweets.
When C-SPAN political editor Steve Scully asked the president if he regretted the tweets, he said, "not much."
"You've issued 43,000 tweets. Did you ever regret sending one out?" Scully asked.
The president said, "Not much...I sent the one about the 'wiretapping'...and that turned out to be true...a lot of the times the bigger problem is the retweets."
"You know, you retweet something that sounds good but it turns out to be from a player that's not the best player in the world. And that sort of causes a problem," the president said.
The president said in the C-SPAN interview that he probably would not tweet as much if he "got fair coverage" in the mainstream media.
"If I got fair coverage I wouldn't even have to tweet," Trump said. "It's my only form of defense. If the press covered me fairly, I wouldn't need that. But they don't cover me fairly."
President Trump has a long-standing feud with the mainstream media, prompting him to coin the term "fake news" when referring to outlets like CNN, MSNBC, the New York Times, Washington Post and other outlets.
The president mostly has a cozy relationship with Fox News, but even has his challenges with them every now and then.
After California Rep. Eric Swalwell was interviewed on The Story With Martha MacCallum last week preceding former Special Counsel Robert Mueller's testimony before two House committees, the president said Fox News went soft on Swalwell.
"Just watched Rep. Eric Swalwell be asked endless softball questions by @marthamaccallum on @FoxNews about the phony Witch Hunt. He was just forced out of the Democrat Presidential Primary because he polled at ZERO," Trump tweeted.
"Fox sure ain't what it used to be. Too bad!" he added. "Oh well, we still have the great @seanhannity who I hear has a really strong show tonight. 9:00 P.M."
Then there was a poll by Fox News that showed unfavorable ratings for the president, and Trump just shrugged off those as well.
"@FoxNews Polls are always bad for me," Trump tweeted. "They were against Crooked Hillary also. Something weird going on at Fox. Our polls show us leading in all 17 Swing States. For the record, I didn't spend 30 hours with @abcnews, but rather a tiny fraction of that. More Fake News."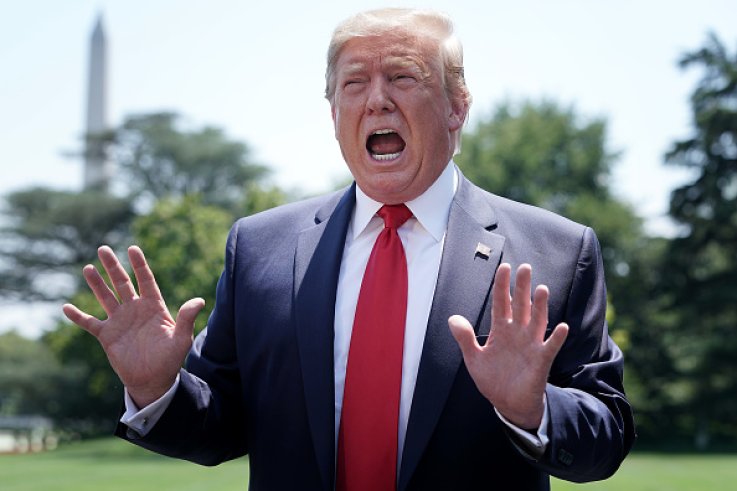 Trump Regrets Some of His Retweets, But Not His Original Tweets | U.S.