Donald Trump Remains Loyal to Rudy Giuliani Amid Reports of an Investigation: 'He's an Honorable Man'
President Donald Trump insisted that he stands behind his personal lawyer Rudy Giuliani, despite reports that the former New York City mayor is under investigation for potentially illegal foreign lobbying efforts.
"So now they are after the legendary 'crime buster' and greatest Mayor in the history of NYC, Rudy Giuliani," Trump tweeted on Saturday. "He may seem a little rough around the edges sometimes, but he is also a great guy and wonderful lawyer," he added.
Later on Saturday evening the president reiterated his support for Giuliani in an interview with Fox News host Jeanine Pirro. The controversial right-wing opinion host, who has consistently been one of Trump's staunchest defenders, asked the president to respond to reports that his personal lawyer was now under investigation by prosecutors after two of his associates were arrested last week for allegedly making illegal campaign contributions.
Trump had given a confusing response to reporters on Friday when he was asked if Giuliani was still his private attorney.
"Well, I don't know. I haven't spoken to Rudy," the president said. "I spoke to him yesterday briefly. He's a very good attorney and he has been my attorney, yeah, sure."
However, when asked about his relationship with Giuliani by Pirro, Trump confirmed that the former mayor is still representing him. "Is he your attorney?" the Fox News host asked.
"Yes, and he's a great gentleman. He was a great mayor. One of the greatest, maybe the greatest mayor in the history of New York," the president responded. "He was a fantastic prosecutor. I know nothing about him being under investigation, as somebody said. I heard a report today– I can't imagine it," he continued, classifying Giuliani as a man who "looks for corruption."
"I know he's an honorable man," Trump insisted.
The New York Times reported on Friday that prosecutors in Manhattan were formally investigating whether Giuliani had broken foreign lobbying laws through his dealings with Ukraine. Giuliani has openly admitted he worked with two associates, who have now been arrested, to collect potentially damaging information in Ukraine on Trump's political rival, Demcoratic presidential candidate and former Vice President Joe Biden. However, he has insisted that this work did not break foreign lobbying laws because it was carried out on behalf of Trump, not a foreign government or individual.
Giuliani's arrested associates – Lev Parnas and Igor Fruma – have been charged for an alleged scheme to circumvent foreign campaign finance laws and for using straw donations to disguise the original source of contributions to exceed legal donation limits. Their effort aimed to "to gain influence with candidates as to policies that would benefit a future business venture," according to their formal indictment. They allegedly used the scheme to contribute largely to Republicans and also to Trump's reelection. The two men were detained as they were at the airport last week, attempting to leave the country.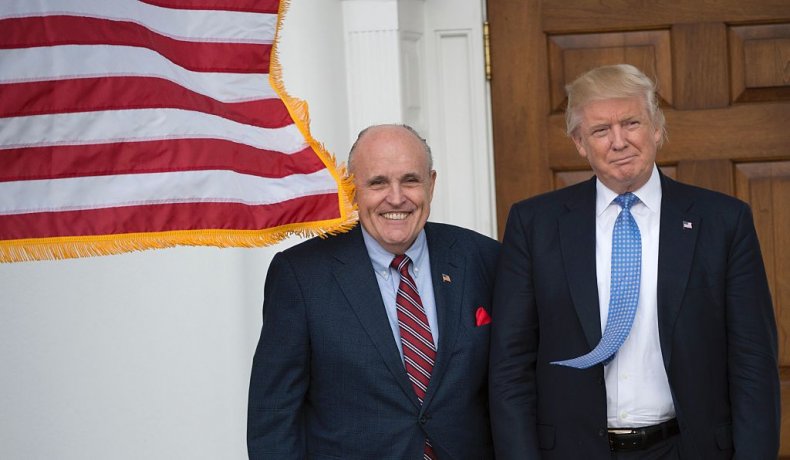 Despite the allegations against Parnas and Fruma, Trump admitted to Pirro on Saturday that he'd been photographed with the two men and that they had made political contributions.
"Well I don't know who they are," the president said at first, before adding: "I guess maybe I met them or took pictures with them, because I saw there was a picture of me with them and others. But I take pictures with a lot of people," he added. "I don't know them."
But then he asserted: "I know they're donors because they made donations, political donations to a lot of different people, a lot of different politicians over the years."
Aides to the president have reportedly been unhappy with his continued support for Giuliani. "[Trump's aides] quietly wish the president would cut ties with Giuliani," the Associated Press reported on Sunday. According to the report, White House officials have been "flabbergasted by Giuliani's performance on Trump's behalf" and have resigned themselves to realizing that "they will rarely be consulted beforehand to develop a strategic plan."
Giuliani's actions in Ukraine on behalf of the president are at the center of a fast-moving impeachment inquiry led by Democrats in the House of Representatives. Trump and his lawyer repeatedly pressured Ukrainian officials to launch formal investigations into a debunked conspiracy theory that Democrats conspired with Ukrainians to interfere in the 2016 presidential election, as well as into unsubstantiated claims that Biden acted corruptly to benefit his son's business dealings in the Eastern European nation.
Although Trump and his supporters have dismissed the impeachment inquiry as "partisan" and a "witch hunt," several prominent Republicans have voiced their disapproval of the president's behavior. A few GOP members of Congress have said they support investigating the president's actions but have criticized Democrats for classifying the probe as an "impeachment inquiry."