Trump Reminds Louisiana Rally Attendees Why He Calls Schumer 'Cryin' Chuck'—Because 'I Saw Him Cry Once'
President Donald Trump referred to Senate Minority Leader Chuck Schumer as "Cryin' Chuck" at a campaign rally in Bossier City, Louisiana on Thursday night.
"I call him Cryin' Chuck because I saw him cry one time while making a speech. I said, 'Isn't that sad? I've never seen him cry before.' I call him Cryin' Chuck!" the president told the crowd.
Trump was referring to an incident that took place in January 2017 when Schumer shed tears during a speech where he condemned Trump's harsh immigration policies.
"This executive order was mean-spirited and un-American," Schumer said, during a press conference. "It was implemented in a way that created chaos and confusion across the country and it will only serve to embolden and inspire those around the globe who would do us harm."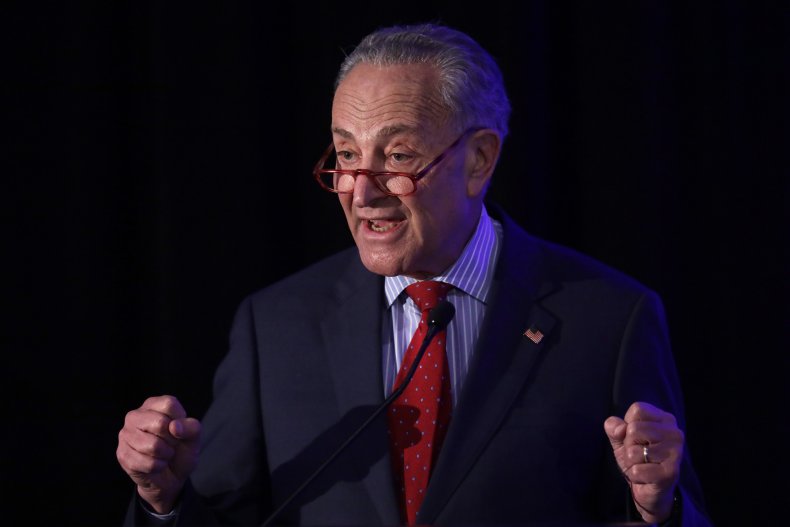 "I noticed Chuck Schumer today with fake tears," Trump told reporters shortly after the senator gave his speech. "I'm going to ask him who was his acting coach because I know him very well. I don't see him as a cryer."
"There's about a five percent chance that it was real," Trump added, "but I think it was fake tears."
Trump has repeatedly called Schumer the nickname before, particularly during periods when he and the top Democrat have disagreed over policies such as tariffs on Mexico and security along the border.
During a discussion at the White House concerning funding for the border wall between the U.S. and Mexico in January, Trump allegedly threatened a partial shutdown of the government and stormed out of the room. After Schumer spoke to reporters, Trump accused him of lying about the proceedings.
"Cryin' Chuck told his favorite lie when he used his standard sound bite that I 'slammed the table & walked out of the room. He had a temper tantrum,'" Trump said.
"Can you imagine Cryin' Chuck Schumer saying out loud, for all to hear, that I am bluffing with respect to putting Tariffs on Mexico," Trump wrote on Twitter in June. "What a Creep."
After Trump derided Schumer on Twitter about his reaction to the U.S. withdrawing from a nuclear arms deal with Iran in May 2018, the senator responded by tweeting, "#BeBest," the name of First Lady Melania Trump's anti-bullying campaign.
Trump is known for his usage of offensive nicknames for members of the Democratic Party and other political rivals. He often refers to Speaker House Nancy Pelosi as "Crazy Nancy."
In addition to "Cryin' Chuck," that list also includes "Crooked Hillary," "Crazy Bernie," "Little Marco" and "Low-Energy Jeb." Trump has has repeatedly referred to House Intelligence Committee Chairman Adam Schiff as "Shifty Schiff."
At the Louisiana rally, President Trump referred to the Democratic party as "absolute crazed lunatics" and the "radical left."