Trump Renews Attacks on 'Slimeball' Comey After Former FBI Director Comes Clean About Reopening Clinton Emails Probe
President Donald Trump renewed his attack on James Comey Sunday after the former FBI director said his belief Hillary Clinton would probably win the 2016 presidential race may have played a role in his handling of the Clinton emails probe.
"Unbelievably, James Comey states that Polls, where Crooked Hillary was leading, were a factor in the handling (stupidly) of the Clinton Email probe. In other words, he was making decisions based on the fact that he thought she was going to win, and he wanted a job. Slimeball!" tweeted the president.
Trump has furiously lashed out at Comey in recent days. The former FBI director's tell-all memoir is slated for release Tuesday and claims the president urged him to disprove salacious parts of the notorious Steele Dossier.
Comey also dismissively describes Trump's orange skin and the white circles under his eyes from what he believes are tanning bed sessions, and compares Trump to a mafia boss.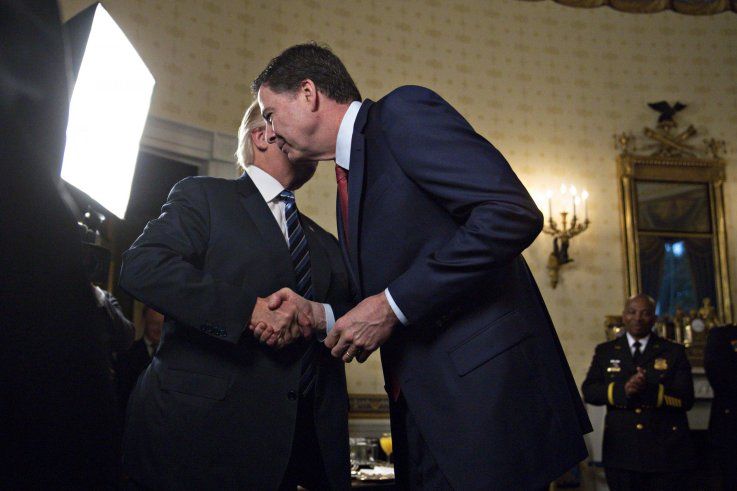 In an interview on ABC, set to air Sunday, Comey was asked whether his decision to re-open an investigation into Clinton's use of her private email account as secretary of state only weeks before the 2016 election was influenced by his belief she was going to win.
"It must have been. I don't remember consciously thinking about that, but it must have been because I was operating in a world where Hillary Clinton was going to beat Donald Trump, and so I'm sure that it was a factor," he said.
"I don't remember spelling it out, but it had to have been, that she's going to be elected president and if I hide this from the American people, she'll be illegitimate the moment she's elected, the moment this comes out," he added.
Clinton has in the past blamed her defeat in 2016 on Comey.
As excerpts from Comey's memoir were released to press last week, Trump criticised Comey as a "LEAKER & LIAR" who "should be prosecuted."
In his tweets Sunday, Trump said "big questions" aren't answered in Comey's book, and repeats accusations about the FBI's impartiality under Comey.
"The big questions in Comey's badly reviewed book aren't answered like, how come he gave up Classified Information (jail), why did he lie to Congress (jail), why did the DNC refuse to give Server to the FBI (why didn't they TAKE it), why the phony memos, McCabe's $700,000 & more?" Trump continued in his tweets.
He went on to deny Comey's claim in June 2017 testimony to Congress that Trump had asked him for a personal declaration of loyalty.
Trump fired Comey in May 2017, claiming initially that he was unhappy with Comey's handling of the Clinton emails probe but subsequently claiming in a television interview that the decision was based on Comey's decision to pursue an investigation into Trump's alleged collusion with Russia.
Trump Renews Attacks on 'Slimeball' Comey After Former FBI Director Comes Clean About Reopening Clinton Emails Probe | U.S.