Donald Trump Says He Can't Sleep Thinking About Coronavirus Victims, Sends Message to Families 'We Love You, We're with You'
President Donald Trump has admitted that there might be more coronavirus deaths following his push to reopen the country and said that the fatalities make him unable to sleep at night.
In an interview with ABC World News Tonight after he had viewed a mask-making plant in Phoenix during his first trip outside Washington in almost two months, Trump was asked how he could balance getting the economy going again and risking more deaths.
"Do you believe that's the reality we're facing that lives will be lost to reopen the country?" asked the anchor, David Muir.
Trump said: "It's possible there will be some because you won't be locked into an apartment or a house or whatever it is.
"But at the same time, we're going to practice social distancing, we're going to be washing hands, we're going to be doing a lot of the things that we've learned to do over the last period of time. We have to get our country back."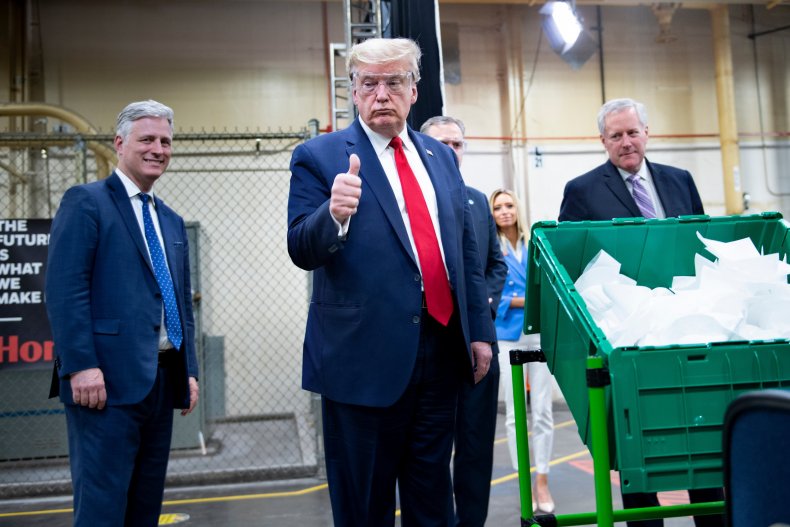 When asked about the shortage of medical equipment safety supplies, Trump took a swipe at the previous administration saying that the "cupboard was bare... they left us nothing." He appeared to suggest that the ability to restock supplies had been hampered by his impeachment and the investigation by special counsel Robert Mueller into claims of Russian interference in his election victory.
"Well, I'll be honest. I have [sic] a lot of things going on," Trump said. "We have a lot of people that refused to allow the country to be successful."
"They wasted a lot of time on Russia, Russia, Russia; that turned out to be a total hoax," he added.
The president also dismissed the accuracy of some models which projected future deaths. One assessment from the Federal Emergency Management Agency suggests new cases could reach 200,000 per day with 3,000 daily deaths by June 1.
On Tuesday, New York governor Andrew Cuomo cited a model by the Institute for Health Metrics and Evaluation at the University of Washington, which the White House had previously used, which had increased the estimated death toll from 60,000 to around 135,000 by August.
Trump said: "These models have been so wrong from day one. Both on the low side and the upside... They've been so out of whack. And they keep making new models, new models, and they're wrong."
"Those models... are talking about without mitigation. We are mitigating and we are learning to mitigate."
The U.S. death toll from the coronavirus stands at 71,078, with over 1,204,000 confirmed positive cases as of Wednesday, according to Johns Hopkins University.
Muir asked the president about what message he would send to the families of those who had died from coronavirus, a death toll higher than Americans lost in the Vietnam war.
Trump replied: "I want to say I love you. I want to say that we're doing everything we can. I also want to say that we're trying to protect people over 60 years old,"
"I want to just say to the people that have lost family and have lost loved ones and the people that have just so suffered so badly and just made it, and just made it, that we love you, we're with you, we're working with you."
Referring to grieving families, he said that "those people can never ever replace somebody they love," and that "I don't sleep at nights thinking about it, there is nobody taking it harder than me.
"But at the same time, I have to get this enemy defeated," he added.
Newsweek has contacted the White House for comment.
The infographic below, provided by Statista, shows the number of cases of COVID-19 throughout the U.S., as of May 5.