U.S. Attorney Probing Giuliani, Epstein Defies Trump's Move to Fire Him
Geoffrey Berman, U.S. attorney for the Southern District of New York (SDNY) who has been probing convicted sex criminal and disgraced financier Jeffrey Epstein and President Donald Trump's personal lawyer Rudy Giuliani, has reportedly been replaced by Trump.
Berman, whose office has traditionally operated with little interference from Washington D.C., has been investigating whether Giuliani and his associates' possibly violated laws on lobbying for foreign entities.
But in a statement released Friday evening, Berman said he has not been notified of his replacement and has no intention of resigning until the U.S. Senate confirms one.
"I learned in a press release from the Attorney General tonight that I was 'stepping down' as United States Attorney," Berman wrote in his statement. "I have not resigned, and have no intention of resigning, my position, to which I was appointed by the Judges of the United States District Court for the Southern District of New York. I will step down when a presidentially appointed nominee is confirmed by the Senate."
Until then, Berman continued he said he plans on continuing to work with the men and women in his office "to pursue justice without fear or favor" adding that he intends to ensure that his office's important cases continue unimpeded.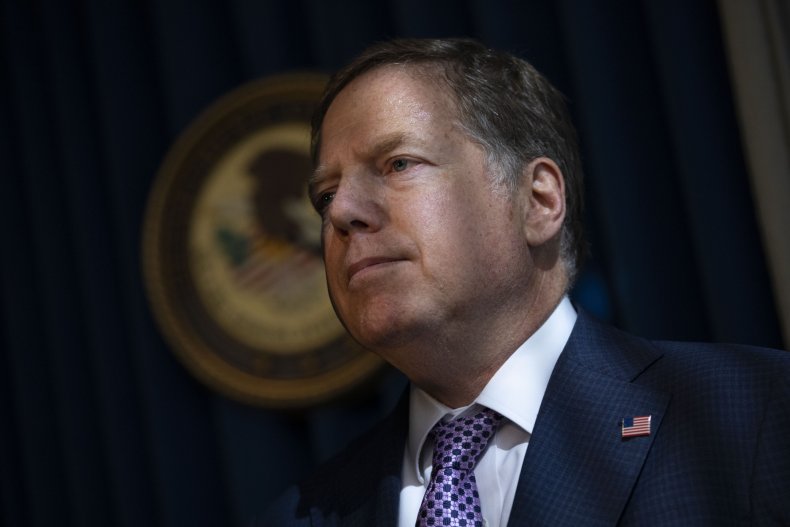 ABC News said that a Justice Department official claimed that Berman declined an alternate position working in the department's Civil Division. The news outlet also reported that Trump plans to nominate Jay Clayton of the Securities and Exchange Commission as Berman's replacement. Clayton has never served as a prosecutor.
In July 2019, Berman charged financier Jeffrey Epstein with sex trafficking of minors and conspiracy to commit sex trafficking of minors for sexually exploiting and abusing dozens of underage girls between 2002 and 2005. Trump and former Democratic President Bill Clinton had a friendship with Epstein from the late '90s through the early 2000s.
In Novermber 2019, Berman's office secured federal subpoenas to investigate Giuliani and his consulting firm's business dealings with the Trump administration. Berman examined the firm's work for possible violations in money laundering, campaign finance and obstruction of justice. The investigations are ongoing.
His office also subpoenaed Trump's inaugural committee to investigate possible illegal foreign contributions to Trump's inaugural events. Additionally, Berman acquired subpoenas to examine the financial dealings of two pro-Trump groups, America First Action and America First Policies.
In addition to Guiliani and Epstein, Berman has worked on cases involving other associates of Trump's. He convicted Trump's former lawyer Michael Cohen for violating campaign finance laws and has been investigating two associates of Giuliani's, Lev Parnas and Igor Fruman. Parnas and Fruman were both key figures in the Ukraine scandal which brought about Trump's impeachment in January 2020. Both have been charged with campaign finance crimes by Berman's office.
"Why does a president get rid of his own hand-picked US Attorney in SDNY on a Friday night, less than 5 months before the election?" asked Preet Bharara, the former federal prosecutor who served as U.S. Attorney for the Southern District of New York from 2009 to 2017, in a tweet published Friday night.
In his own Friday evening Tweet, Democratic Congressman Bobby L. Rush of Illinois wrote, "In a time when the public's trust in law enforcement is at an all time low, Bill Barr lowers the bar even further. He must resign."