Donald Trump Tells CNN Reporter That Iran Takes His Threats Seriously and 'I Think You Do Too'
President Donald Trump told one reporter Tuesday that he believed Iran took his threats to heart, and that she does too.
Trump called on Iran to get rid of its leadership's hostility, saying "I hope they stay, I hope they do a great job, but they should talk to us decently" at a press conference hours after his Iranian counterpart, Hassan Rouhani, suggested the White House had "mental paralysis."
Toward the end of the event in the Oval Office, CNN reporter Abby D. Phillip asked Trump if he thought Iran took his threats seriously. The president replied, "I think everybody does. I think you do, too."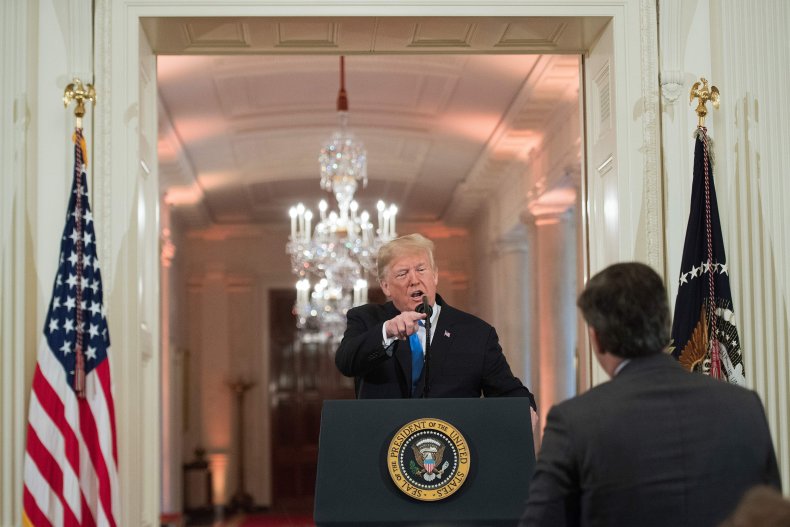 President Donald Trump has referred to CNN and other media outlets as "the enemy of the people" when claiming that reports that paint his administration in an unfavorable light are "fake news."
As recently as Wednesday, Trump went on Fox News to tell host Sean Hannity that his decision to keep on tweeting was partially rooted in an effort to counteract "when someone says an outright lie on MSNBC or CNN, both of whom are really suffering in the ratings which is very interesting—it's incredible, because they have lost credibility."
Trump did not provide any evidence for his claims about the channels' ratings and credibility levels.
Since the beginning of this month alone, Trump has attacked these two channels, along with The New York Times and The Washington Post, on multiple occasions, often targeting their credibility and success. In a June 8 tweet, he called them part of the "Fake and Corrupt News Media." Last month, questioned why they they were "allowed to be on Twitter & Facebook" because, he claimed, "Much of what they do is FAKE NEWS!"
While these outlets, along with Newsweek and others, have regularly covered the numerous scandals and investigations that have hit the Trump administration, much national coverage in recent days has focused on Thursday's close-call with Iran.
Trump ordered strikes against sites in the Islamic Republic, but subsequently paused the command at the last minute. He later explained that the attack, which would have come in response to the Revolutionary Guards' downing of an RQ-4A drone, would have killed an estimated 150 people, which he felt was "not proportionate" to destroying an unmanned device.
Revolutionary Guards' aerospace commander Amir Ali Hajizadeh said on Friday that he too showed restraint in holding back an attack on a P-8 Poseidon surveillance plane accompanying the RQ-4A, which he also argued breached Iranian territory. The Pentagon said the drone remained in international airspace, but on Tuesday Russian National Security Council Secretary Nikolai Patrushev backed Tehran's view.