Trump and Republicans Are Failing to Protect Our Children | Opinion
About seven years ago, President Barack Obama issued an urgent plea while speaking with Sandy Hook Elementary School families in Newtown, Connecticut. He said America was failing to protect our nation's most valued treasure—our children.
We had thought gun violence was unthinkable in wealthy, suburban communities and that our children would have some moral protection. Sadly, after 26 people, including 20 children between 6 and 7 years old, were killed in Newtown, we've seen tragedy after tragedy in all American communities. It is now clear that no child is safe.
This week marks two years since the shooting that took the lives of 17 students and staff at Marjory Stoneman Douglas High School in Parkland, Florida. The anniversary—along with the tens of thousands of Americans lives lost to gun violence in recent years—has us reflecting on our job, as Americans, to look out for everyone's children, because they are all our children and our future.
Congressional Republicans and President Donald Trump continue to fail at that basic job. In many places, like Chicago, gun violence remains a daily reality.
We have watched our children grow more afraid as their innocence is stolen watching classmates die and with active shooter drills. Our country's gun violence epidemic has left no place safe for children or adults. Our malls, classrooms, nightclubs, parks, concerts and home Super Bowl parties have become places of death and murder, while politicians issue half-hearted thoughts and prayers with pockets full of checks from the National Rifle Association.
Two decades since Columbine, seven years since Sandy Hook, two years since Parkland and hours since the most recent gun homicide in Chicago, we are no closer to a solution, and people continue to die every day.
In 2017, nearly 40,000 Americans lost their lives to gun violence. In 2018, 39,741 more were killed, according to a just-released report from the U.S. Centers for Disease Control and Prevention. That's another 39,741 people we have failed.
How is it that the most advanced nation in the world cannot protect our people? How many times will we have to gather in grief before enough is enough? Whose son or daughter must die before political leaders grow a spine?
In 2018, the American people overwhelmingly elected congressional candidates committed to doing something on gun violence. In more than 70 percent of races where gun safety reform advocates and the NRA invested, candidates backed by gun safety reform organizations won. In February 2019, the House, under Democratic control, kept its promise and passed bipartisan universal background check legislation, H.R. 8. More than 330 days later, it's still sitting on Majority Leader Mitch McConnell's desk with no hope of seeing the light of day in the Republican-controlled Senate.
We also know that gun safety reforms alone will not solve the epidemic of gun violence that plagues our communities. We need to address the root cause of the violence and create hope in our communities, so our young people pick up coding and construction skills instead of guns and bullets. Nothing stops a bullet like an opportunity.
Any real solution to gun violence needs to address a host of challenges because gun violence is a systemic problem that results from a variety of barriers. For example, part of the problem in Chicagoland is that more than half of crime guns are trafficked into the state, largely from neighboring Indiana and Wisconsin. Similar issues exist in New York with trafficking from Virginia. In Los Angeles, the guns come from Arizona. So interstate gun trafficking, which is nearly always tied to trafficking of drugs and persons, needs to be addressed.
In other communities, particularly rural communities, decades of declining economic opportunity and a historic level of farm bankruptcies are driving a suicide crisis that's quietly claiming the lives of many Americans. We are willing to work with anyone and everyone to find the solutions and enact them because our goal is simple: saving lives.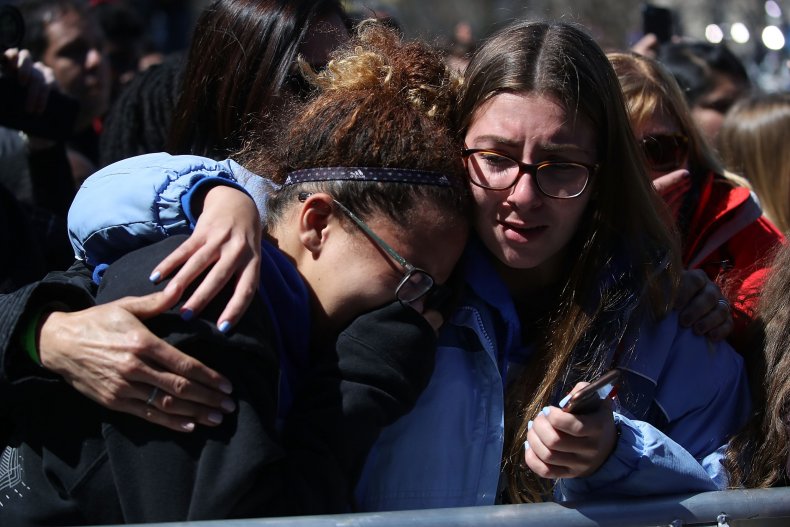 Recently, March For Our Lives presented "Peace Plan for a Safer America," a comprehensive approach to halve the number of gun deaths over the next decade by addressing the root causes and implementing policies like extreme risk protection orders and increasing public awareness through research. All of these policies are hugely popular with American voters and have been advanced with great success by the House of Representatives and many states. Yet these proposals, despite their merits and support, have been shelved by the Republican-dominated Senate.
With nearly 40,000 Americans dying each year, something needs to change. It's time for America to declare our independence from the grip of gun violence. It's time for us to stand up and protect our children and our families.
The numbers and trend lines are clear. Without federal action, thousands more will die. More mothers will bury their children. Lifesaving action should have come years ago, before thousands more died. The second-best time to act is right now.
Congresswoman Robin Kelly represents Illinois' 2nd Congressional District and serves as vice chair of the House Gun Violence Prevention Task Force. David Hogg is a co-founder of the March For Our Lives organization.
The views expressed in this article are the writers' own.