Donald Trump Tells Republicans Not to Bother With Wall Negotiations, Falsely Says It's 'Already Being Built'
The morning after a bipartisan group of lawmakers met on Capitol Hill to begin negotiations over a broad border security deal, President Donald Trump took aim at members of a congressional committee, saying Thursday that Republicans are "wasting their time" trying to reach a deal with Democrats.
"Republicans on the Homeland Security Committee are wasting their time," Trump tweeted. "Democrats, despite all of the evidence, proof and Caravans coming, are not going to give money to build the DESPERATELY needed WALL."
The House Homeland Security Committee is not responsible for the ongoing negotiations. A bipartisan group, known as a conference committee, is tasked with finding a deal for the president to support by February 15 before the government will once again shutter. The committee consists of 17 lawmakers: four Senate Republicans, three Senate Democrats, four House Republicans and six House Democrats.
"I've got you covered," Trump said. He then falsely claimed that the "wall is already being built." "I don't expect much help!" he added.
Trump has repeatedly threatened to declare a national emergency in order to obtain funding for his wall, a move that many Republicans have warned against with Democrats warning of legal challenges.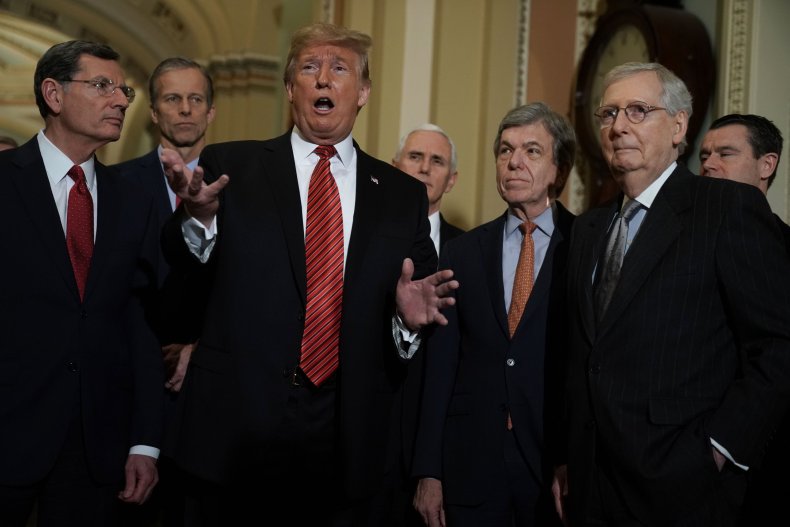 The desired southern border wall the president has often described, whether it be a "concrete wall," "steel barrier" or "steel slats," has not been erected. However, according to the Customs and Border Protection official website, existing border fencing has been upgraded and replaced in Arizona, Texas's Rio Grande Valley, San Diego and Santa Teresa, New Mexico.
The conference committee met for the first time Wednesday afternoon. Lawmakers mostly offered opening remarks that called for bipartisanship, with no real progress made. Afterward, Democrats reiterated to reporters they would not provide funding for a wall and would instead push for "smart border security." House Appropriations Committee Chairwoman Nita Lowey, who is also heading the conference committee, described this as "not overly reliant on physical barriers, which the Trump administration has failed to demonstrate are cost-effective compared to better technology and more personnel."
Ahead of the meeting, Trump tweeted Wednesday morning that if the committee is "not discussing or contemplating a Wall or Physical Barrier, they are Wasting their time!" If a spending deal cannot be reached by February 15, funding will run out, and the president has said he would shut down the government again. He told The Wall Street Journal the odds of Congress reaching a deal are "less than 50-50."
Democrats have suggested they would be open to some sort of additional fencing, if it's done in an "evidence-based fashion."
"We've consistently said that we do not support a medieval border wall from sea to shining sea," said Congressman Hakeem Jeffries, Democrat from New York, earlier in the week. "However, we are able to support fencing where it makes sense, but it should be done in an evidence-based fashion."