Will Trump Resign? Sarah Sanders Calls It a 'Ridiculous Question'
President Donald Trump has not considered resigning amid recent reports involving the special counsel's investigation—and to even ask if the Republican had entertained the idea is "ridiculous," White House Press Secretary Sarah Huckabee Sanders said during Tuesday's press briefing.
Sanders was asked by veteran White House correspondent April Ryan whether the president had thought about "stepping down" and the press secretary appeared to take umbrage with the inquiry.
"No, he has not," Sanders quickly shot back before the podium. "And it's an absolutely ridiculous question."
Ryan shot back: "It's not a ridiculous question."
Over the last two days, Trump has reportedly seethed following the FBI's raid of his personal lawyer's office and obtainment of client documents. Michael Cohen, who left the Trump Organization in January of last year and now serves as Trump's private attorney, was reportedly under scrutiny for payments to two women who claimed to have had affairs with the president well before he ran for the nation's highest office.
Cohen admitted to paying adult-film actress Stormy Daniels, real name Stephanie Clifford, $130,000 in October 2016 for her silence. And investigators were also looking at the $150,000 American Media Inc. gave to former Playboy Playmate Karen McDougal for her story. Clifford claimed to have one sexual encounter with Trump in 2006, while McDougal said she and Trump carried on a relationship for months around the same time.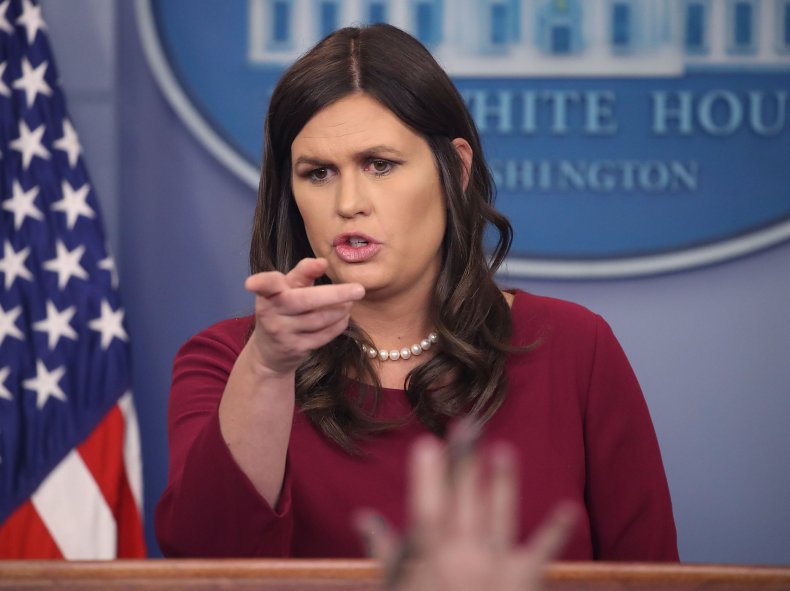 Cohen has said that he made the payment to Clifford out of his own pocket but has not specified exactly why. He has also said that neither Trump's former campaign nor the Trump Organization, the president's global real estate firm, knew about the payment to Clifford less than two weeks before the 2016 general election.
The FBI served the warrants Monday that were reportedly signed off by Deputy Attorney General Rod Rosenstein per a referral by Special Counsel Robert Mueller's probe, The New York Times reported Tuesday.
Trump responded Monday by calling the raid a "disgrace" but unleashed criticism on Rosenstein, as well as Mueller and Attorney General Jeff Sessions. He also tweeted Tuesday that attorney-client privilege was "dead" and again referred to Mueller's investigation as a "witch hunt."
Most of the speculation following the raid of Cohen's office has centered around whether or not Trump was seriously considering firing Mueller, Sessions and or Rosenstein, but not the president's own job status.