Trump Responds to 'Anonymous' Reveal: 'Who is Miles Taylor?'
President Donald Trump has dismissed news that a former Homeland Security chief of staff was the anonymous administration official behind blistering attacks on the White House, saying he doesn't even know Miles Taylor.
"Who is Miles Taylor?" Trump tweeted Wednesday. "Said he was 'anonymous', but I don't know him—never even heard of him."
Trump was on stage at a rally in Arizona when news broke that Taylor had revealed himself to be the insider author behind a scathing New York Times essay and subsequent book about the president that had set off speculation across Washington. Both were published anonymously, with the Times describing the author as a "senior administration official."
Wednesday's reveal set off an avalanche of supporters and White House aides rallying to Trump's defense, questioning Taylor's brief role in the administration and the access he would have had.
It's not the first time that Trump has deployed the rebuttal that he doesn't know one of his critics and deemed them insignificant.
In 2017, Trump told reporters that he didn't "remember much" about meeting with former campaign staffer George Papadopoulos, who pleaded guilty to lying to the FBI about his knowledge of attempted Russian interference in the 2016 presidential election. Trump also said he didn't know a former aide to Vice President Mike Pence who spoke out against Trump's handling of the coronavirus pandemic last month.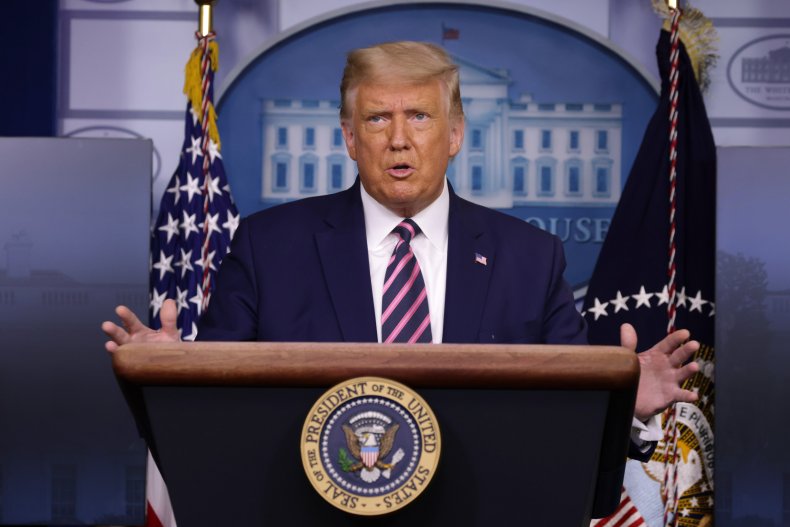 In his statement Wednesday, Taylor said he kept his identity secret to focus attention on the substance and prevent the spotlight from being on his identity.
"Issuing my critiques without attribution forced the President to answer them directly on their merits or not at all, rather than creating distractions through petty insults and name-calling," he said. "I wanted the attention to be on the arguments themselves."
Taylor was Chief of Staff to then-Homeland Security Secretary Kirstjen Nielsen and her acting successor Chad Wolf for about nine months in 2019. He had worked at DHS in various roles since 2017, coming into the administration with General John Kelly, Trump's first DHS chief who became the president's chief of staff in July 2017. Kelly also has come out as critical of Trump since his departure from the White House last year and has been among members of the administration speculated to be the "anonymous" author.
Taylor has become a vocal critic of Trump in recent months and endorsed Joe Biden's campaign in August, though he had not come out as the "anonymous" author.
In his initial essay, which appeared under the headline "I Am Part of the Resistance Inside the Trump Administration," Taylor, a deputy chief of staff at DHS at the time, wrote that members of the administration were working to actively undermine Trump for the good of the country. The follow-up book, titled A Warning, came out in November 2019—shortly after he left the administration. He also went into the private sector, working for Google.
In his public statement revealing his identity, Taylor urged Republicans to come out in favor of Biden.
"The country cannot rely on well-intentioned, unelected bureaucrats around the President to steer him toward what's right," he said. "He has purged most of them anyway."
Before Trump's direct response, the White House and Trump's campaign each released statements portraying Taylor as a low-level disgruntled aid.
"The American people elected President Trump to carry out his vision for the country, not an arrogant deep state operative trying to put their agenda ahead of the President's America First policies," White House Press Secretary Kayleigh McEnany said.
Campaign spokesman Hogan Gidley, whose tenure at the White House overlapped with Taylor's stint at DHS, noted that Taylor had denied he was the anonymous author during an appearance on CNN in August.
"He's just another standard-issue arrogant, Washington, DC swamp bro who loved President Trump until he figured out he could try to make money by attacking him," Gidley said.