Donald Trump responded to Russian President Vladimir Putin's condemnation of the multiple investigations against him by saying that "the whole world is watching as the USA is being torn apart" by Democrats.
During an economic conference in eastern Russia on Tuesday, Putin waded into American politics, describing the criminal cases against the former president and 2024 Republican frontrunner as the "persecution of one's political rival for political motives."
This assessment echoes claims made by Trump, who has described the investigations against him as part of a political "witch hunt" and "election interference."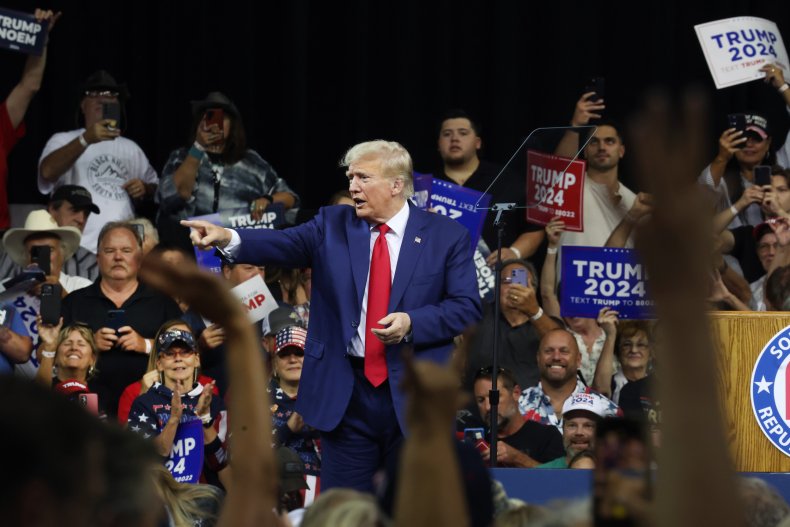 Putin said that the cases against Trump—who's been indicted four times since the beginning of the year and is facing a total of 91 felony counts in four jurisdictions—are good for Russia.
"Given today's conditions, what is happening is good for us, in my opinion, because it shows the rottenness of the American political system, which cannot pretend to teach democracy to others," Putin said during the Eastern Economic Forum in Vladivostok.
Putin has long sought to pit Russia against the West, calling for his country to fight the alleged moral corruption of the West and framing Russia's invasion of Ukraine as a bigger fight against an expanding NATO.
It's not the first time that the Russian president has suggested he's aligned with conservatives in the U.S. and has tried to deepen the rift between the two sides of the political spectrum.
Despite Kremlin denials, U.S. intelligence agencies concluded Moscow interfered in the 2016 and 2020 elections to try to boost Trump's chances of election.
Trump—who once expressed his personal admiration for the Russian president—reacted to Putin's comments by blaming President Joe Biden and his administration, without directly addressing the nature of Putin's words.
On his social media platform Truth Social, Trump wrote late on Tuesday: "It's all happening, even worse than anyone projected."
He added: "President Vladimir Putin of Russia is using Crooked Joe Biden's illegal Banana Republic style treatment of his Political Opponent, who is beating him badly in the Polls, to condemn America and all of the good things it once stood for. The whole World is watching as the USA is being torn apart by dreams of Election Interference!"
Newsweek contacted Trump's 2024 campaign media team for comment by email on Wednesday.
Some of Trump's Republican primary rivals have spoken up about Putin's remarks on the cases against Trump. His former Vice President Mike Pence, who on Tuesday had the backing of 5 percent of Republican voters in polls, according to FiveThirtyEight, said in a statement reported by The New York Times: "America's founding principles will always stand the test of time, and Vladimir Putin's opinion of our constitutional republic holds no value in the United States."
He added: "Putin should be more concerned about how quickly his military went from being the second most powerful in the world to the second most powerful in Ukraine."
Former New Jersey Governor Chris Christie, who as of September 12 had 3.9 percent of the Republican primary vote, according to FiveThirtyEight, said: "It's good to see Vladimir Putin has made his endorsement official—and no surprise, he's endorsed another autocrat."
Despite facing four criminal cases, Trump remains the Republican primary frontrunner, with 53 percent of the vote as of September 12, according to FiveThirtyEight. He's trailed by Florida Governor Ron DeSantis with 13.4 percent.