Trump Responds to QAnon Conspiracy: 'I Understand They Like Me Very Much'
President Donald Trump disputed Wednesday a conspiracy theory that's circulated among the fringes of his supporters that he's fighting against "Deep State" forces in the federal government, but Trump stopped short of outright denouncing the QAnon movement that's been linked to violent acts.
"I don't know much about the movement, other than I understand they like me very much, which I appreciate," Trump told reporters.
QAnon followers believe Trump is waging a secret war against people working against him within the federal bureaucracy, as well as a war against famous Satan-worshipping pedophiles.
"I haven't heard that," Trump told reporters when explained the premise behind the conspiracy theory before joking, "Is that supposed to be a bad thing or a good thing?"
"If I can help save the world from problems, I'm willing to put myself out there," he said. "And we are, actually, we are saving the world from the radical left philosophy that will destroy this country."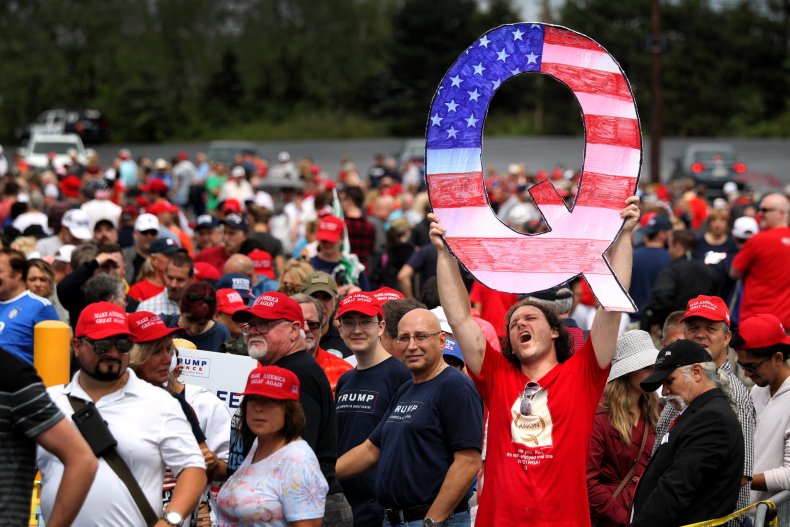 The QAnon movement started when an unknown person or persons identified as "Q" began posting cryptic messages online. Trump previously ignored a question about the movement and Press Secretary Kayleigh McEnany told reporters earlier Wednesday that she had never heard Trump talk about it.
This election cycle saw several Republican candidates who do or have in the past embraced the conspiracy.
The movement has also picked up steam amid the coronavirus pandemic and Black Lives Matter protests that have swept the country.
Trump told reporters that he thinks the protests, in particular, have fueled the conspiracy theory's spread.
"These are people who don't like seeing what's going on in places like Portland and places like Chicago and New York and other cities and states," Trump said. "I've heard these are people who love our country; they just don't like seeing that."
West Point's Combating Terrorism Center last week published a report on the QAnon movement and "the violence this bizarre set of conspiracy theories has engendered thus far."
The report noted that the movement "contributed to the radicalization of several people to notable criminal acts or acts of violence."
Facebook and other social media outlets have sought to remove QAnon content based on its link to violence.
Trump didn't address the QAnon movement's connection to violence in his remarks Wednesday.
"I don't know anything about it other than they do supposedly like me and they also would like to see problems in [cities] go away," he said.