Donald Trump's Response to Mueller Appointment: 'This Is the End of My Presidency. I'm F***ed'
President Donald Trump did not respond well after hearing that Robert Mueller had been appointed to lead the investigation into Russian meddling in the 2016 election, a redacted version of Mueller's report said.
When former Attorney General Jeff Sessions told Trump on May 17, 2017, that a special counsel had been appointed, "the President slumped back in his chair and said, 'Oh my God. This is terrible. This is the end of my Presidency. I'm f***ed,'" the report said.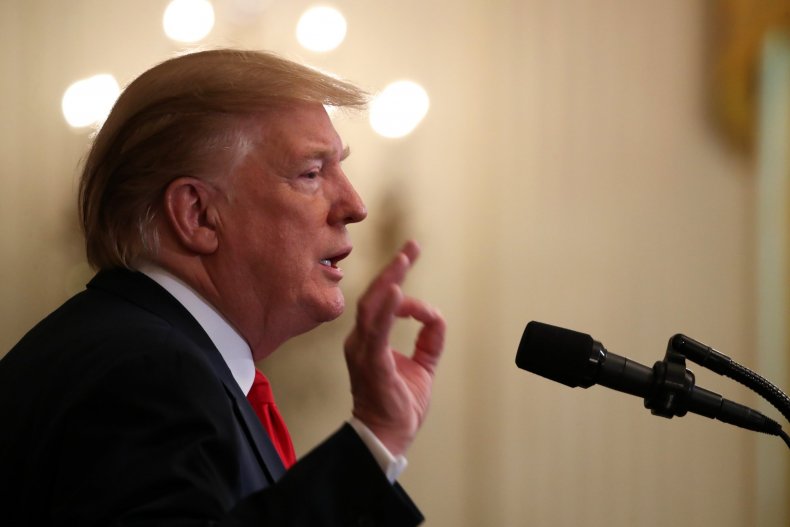 It also said that Trump turned on Sessions.
"The President became angry and lambasted the Attorney General for his decision to recuse from the investigation, stating, 'How could you let this happen, Jeff?'
Throughout the investigation, Trump sought to undermine the credibility of Mueller's inquiry, repeatedly saying that there was no collusion and framing the probe as a witch hunt.
On Thursday, after Attorney General William Barr held a press conference prior to the release of a redacted version of Mueller's report, the president posted a tweet mirroring imagery from HBO show Game of Thrones, which read "No collusion. No obstruction. For the haters and the radical left Democrats -- Game Over."
Democrats blasted Barr's remarks at the conference, saying that the attorney general was acting in a politically motivated manner to defend the president. Some called for Mueller to testify before Congress.
Illinois Democrat Mike Quigley, a member of the House Intelligence Committee, wrote that "Mr. Barr is acting today as the President's personal attorney rather than as the highest-ranking law enforcement official in the nation."
Early responses to the report included a focus on Barr's claim that the report found "there was in fact no collusion."
"In sum, the investigation established multiple links between Trump Campaign officials and individuals tied to the Russian government. Those links included Russian offers of assistance to the Campaign. In some instances, the Campaign was receptive to the offer, while in other instances the Campaign officials shied away. Ultimately, the investigation did not establish that the Campaign coordinated or conspired with the Russian government in its election-interference activities," the report read.
Republicans, many of whom had questioned the length, scope and direction of Mueller's inquiry, called for Democrats to move forward.
"Democrats want to keep searching for imaginary evidence that supports their claims, but it is simply not there. IT IS TIME TO MOVE ON," House Speaker Kevin McCarthy tweeted.