President Donald Trump retweeted Monday a denial made by his former personal attorney, Michael Cohen, against an odd allegation made by former White House aide Omarosa Manigault Newman, despite the president's public dismay over Cohen's secret recordings of their conversations and Rudy Giuliani describing Cohen as a "pathological liar."
As part of a tweetstorm throughout the morning and early afternoon, the president fired off Cohen's denial to his nearly 54 million followers. He also retweeted a denial by Republican pollster Frank Luntz.
Cohen was pushing back on Manigault Newman's claim that the pair witnessed Trump eating a piece of paper in the Oval Office, while Luntz denied ever hearing the president use a racial slur.
"LTo the many dozens of #journalists who called me, questioning @OMAROSA claim in her new book that @POTUS @realDonaldTrump took a note from me, put it in his mouth and ate it...I saw NO such thing and am shocked anyone would take this seriously," Cohen tweeted Sunday.
"I'm in @Omarosa 's book on page 149. She claims to have heard from someone who heard from me that I heard Trump use the N-word. Not only is this flat-out false (I've never heard such a thing), but Omarosa didn't even make an effort to call or email me to verify. Very shoddy work," Luntz wrote Friday.
But the president's apparent endorsement of Cohen's denial raises eyebrows as his current attorney, Rudy Giuliani, appears regularly on television and blasts Cohen as unreliable. Last month, Giuliani described Cohen as a "pathological liar" after a recording was released of Trump and Cohen discussing a payment to a former Playboy Playmate to keep her quiet about an affair with Trump.
Giuliani said Cohen's recording exonerated Trump, but the president previously denied having any knowledge of payments made to the model, Karen McDougal, as well as to adult film actress Stormy Daniels, whose real name is Stephanie Clifford.
The retweet is even more surprising after Cohen said last month he would not serve as a "punching bag" for anyone else's defense and scaled back his famous loyalty to the president. Cohen is presently under investigation by federal authorities, which has led to speculation that he could turn on Trump to avoid potential jail time if charged with a crime.
Trump, too, said it was "sad" an attorney would tape his client, and possibly illegal, but legal experts have said Cohen did not break the law given New York's status as a one-party recording state. He likely acted unethically, they add.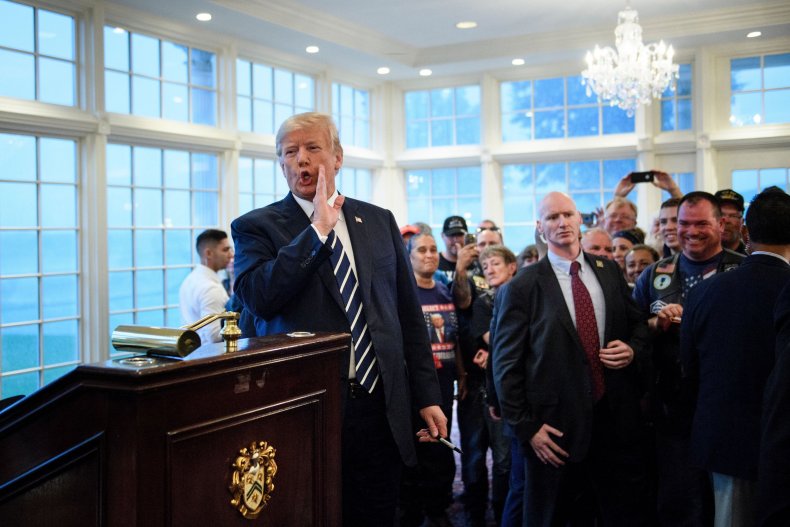 Trump has taken to attacking Manigault Newman over her book Unhinged: An Insider's Account of the Trump White House, in which she levies serious accusations against the president and other White House staff.
White House press secretary Sarah Huckabee Sanders called out Manigault Newman on Sunday after she released a recording of her firing by chief of staff John Kelly in the Situation Room. Sanders said Manigault Newman had shown a "blatant disregard for national security" when she brought a recording device into such a sensitive area.