Who Is Britain First's Jayda Fransen, the U.K. Far-Right, Anti-Islam Leader Who Trump Retweeted?
President Donald Trump has been accused of legitimizing far-right extremism by retweeting a series of messages by Jayda Fransen, deputy leader of an anti-Islam British party, who was convicted last year of religiously aggravated harrassment after hurling abuse at a woman wearing a hijab.
Trump retweeted a link to a video posted on Fransen's account: "Muslim migrant beats up Dutch boy on crutches!" and then moments later another film that claimed to show a Muslim destroying a statue of the Virgin Mary. He then retweeted a third titled: "Islamist mob pushes teenage boy off roof and beats him to death!"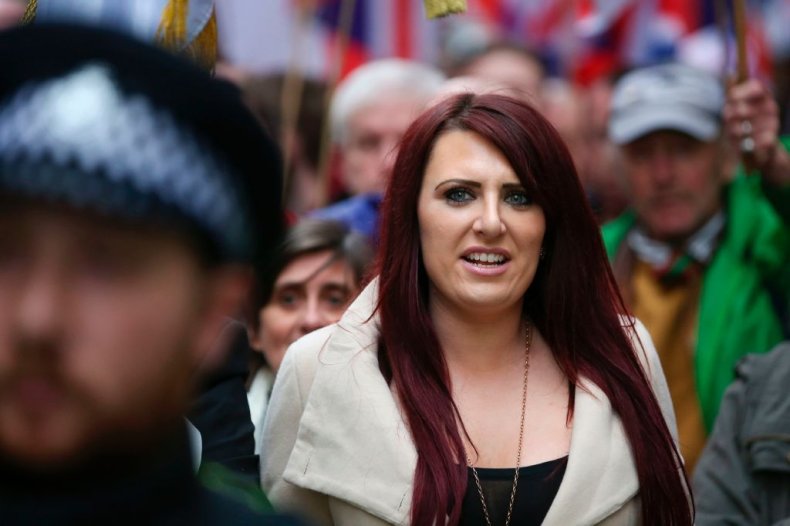 Fransen's Britain First is an anti-Islam, anti-immigration and nationalist political party. It is known for its anti-Islam political stunts, including "invading" mosques and launching "Christian patrols."
The group has used social media to disseminate its message, posting anti-Islam and anti-immigrant propaganda on Twitter and videos of provocative stunts designed to antagonize Muslims on YouTube and Facebook.
It has unsuccessfully contested elections for the House of Commons and the European Parliament, as well as the London mayoral elections.
Fransen's tweets came days after she was arrested for comments made in a speech at a rally in Belfast, Northern Ireland, this summer. Fransen was in Belfast on August 6 for a demonstration by around 50 people calling themselves Northern Ireland Against Terrorism.
Fransen was found guilty of religiously aggravated harassment in November 2016 after making comments to a stranger during a "Christian patrol" in Bury Park, Luton, in January 2016.
Fransen admitted telling Sumayyah Sharpe that Muslim men force women to cover up to avoid being raped "because they cannot control their sexual urges," adding "that's why they are coming into my country raping women across the continent."
Sharpe was with her four young children at the time.
Fransen was fined nearly £2,000 ($2,680) for the incident.
In August that year, Fransen and Britain First leader Paul Golding were banned from the city of Luton and from entering any mosque in England and Wales for three years following an injunction from police who accused them of inciting "community tensions."
In January they had marched through a part of Luton with a large Muslim community holding Christian crosses and handing out anti-Muslim pamphlets.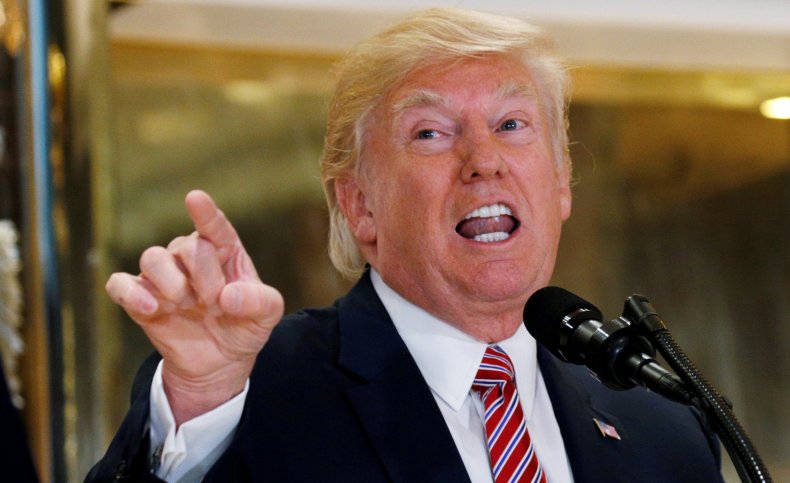 In June 2016, Tommy Mair shouted "Britain First" before shooting dead British Parliamentarian Jo Cox near Leeds in West Yorkshire. Britain First denied any connection to Mair, and Golding condemned the killing. Cox's husband, Brendan Cox, criticized Trump Wednesday morning for what he said was legitimizing far-right politics.
Television presenter and Celebrity Apprentice winner Piers Morgan, who has defended the president following past controversies and who Trump follows on Twitter, called for Trump to remove the retweets.
British charity Hope not Hate, which monitors extremist organizations, said it "beggars belief" that Trump would retweet the material.
"Anyone with half a brain knows that Britain First is an extreme right movement that has had links to Loyalism, claims to 'invade' mosques, used murdered British soldier Lee Rigby's name against the wishes of his family to help it campaign in elections, and has bought many of its supposed followers on social media," a spokesperson told Newsweek.
Fransen celebrated the president's apparent show of support. According to social media monitoring site SocialBlade, Fransen had 52,700 followers before Trump's retweets. At the time of writing, this had risen to 54,100, an increase of almost 1,500 in less than an hour.
Trump faced widespread criticism after August's white supremacist Unite the Right rally in Charlottesville, Virginia, when he blamed "both sides" for unrest which saw anti-racism protester Heather Heyer killed.
The Trump administration has attempted to impose a ban on residents from several Muslim majority countries entering the U.S., citing security concerns. The Southern Poverty Law Center has attributed a threefold increase in the number of Islamophobic crimes in the U.S. in 2016 to Trump's anti-Muslim rhetoric on the campaign trail.
Trump has a record of disseminating information from dubious sources which have trafficked far-right conspiracies, on Saturday praising the Magapill website for an article lauding his achievements. The site had previously tweeted a "flow chart" which claimed Jews and the Vatican control the world.