Trump Retweets 'Career Ending' Message About Reporter Who Falsely Claimed 'Capital Gazette' Shooter Wore MAGA Hat
President Donald Trump has retweeted a message gloating about the resignation of a journalist who incorrectly said the Capital Gazette shooter was wearing a MAGA hat when he carried out the newspaper attack that left five people dead.
Conor Berry resigned from his reporter job at The Republican in Springfield at the end of last week after tweeting about the incident, commenting in his resignation notice: "I am ashamed of my tweet, which taints the good work of fair-minded journalists everywhere."
And on Sunday, President Trump retweeted a message from Larry Elder that shared a story on Berry's resignation by The Hill, alongside the sentence: "BEWARE! #TrumpDerangementSyndrome can be career ending."
Berry had tweeted several hours after the fatal attack took place: "Shooter who killed 4 at Annapolis newspaper dropped his #MAGA hat on newsroom floor before opening fire," in a message that The Republican said was taken down when they became aware of it.
He later followed up his initial tweet with a message apologizing to other journalists and to the president himself for the suggestion that the shooter wore Trump-branded clothing.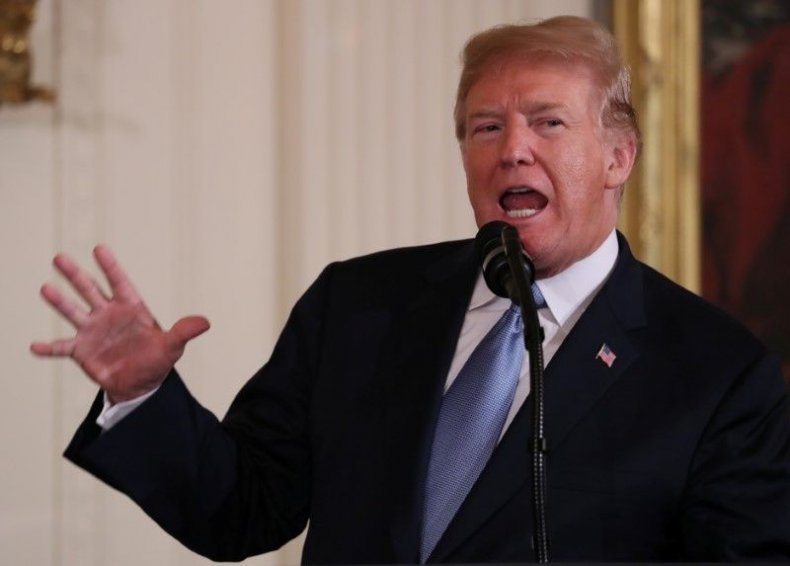 "Folks, My 21-year career as a "journalist," a fancy term that makes my skin crawl, frankly, came to a screeching halt yesterday with one stupid, regrettable tweet. Can't take it back; wish I could. My sincere apologies to all good, hardworking reporters and to POTUS supporters," Berry wrote. His post has received messages of support, as well as derision, from Twitter followers.
Although Trump has previously appeared to relish taking on members of the press, his retweet comes at a time when he is facing a backlash over his previous description of the media as an "enemy of the people," particularly in the wake of the Annapolis newspaper shooting.
Speaking about the shooting, Trump said last week: "This attack shocked the conscience of our nation and filled our hearts with grief. Journalists, like all Americans, should be free from the fear of being violently attacked while doing their job," CNN reported, although the president failed to answer a question about whether he would stop referring to media as the enemy of Americans.