Trump Retweets Crowd Size Photo From Reporter Who he Called a 'Criminal' Days Earlier
President Donald Trump retweeted a video on Wednesday taken by Reuters White House Correspondent Jeff Mason, showing the crowd size at a rally in Nebraska. The president's retweet comes only days after he called Mason a "criminal."
Mason's tweet included a video showing a field packed with people, many of whom were not wearing masks, during Trump's rally in Omaha on Tuesday night.
New York Times White House correspondent Maggie Haberman spotted Trump's retweet, and in a subsequent tweet, wrote: "A perfect distillation of the president's approach - calling a reporter a "criminal" for not reporting the way the president wants, then retweeting a crowd shot from same reporter days later."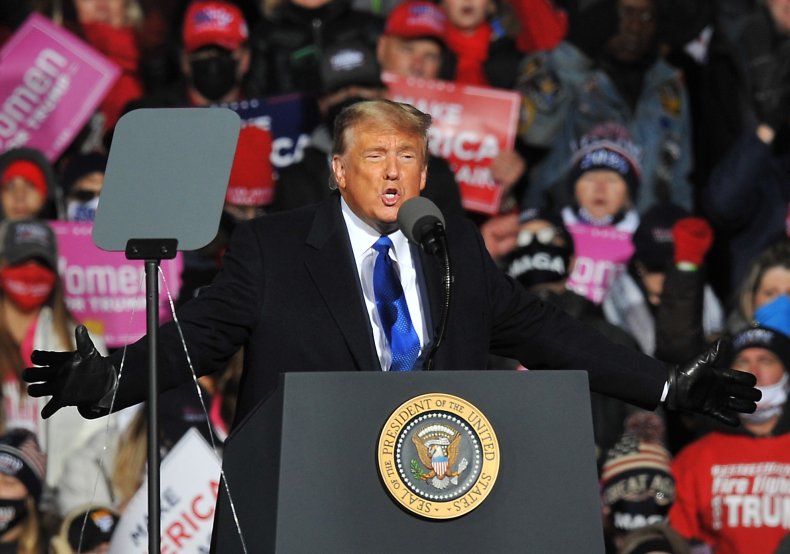 During a conversation with reporters in Phoenix, Arizona, on Monday, Trump called Mason a "criminal" for not reporting allegations that Democratic Presidential candidate Joe Biden's son, Hunter Biden, tried to set up a meeting with a Ukrainian official while he was serving as vice president.
Mason asked Trump: "Your campaign strategy seems to be to call Biden a criminal. Why is that?"
To which Trump responded: "He is a criminal. He got caught. Read his laptop. And you know who's a criminal, you're a criminal," Trump said as he gestured toward Mason.
"You're a criminal for not reporting it. Let me tell you something, Joe Biden is a criminal and he's been a criminal for a long time and you're a criminal and the media for not reporting it," said Trump.
The New York Post reported earlier this month that Hunter Biden allegedly wrote a series of controversial emails that appeared to show terms of agreements with Chinese and Ukrainian companies.
The emails were reported found on a laptop given to a New Jersey computer repair store in 2019. The store's legally blind owner, John Macissac, was unable to identify if the computer was dropped off by Hunter at the time.
With less than a week away from the 2020 Presidential election, Trump has used the laptop as a tool to attack Biden, although some continue to question the validity of the allegations.