Trump Retweets InfoWars Regular and QAnon-Supporting Sex Coach During Impeachment Trial
President Donald Trump retweeted a regular guest on Alex Jones' InfoWars show, as well as a woman who supports the QAnon conspiracy theory during Thursday's impeachment hearings in the Senate.
Shortly after tweeting that he was leaving Michigan for Thursday evening's rally in Iowa, Trump shared a number of tweets from his followers. The tweets were all about the Senate impeachment trial, mostly criticizing lead House impeachment manager Rep. Adam Schiff of California.
While some of Trump's retweets were from mainstream political figures, including Senator Rand Paul of Kentucky, Representative Elise Stefanik of New York and Republican Whip Rep. Steve Scalise of Louisiana, the president also shared posts from conspiracy theorists.
"Schiff is a congenital liar that has done nothing positive for the American people," Dr. Dawn Michael wrote. "This is another reason that we desperately need term limits, to get these jokers out of Congress." Michael has a reference to the discredited QAnon conspiracy theory in her Twitter bio.
Another tweet shared by Trump came from DeAnna Lorraine Tesoriero. Tesoriero is a congressional candidate running for office against Speaker of the House Rep. Nancy Pelosi of California. Tesoriero is also a regular guest on InfoWars, the website and streaming show that often spreads conspiracy theories.
"Schiff hasn't done a thing for his district nor has Nancy Pelosi in SF! Nancy has been in power for YEARS and San Francisco is suffering from a homeless problem that only gets worse. What does Nancy focus on? Impeachment! She doesn't care about her own district! #WheresNancy," Tesoriero wrote.
Trump has been criticized for lending credence to conspiracy theories, including granting a temporary White House press pass to InfoWars. In 2018, Sarah Sanders, then White House press secretary, shared a doctored InfoWars video on the official @PressSec Twitter as justification for the decision to suspend the press pass of CNN's Jim Acosta.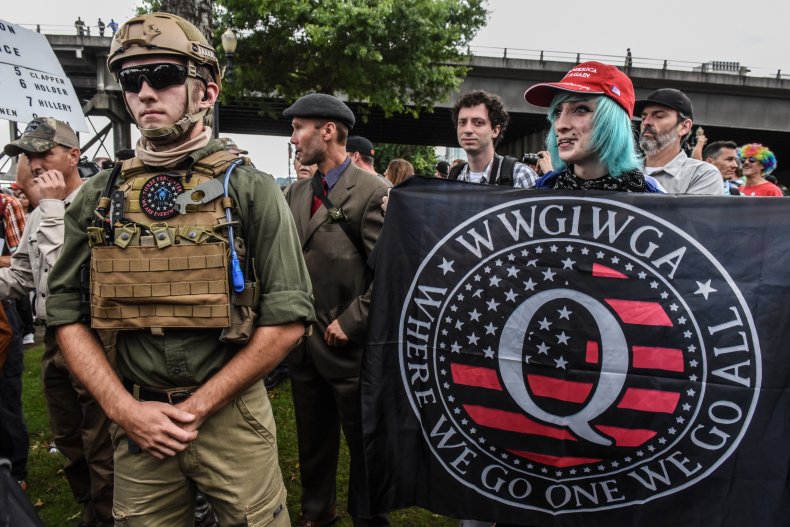 InfoWars, the show hosted by Alex Jones, has spread a number of conspiracy theories. Jones himself has been sued for the harassment of family members of the victims of the 2012 mass shooting at Sandy Hook Elementary School. Jones has repeatedly claimed that the shooting did not happen, and was a "false flag" designed to provide a reason for gun control.
InfoWars is also where the popular QAnon conspiracy theory gained traction. The theory hinges on posts made to the right-wing message board /pol/ on the 4chan website. Q claims to be an insider in the Trump administration with access to classified information.
Posts by Q include accusations that Democratic officials and celebrities are at the center of a international sex trafficking ring. Q often frames Trump as a lone hero fighting against a cabal of left-wing Satanist pedophiles, despite no evidence offered.
The QAnon conspiracy has also alleged that Supreme Court Justice Ruth Bader Ginsburg is dead and has been replaced by a double to keep Trump from appointing another Supreme Court justice. The Ginsburg conspiracy theory has been shared by conservative celebrity James Woods as well as former White House adviser Sebastian Gorka.