Trump Shares Meme of Disabled Child to Make a Point About the NFL
President Donald Trump has retweeted a meme featuring a child in a wheelchair that slams people who won't stand for the national anthem, with the slogan: "If he can stand, so can you."
His Monday morning retweet was one of a number of memes the president retweeted from the account @The_Trump_Train, including another message that simply said: "Thank God for Trump," and several concerned with NFL players taking a knee during the national anthem to protest police brutality against black people.
The meme featuring a child in a wheelchair shows the young boy attempting to stand up as people march past holding the U.S. flag. It says: "This little boy is attempting to stand for the U.S. anthem without the use of his legs… If he can stand, so can you."
The picture comes from Myron Leggett, a professional photographer who snapped a photo of his nephew Arek Trenholm in 2016 as he attempted to stand for the anthem, The New York Post reported at the time.
"To all of 'Those' that refuse to stand for the Flag of the United States of America…this is my nephew Arek Trenholm, he has 'spina bifida' he used his arms to 'STAND' from his wheelchair as our Flag passed by!!" Leggett wrote on Facebook at the time.
The president's retweet of the meme comes following the first weekend of the NFL season, during which two Miami Dolphins players became the first players this season to take a knee—winning praise from football star Colin Kaepernick, who famously began the movement by taking a knee to protest racial injustice.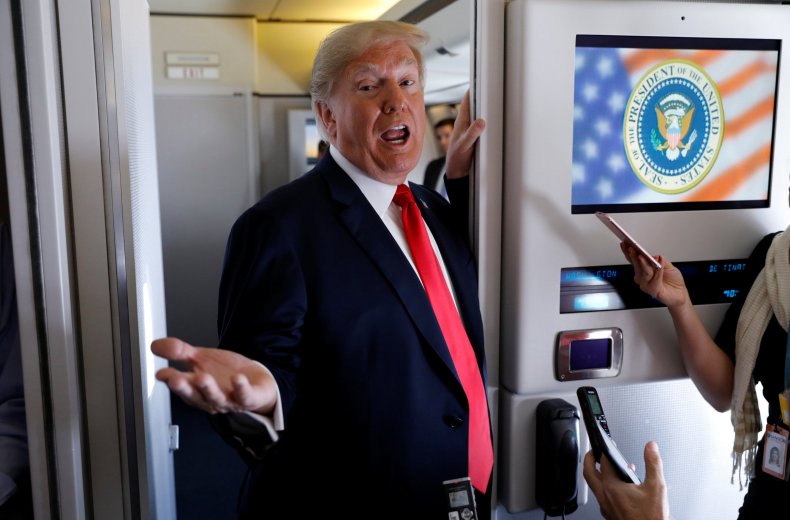 "Their courage will move the world forward," Kapernick tweeted. "My Brothers @kstills and @ithinkisee12 continue to show their unwavering strength by fighting for the oppressed! They have not backed down, even when attacked and intimidated. Love is at the root of our resistance."
But the show of solidarity did not go down well with President Trump, who has previously been outspoken about his feelings towards football players kneeling during the anthem by suggesting they should be fired.
"Wow, NFL first game ratings are way down over an already really bad last year comparison. Viewership declined 13%, the lowest in over a decade. If the players stood proudly for our Flag and Anthem, and it is all shown on broadcast, maybe ratings could come back? Otherwise worse!" the president wrote in a message on Sunday, which he followed up a day later with the series of memes on the topic.
Trump Shares Meme of Disabled Child to Make a Point About the NFL | U.S.