Trump Retweets Post Urging Supporters to Buy 'Impeach Santa!' Hats 5 Days After Christmas—They're No Longer For Sale
President Trump retweeted a link to an "Impeach Santa" collection on Breitbart's website Monday afternoon. The link, which initially led to an empty storefront, currently redirects to the front page of the Breitbart web store.
The hat appears to have been sold out or removed, along with the rest of the items in the collection, before the president ever retweeted the link, resulting in confusion and mirth in the comments of his retweet.
"Trump re-tweeting an empty store is a perfect end to 2019," said user SisyphusUnleashed, who added a second tweet with a screencap of the empty storefront moments later. "They have 'fixed it' by redirecting it to their home page. The internet however is forever."
"Does Trump realize Christmas was 5 days ago?" asked Twitter user @suppelsa, finishing their query with a crying laughing face emoji.
"'this collection is empty' Just like the actual Impeachment!" said Twitter user @bombersfan.
At press time, the retweet remains live on the president's Twitter account.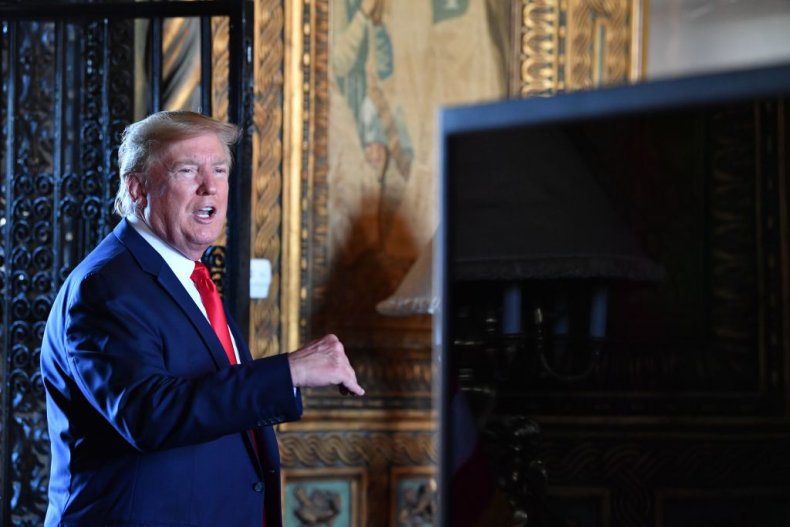 President Trump remains under fire for allegedly asking Ukrainian President Volodymyr Zelenskiy to commit to a "quid pro quo" trade with America during a July telephone call. Trump is said to have threatened to withhold military aid that had already been approved by Congress, unless Zelenskiy provided the president with information on former Vice President Joe Biden and his son Hunter involving their alleged dealings with the Ukrainian gas company Burisma. Trump claims Biden used his power as vice president to have an investigation into Burisma killed, an accusation that has not been proven. Trump also wanted a theory that Kiev interfered in the 2016 election on the behalf of Hillary Clinton investigated.
A whistleblower report by an anonymous individual who described themself as "deeply concerned" about the possibility that the president had abused his position cited the existence of "multiple White House officials with direct knowledge of the call" who informed them of what had transpired during the conversation in a report filed August 12, leading to an impeachment inquiry into President Trump's actions during the July phone call.
On December 18, President Trump became the third American president be impeached in the country's history. On December 21, an email from White House official Michael Duffy requesting aid be withheld from the Ukraine was made public. The request from Duffy came 91 minutes after the quid pro quo request was allegedly made from Trump to Zelenskiy. The White House says the timing of the call and email is a coincidence. Trump continues to deny any wrongdoing in the matter.
Newsweek reached out to the White House for comment, but did not hear back at press time.