President Donald Trump on Tuesday signed legislation supporting national conservation efforts, marking a clear reversal in his administration's policy amid increasingly worrisome election polling numbers.
Trump signed the Great American Outdoors Act, which will provide $900 million a year in permanent funding to the Land and Water Conservation Fund (LWCF) and create more than 10,000 infrastructure-related jobs, according to a White House press release.
"We're preserving our land. We're making our land better and cleaner and safer," Trump said in the release. The legislation is the single-largest investment in conservation efforts in a generation and is being hailed as a conservationist's dream.
"This funding is needed badly. The number of visitors to the national parks system has increased by 50 percent since 1980, but the parks' budget has remained effectively flat," Linda Bilmes, the Harvard Kennedy School's Daniel Patrick Moynihan senior lecturer in public policy, told The Harvard Gazette.
Trump's move to sign the bipartisan legislation, which the House passed July 22 in a 310-107 vote, comes amid a polling crisis that shows his bid for a second term is at risk.
The Trump campaign temporarily paused television advertising last week in an attempt to review its strategy and messaging, even though there are less than 100 days until the November 3 election.
New polls continue to show Trump significantly trailing presumptive Democratic nominee Joe Biden, with a recent survey suggesting that Biden has a 9-point lead over the president nationally.
In the Morning Consult poll, 51 percent of respondents said on August 2 they would vote for Biden if the election were held that day, compared with the 42 percent of voters who said they would vote for Trump. Morning Consult continually polls 4,400 likely voters each day.
Newsweek contacted the Trump campaign for comment but did not hear back in time for publication.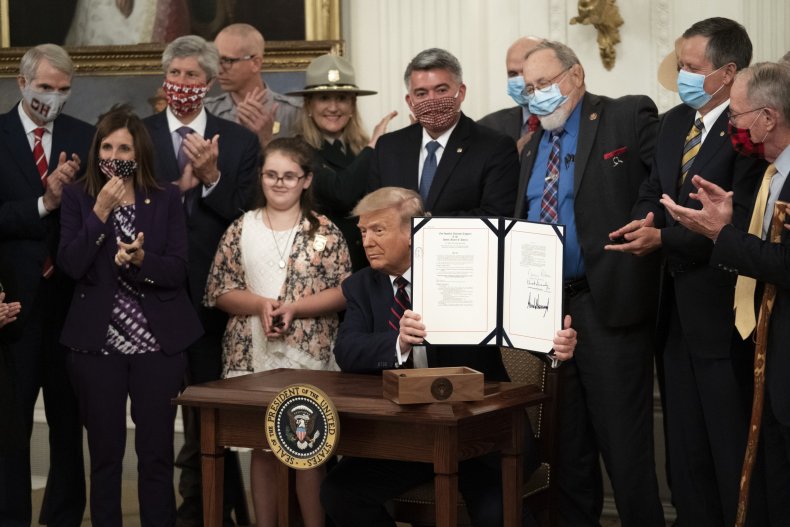 Trump's decision to provide permanent conservation funding marks a reversal in his administration's stance on supporting the LWCF, which helps local governments secure land for national parks.
The proposed 2021 fiscal year budget released in February aimed to cut funding to the LWCF by nearly 97 percent but received pushback across party lines. Then Trump abruptly announced in March he would support full funding of the program and asked Congress to make it happen.
"I am calling on Congress to send me a Bill that fully and permanently funds the LWCF and restores our National Parks," Trump tweeted on March 3. "When I sign it into law, it will be HISTORIC for our beautiful public lands. ALL thanks to @SenCoryGardner and @SteveDaines, two GREAT Conservative Leaders!"
Republican Senators Cory Gardner of Colorado and Steve Daines of Montana have been strong proponents of the bipartisan legislation, encouraging Trump to reverse his stance and support the bill.
Those opposed to it say that the U.S. cannot afford to pay for the land it already has and that taxpayers will be responsible for the $900 million in annual funding if oil and gas revenues, which are meant to pay for the LWCF, can't generate enough money.