Trump Revives Nixon's Law and Order Message—Here's Why It May Not Work This Time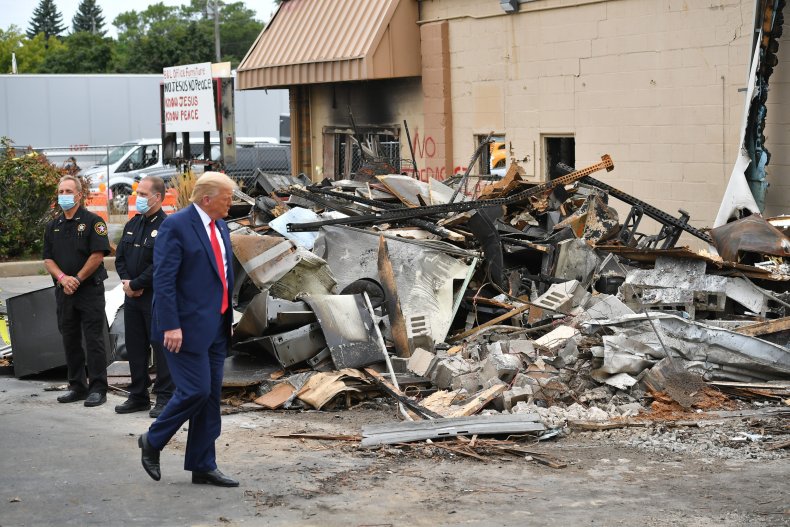 Against the backdrop of burned buildings and looted businesses in Kenosha, Wisconsin, President Donald Trump was asked to give a message to peaceful protesters in the wake of another police shooting of a Black man. Instead, he turned his attention to residents who weren't at the demonstrations.
"They want change also. They want to see law and order," Trump insisted during a community roundtable on public safety on September 1. "That's the change they want. They want law and order."
The appearance was a peak of the president's summer campaign to revive the decades-old political slogan amid nationwide unrest over racial injustice and police brutality. As his poll numbers spiraled downward following the coronavirus pandemic, the economic recession and the death of George Floyd, "law and order" became Trump's 2020 rallying cry.
But the mantra is untested for an incumbent of the White House, and it comes with a tangled, dark history.
"It's seen as a dog whistle. It's not just about crime," Peter Levy, a York College civil rights historian, said of the law and order message. "It is a politics of fear, I think, rather than a politics of fighting crime."
The phrase itself is ripped straight from the playbooks of Richard Nixon, George Wallace and other conservative candidates of the civil rights era. Nixon essentially sealed his 1968 victory by portraying Lyndon B. Johnson's administration, including Vice President and Democratic nominee Hubert Humphrey, as too soft on crime amid riots over the assassination of Martin Luther King Jr. The message was also widely seen as an appeal to suburban white voters unnerved by the progress of the movement.
As president, Nixon expanded the War on Crime and started the War on Drugs—programs that led to disproportionate arrests and significant collateral damage in communities of color. Years later, a Nixon advisor admitted that the War on Drugs was meant to criminalize Black people.
Ron Davis, a retired police chief and former director of the Department of Justice's office of community-oriented policing services, said this prejudiced history lurks behind Trump's law and order rhetoric. What's even worse, he said, is that the president seems to be using the slogan to distract the public from the root causes of the protests.
"My concern is that Trump is very fearful of the truth about systemic racism and the truth about racial injustice," Davis said. "So he thinks, 'I'll distract the whole world by talking about law and order because people are demonstrating and a very small percentage are rioting.'"
About 93 percent of the racial justice demonstrations that swept the U.S. since Floyd's death have remained peaceful and nondestructive, according to a study from the nonprofit Armed Conflict Location and Event Data Project. The group identified 7,750 protests from May 26 through August 25 linked to the Black Lives Matter movement. Just 220 of those protests became "violent," meaning that demonstrators clashed with police or caused property damage.
But Trump's outsized focus on the violence, which he adamantly blames on cities run by Democrats, could end up hurting more than helping, or even backfire altogether. After all, it's happening under his watch.
"It's really, really unusual to see an incumbent at any level of politics try to make this work where he blames the other party for the civil unrest during his tenure," said Jeremy Mayer, a professor at George Mason University who studies elections and racial politics.
More often than not, unrest damages the party in power. Nixon had to back off the law and order theme in his second run for office. George H.W. Bush lost reelection in 1992 to Bill Clinton after Clinton criticized the Republican's handling of the L.A. riots and pledged to "take our neighborhoods back."
Biden has already jumped on the opportunity to paint the unrest as a byproduct of Trump's America.
"He keeps telling us if he was president you'd feel safe," Biden said during a speech in late August. "Well, he is president, whether he knows it or not."
In his own visit to Kenosha just two days after Trump's, Biden vowed that America would address racism and the "original sin" of slavery under his leadership. He talked about the need for greater understanding between races and acknowledged racial disparities in health care, education and the criminal justice system. Trump, he said, was someone who "legitimizes the dark side of human nature."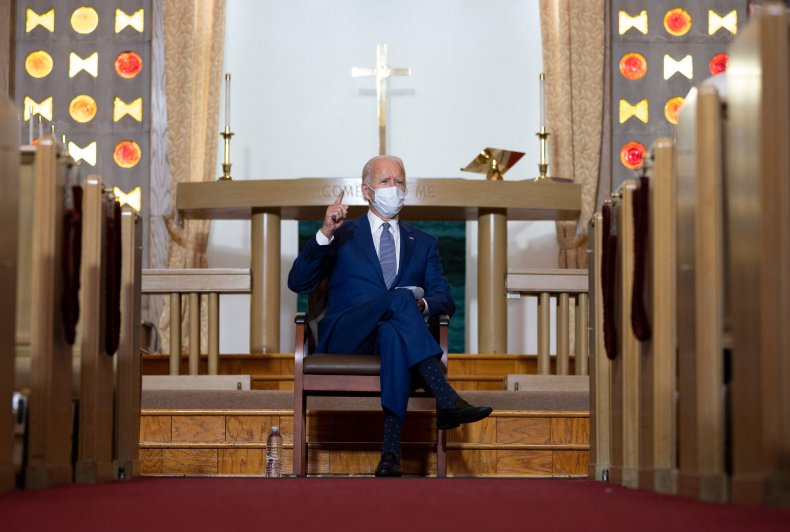 Polls show a mixed picture of the effectiveness of Trump's message. In Wisconsin, the most recent epicenter for the president's rhetoric, a Fox News poll showed more voters thought Biden would be a better leader on policing and criminal justice than Trump. The same result was found in Arizona, another 2020 battleground state.
"I don't think until after the election will we know if it worked," said Levy, the historian. "It doesn't need to work among the population in general, it needs to work amongst very targeted populations in very targeted states."
For now, Trump is hedging his bets on the "law and order" theme. The latest advertisement from his campaign, airing across several swing states, features images of burning buildings and unruly crowds.
"Communities not criminals," says the Trump ad narrator. "Jobs not mobs. Strong leadership when America needs it most."