President Donald Trump on Thursday announced the reemergence of the U.S. Space Command. The command is separate from Trump's promise of creating a Space Force, which would be the sixth branch of the military to join the Army, Navy, Air Force Marine Corps and the Coast Guard.
The U.S. Space Command was part of the Air Force, and it was created in the Cold War era of the 1980s to coordinate missile defense systems, according to Engadget. Once the war on terror began just after the turn of the century, the Space Command was integrated with the U.S. Strategic Command to focus on the invasion of Afghanistan.
During a ceremony at the White House and alongside Vice President Mike Pence on Thursday, President Trump said the separation of the Space Command back into its own entity is to help protect America's satellites in space, which are highly important for both the military and commercial business.
"Those who wish to harm the United States, to seek to challenge us on the ultimate high ground of space, it's going to be a whole different ball game," Trump said.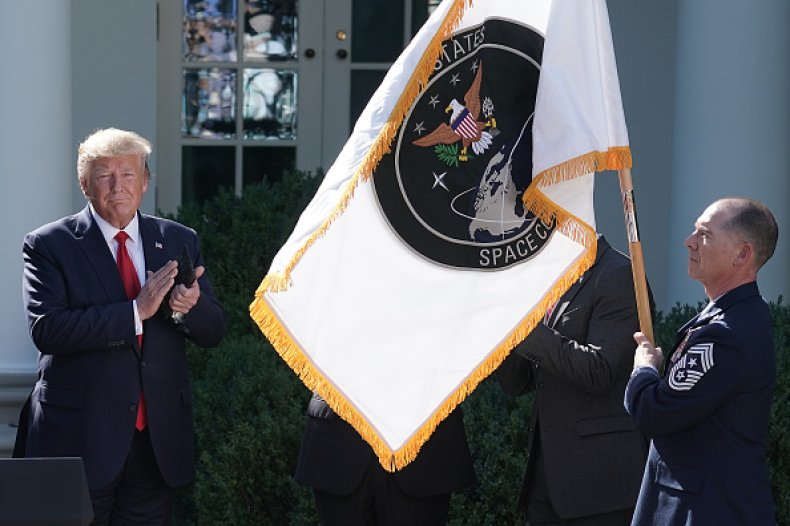 The Space Command has not indicated where its headquarters will be located, but CNN reported it will have only 287 personnel.
Air Force Gen. John Raymond, who will lead the U.S. Space Command, said Americans "no longer have the luxury of treating space superiority as a given."
"There is a growing threat. The scope, scale and complexity is concerning," Raymond said. The general went on to say "there's reversible jamming of GPS communication satellites. There's directed energy threats. There's missiles that can be shot from the ground and blow up a satellite, like was demonstrated by China in 2007. So there's a full spectrum. We're concerned about all of those threats."
The president last year said he intended to separate the Space Command from the Strategic Command, and Thursday's ceremony was a chance for Trump to reiterate the country's urgency to bolster space defense.
He said the Space Command "will soon be followed — very importantly — by the establishment of the United States Space Force as the sixth branch of the United States Armed Forces." He added that the Space Force will "organize, train and equip warriors to support Space Command's mission."
The Space Force would fall under the Department of the Air Force, similar to how the Marine Corps is part of the Department of the Navy.