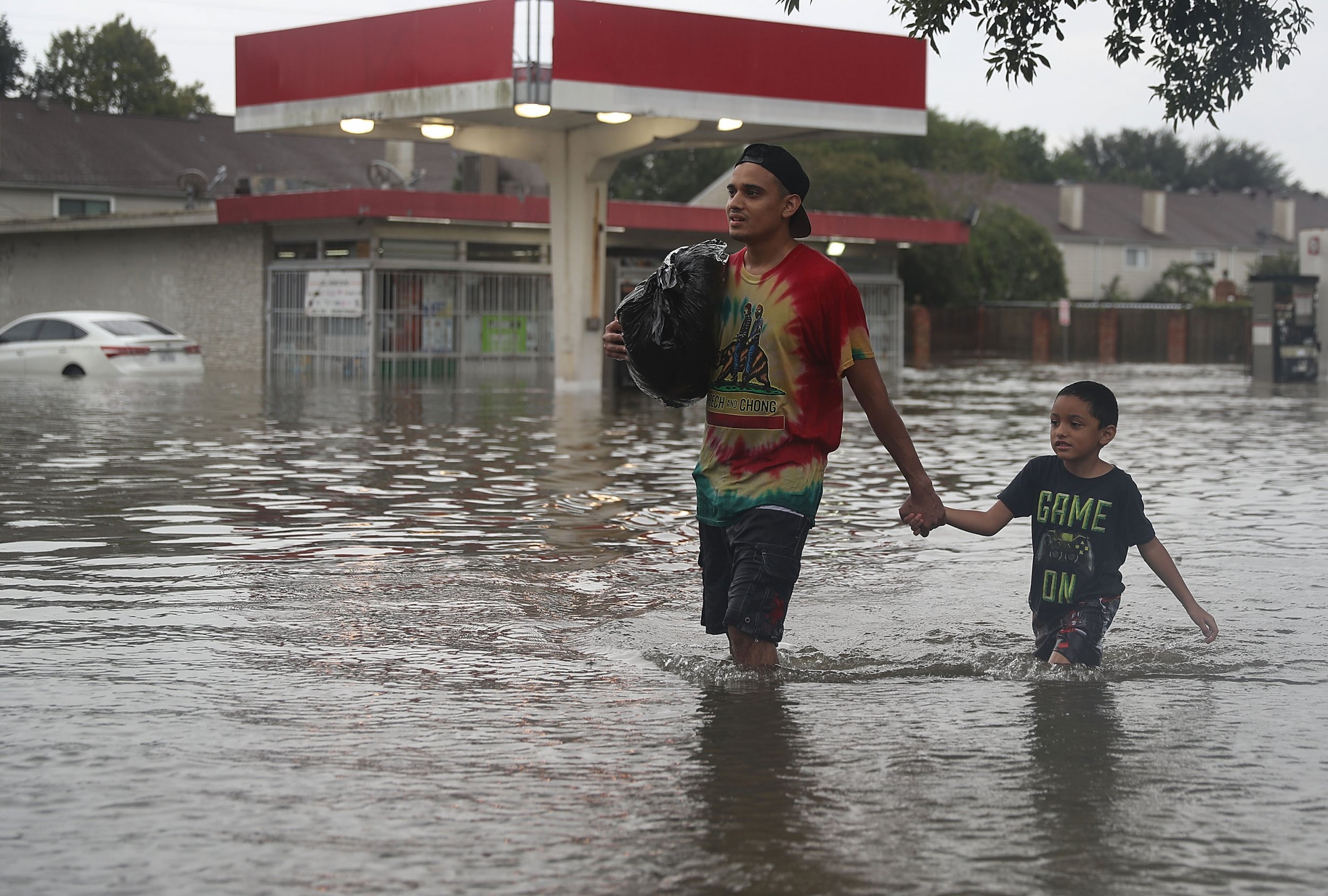 As parts of Texas and Louisiana experience historic flooding related to Hurricane Harvey, the White House is defending President Donald Trump's recent decision to revoke Obama-era flood risk regulations.
Former President Barack Obama's 2015 executive order that put in place flood risk regulations "applied broadly to the whole country, leaving little room or flexibility for designers to exercise professional judgement or incorporate the particular context of the project setting," a White House spokesperson said Monday in a statement to Newsweek. The spokesperson added that the regulations "were developed without sufficient analysis as to the economic impacts associated with its ultimate implementation."
Related: Trump Rescinded Obama's Flood Risk Rules Weeks Ago
The 2015 order established a federal flood risk management standard and said that for projects using federal funds, developers must take certain measures to assess the flood risk. "The purpose of that federal flood risk management standard was to ensure that where federal dollars were being spent on infrastructure...that the project sponsor understand and take a look at their flood risk portfolio," says Brian Pallasch, the managing director for government relations and infrastructure initiatives at the American Society of Civil Engineers, a professional organization with more than 150,000 members. "We felt it was a step in the right direction."
On August 15, Trump revoked the Obama directive "in order to ensure that the federal environmental review and permitting process for infrastructure projects is coordinated, predictable and transparent," the Trump order said. It continued, "Inefficiencies in current infrastructure project decisions, including management of environmental reviews and permit decisions or authorizations, have delayed infrastructure investments, increased project costs and blocked the American people from enjoying improved infrastructure that would benefit our economy, society and environment."
Trump announced details of the order during a press conference that ended up focusing more on his response to the August 12 violence in Charlottesville, Virginia. But some people and groups took notice. Rafael Lemaitre, the former director of public affairs at the Federal Emergency Management Agency (FEMA), told Reuters, "Eliminating this requirement is self-defeating; we can either build smarter now or put taxpayers on the hook to pay exponentially more when it floods. And it will."
Climate scientist Kristina Dahl wrote in a blog post on the website for the Union of Concerned Scientists, "It is ultimately American taxpayers who will pay the price for building without regard to sea level rise and the impacts of increasing extreme weather." The president of the American Society of Civil Engineers, Norma Jean Mattei, said in a statement about Trump's order, "It is not clear that these changes will protect the environment and improve public safety." Mattei went on to say the protections under Obama's plan were "more important now than ever."
At least one group, the National Association of Home Builders, supported Trump's order. Its chairman, Granger MacDonald, said in a statement, "This action by President Trump will provide much-needed regulatory relief for the housing community and help American home buyers." A spokesperson for the association did not respond to a request for comment on Monday.
Since the August 15 order, Hurricane Harvey, which was downgraded to a tropical storm, has brought catastrophic flooding to Texas. At least five people have died, and the National Weather Service for the Houston/Galveston area reported estimates of more than 40 inches of rain in some areas.
But the White House is standing by the August 15 order. The administration spokesperson said FEMA had not published a final rule on the Obama directive, and "therefore the regulatory changes had not been implemented and today's executive order does not change current FEMA policies or programs." By revoking the 2015 order, "the prior standard will remain in effect," the spokesperson said. State and local jurisdictions can still implement higher standards.
Opponents of such deregulation say the situation in Texas shows why flood management standards are necessary. "Any of these types of events continue to be a reminder that as we build infrastructure, we need to build it in a more resilient fashion," says Pallasch, of the American Society of Civil Engineers. "We need to look towards not the last event but the next event."
Trump tweeted on Sunday that the rainfall in Texas is "historic" and that the flooding is "unprecedented." He is scheduled to visit the state on Tuesday.