Trump's Rhetoric Is A 'Bullhorn' Encouraging White Supremacist Violence, Former Skinhead Warns
A former white supremacist skinhead has warned that President Donald Trump's rhetoric is a loud and clear message to extremists, encouraging them to take violent action.
Speaking to CNN's S.E. Cupp on Saturday, Christian Picciolini, who wrote the book White American Youth , responded to a clip of the president proudly referring to himself as a "nationalist." He said that white supremacist extremists, of which he used to be a member, would hear such comments as an endorsement of their beliefs.
"It was loud like a bullhorn to me," Picciolini said. "I didn't hear a dog whistle."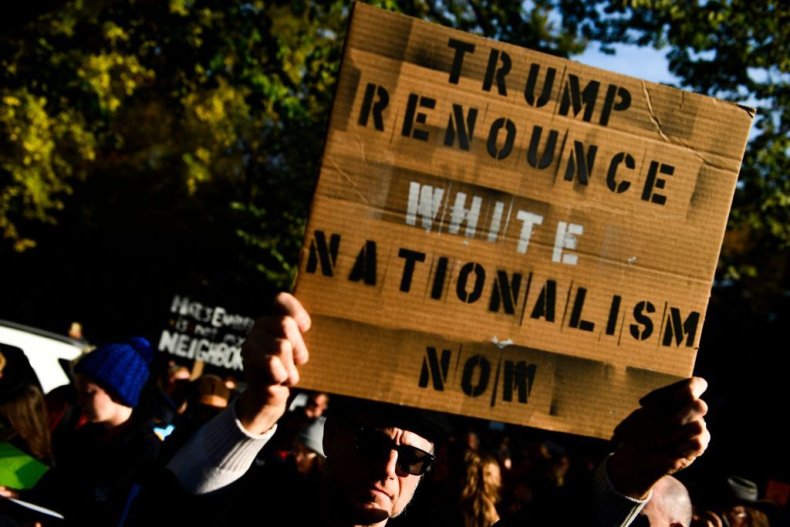 "When somebody with power gives them words that back up with what they believe, spreads conspiracy theories and gives them some sort of agency, there's a certain subsegment of these extremists groups that will act," he explained. Pointing to recent pipe bombs sent to leading Democrats as well as attacks, such as the Pittsburgh Synagogue Massacre of last weekend, Picciolini said that while some extremists may just voice their views "vocally," others "take action based on the words that they hear."
"Now that hate is being normalized, they feel they are in power," the author said. "People need to be held accountable for their words," he added.
Picciolini also pointed out that the U.S. has had an issue with white supremacy since "the nation's founding." However, he said the country is now seeing a "resurgence" and "new people" joining the movement, while also seeing people who've long held these beliefs feeling emboldened.
"There not hiding behind hoods anymore," he said. "They've gone from what I used to be – wearing boots – to wearing suits … Now these people who had hateful ideologies, who were embarrassed of them maybe just a few years ago, are not embarrassed to say them anymore."
Beyond hate groups in the U.S., foreign nations have also used Trump's remarks to justify violence. In Nigeria, the army tweeted a video of Trump on Friday, in which he warned U.S. troops would shoot any migrants throwing stones if and when they reached the U.S.-Mexican border crossings. The video was accompanied with the message: "Please watch and make your deductions."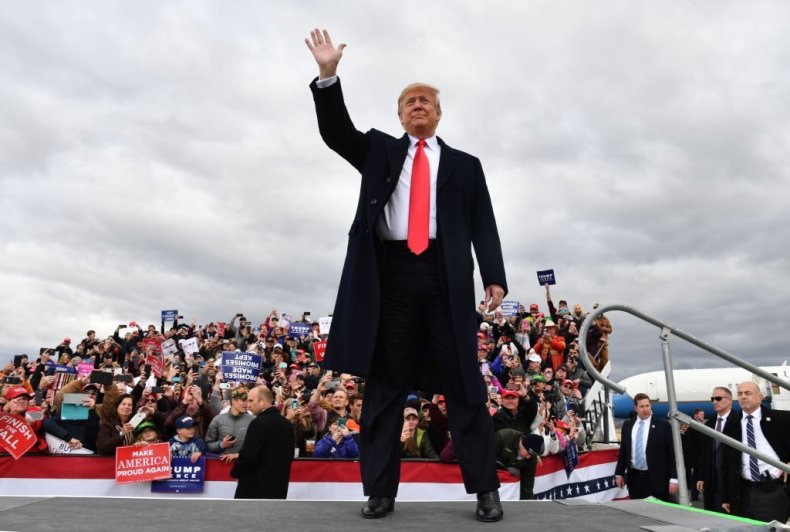 The tweet came after at least 45 protesters were killed in a shooting attributed to police and soldiers using automatic weapons. Nigeria's defense spokesman John Agim told Agence France-Presse (AFP) the army shared the video of Trump as a reaction to allegations its forces had acted illegally in dispersing the demonstration.
Trump has faced significant criticism for encouraging violence during his political rallies, praising a Republican congressman for body slamming a reporter and even verbally offering to pay legal fees of supporters to "knock the crap" out of demonstrators.
The perpetrators of three recent attacks, including a campaign of pipe bombs against Trump's political enemies, the murder of eleven people at a synagogue in Pittsburgh, and a shooting attack in Tallahassee, have strongly echoed elements of the President's rage-filled rhetoric against his opponents, in support of white nationalism, and against women.
But the White House maintains that the president does not condone violence in any form.