Trump Accused Senator Blumenthal of Vietnam Con But Has Faced Questions About His Own Draft Record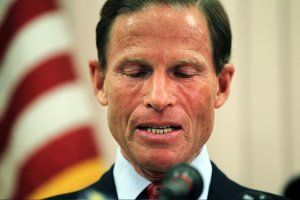 Democrat Senator Richard Blumenthal has been one of Trump's sternest critics, and in typical style, the president has responded with attacks of his own.
Reacting to Blumenthal's allegations of collusion between the Trump camp and Russia, President Trump today unleashed a new tirade against the Connecticut senator.
"Interesting to watch Senator Richard Blumenthal of Connecticut talking about hoax Russian collusion when he was a phony Vietnam con artist!," tweeted Trump.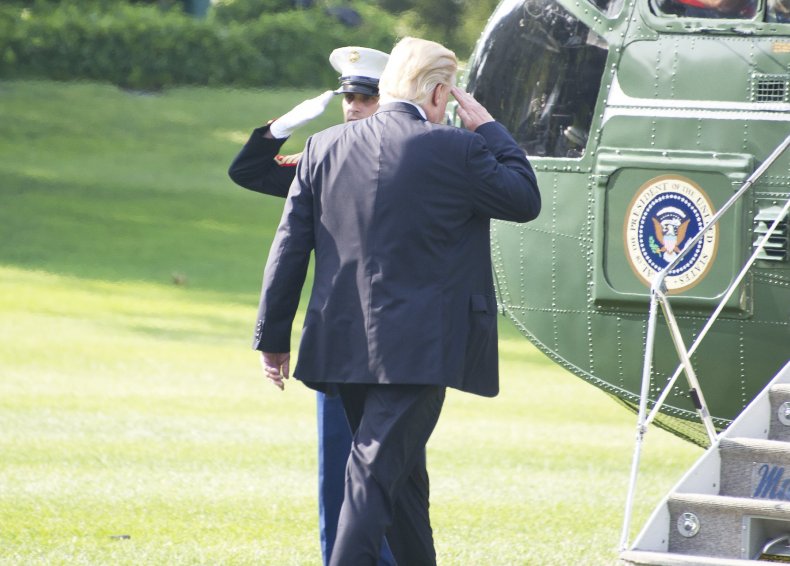 "Never in U.S.history has anyone lied or defrauded voters like Senator Richard Blumenthal. He told stories about his Vietnam battles and…conquests, how brave he was, and it was all a lie. He cried like a baby and begged for forgiveness like a child. Now he judges collusion?"
Why Has Trump Targeted Blumenthal?
Blumenthal has repeatedly pressed Trump to take action against Russia in response to Moscow's attempts to interfere in the 2016 presidential election.
"President Trump has to tell Putin, who is an adversary, not an ally, that Russia will pay a price if Russia repeats this kind of meddling in our election," Blumenthal said earlier in July.
Trump's latest attacks on Blumenthal seem to stem from the senator's appearance on CNN this morning, in which he criticized a Justice Department crackdown on leakers and a review of press subpoena procedures.
"That's a chilling effect on the press and on whistleblowers, and on information that doesn't involve classified data or disclosures but in fact may be just embarrassing or unwelcome," he said.
Without a "free press," the American people would not have known about the Trump campaign and the transition team's meetings with Russian officials like former Ambassador to the U.S. Sergei Kislyak, Blumenthal said.
The president has lashed out at Blumenthal on previous occasions, calling out the senator over his war record in February after Blumenthal revealed that Trump's Supreme Court nominee Richard Gorsuch had expressed concern to him over the president's attacks on the judiciary; and in May, when Blumenthal criticized Trump for sacking FBI Director James Comey.
Trump's allegations, ironically, stem from a 2010 article in The New York Times, a publication he has repeatedly denounced as "fake news."
The newspaper reported during Blumenthal's 2010 Senate bid that he had mischaracterized his military service during the Vietnam war.
"We have learned something important since the days that I served in Vietnam," Blumenthal said at a campaign event in March 2008. "And you exemplify it. Whatever we think about the war, whatever we call it—Afghanistan or Iraq—we owe our military men and women unconditional support."
In fact, Blumenthal never served in Vietnam. He obtained at least five military deferments from 1965 to 1970 and took repeated steps that enabled him to avoid going to war, according to records obtained by the Times.
He then joined the Marine Corps Reserve, but did not see service in Vietnam.
Blumenthal, who then was Attorney General of Connecticut, apologized for misrepresenting his military service.
"I have made mistakes and I am sorry," he said in a statement. "I truly regret offending anyone. I will always champion the cause of Connecticut's and our nation's veterans."
Blumenthal won his race for the Senate and was re-elected for a second term in November.
Trump Hypocrisy?
Critics say the president is in no position to disparage Blumenthal's military record or attack his public statements on the matter.
According to the military records, the president received five deferments of his own during the Vietnam war: three for medical reasons, and two educational.
Trump told the Times in 2016 that he had been diagnosed when young with heel spurs (caused by a calcium buildup in the heel bone) and given a doctor's note exempting him from service.
Trump's longtime personal physician, Dr Harold Bornstein, made no mention of the heel spurs when he gave Trump a clean bill of health when the reality TV star and property developer announced his candidacy. Trump told the Times he had not had an operation for the condition and could not recall when it no longer bothered him.
However, Trump has also claimed that his luck in the draft lottery allowed him to avoid service.
"If I would have gotten a low [draft] number, I would have been drafted. I would have proudly served," he told ABC News. "But I got a number, I think it was 356. That's right at the very end. And they didn't get—I don't believe—past even 300, so I was—I was not chosen because of the fact that I had a very high lottery number."
A spokesman for the Selective Service System told the Times that Trump's draft number would have been irrelevant, given his medical exemption.
Blumenthal Hits Back
Blumenthal hit back at Trump's tweets, accusing the president of bullying and referring to the ongoing investigaton into the Trump camp's alleged Russia ties by Special Counsel Robert Mueller.
"Mr. President: Your bullying hasn't worked before and it won't work now. No one is above the law," he tweeted.
"This issue isn't about me—it's about the Special Counsel's independence and integrity."