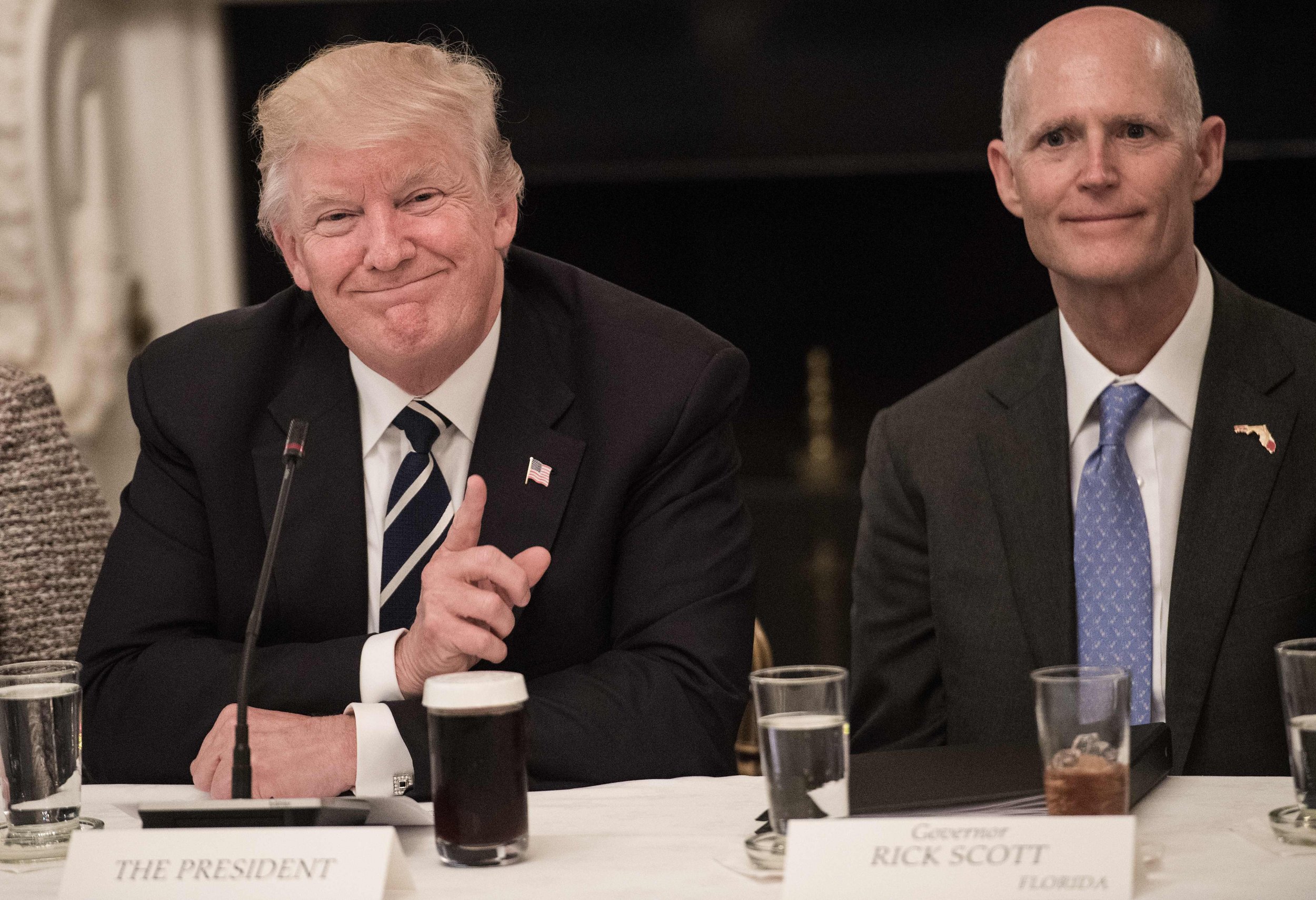 Why was Florida exempted from the Trump Administration's new ocean drilling plan? Two reasons, say Republican and Democratic detractors: The state has a Republican governor and is home to a little waterfront villa called Mar-a-Lago.
The Trump administration announced sweeping deregulation last week to allow offshore oil and gas drilling in all previously protected waters of the Atlantic and Pacific oceans—but days later, after lawmakers in the affected states complained, the administration changed its mind: for Florida only.
The exemption came after Interior Secretary Ryan Zinke met with Republican Governor Rick Scott at the Tallahassee airport.
"I support the governor's position that Florida is unique and its coasts are heavily reliant on tourism as an economic driver (so) I am removing Florida from consideration for any new oil and gas platforms," Zinke said in a statement.
Governors and other politicians in equally affected coastal states bubbled up over the potential for spilled crude on their beaches.
"California is also 'unique' and our 'coasts are heavily reliant on tourism as an economic driver,'" California Attorney General Javier Becerra, a Democrat, said in a statement. "Our 'local and state voice' is firmly opposed to any and all offshore drilling. If that's your standard, we, too, should be removed from your list. Immediately."
Unlike Florida, California's executive is a Democrat—Jerry Brown—and the state voted for Hillary Clinton in the 2016 presidential election.
Republican governors of coastal states are also wondering why they're not getting exemptions. Larry Hogan of Maryland, Henry McMaster of South Carolina, Charles Baker of Massachusetts and outgoing Chris Christie of New Jersey have spoken out against drilling on their shores.
New York Governor Andrew Cuomo—a Democrat—poked Zinke on Twitter, saying, "Where do we sign up for a waiver Secretary Zinke?"
South Carolina Republican Representative Mark Sanford claimed that Trump only exempted Florida because Trump's Mar-a-Lago estate is there.
"You can't say 'I don't want to see an oil rig from Mar-a-Lago as I look out from the waters of Palm Beach but it's OK to look at an oil rig out from Hilton Head or Charleston, South Carolina," he told CNN on Wednesday.
Walter Shaub, the former director of the office of government ethics, agreed with that premise. Tweeting in all caps, "So you are exempting the state that is home to the festering cankerous conflict of interest that the administration likes to call the 'Winter white house' and none of the other affected states?? Go look up 'Banana republic' then go fly a Zinke flag to celebrate making us one."
The Sierra Club believes the motivation was about politics, not unobstructed vistas.
"Make no mistake about it, Ryan Zinke's decision ... to remove Florida from the draft offshore drilling plan was a purely political move to aid the ambitions of Rick Scott," the environmental group's Florida Director Frank Jackalone said in a statement.
Scott is widely expected to challenge Florida's Democratic Senator Bill Nelson this year. Nelson was not pleased.
"I have spent my entire life fighting to keep oil rigs away from our coasts," Nelson said in a statement. "But now, suddenly, Secretary Zinke announces plans to drill off Florida's coast and four days later agrees to 'take Florida off the table'? I don't believe it. This is a political stunt orchestrated by the Trump administration to help Rick Scott."
But the plan could backfire. Legal experts say that Zinke's concessions to Scott will put the plan in hot water when it is finalized next year.
"Unfortunately for Zinke, his process needs to be significantly more transparent if his offshore leasing plan is to have any chance of advancing and surviving the inevitable legal challenges," wrote investment firm Height Securities.
David Hayes, a former adviser to President Barack Obama and director of New York University's State Energy & Environmental Impact Center, wrote that the plan would be difficult to defend because it "smacks of an impulsive, undisciplined, arbitrary process."