Trump Seems to Suggest Getting 'Rid' of Nancy Pelosi and Adam Schiff to Make U.S. as Happy as Finland
In a joint press conference Wednesday with Finnish President Sauli Niinistö, President Donald Trump seemed to suggest that getting rid of House Speaker Nancy Pelosi and House Intelligence Chairman Adam Schiff would make the United States as happy a country as Finland.
The president showed his dislike for Pelosi and Schiff after the two Democratic leaders held a press conference on Capitol Hill regarding the ongoing impeachment inquiry into Trump in the House of Representatives.
In a C-SPAN recording of the press conference with Trump and Niinistö, a Finnish reporter can be heard saying, "Finland is the happiest country in the world." Trump cuts in, agreeing, "Finland is a happy country."
"What can you learn, what can you learn from Finland?" the Finnish reporter asks Trump.
"Well, you got rid of Pelosi, and you got rid of shifty Schiff," Trump responds. He adds, "Finland is a happy country. He's a happy leader, too," pointing to Niinistö. Trump and Niinistö both laugh briefly.
Finland topped United States trends on Twitter soon after, and President of Finland was also trending as a photo of Niinistö looking down, and unamused went viral. Twitter users also widely shared a video clip of Trump patting Niinistö's knee and the Finnish president reacting with a hand gesture appearing to signal to Trump that the touching was not welcome.
Trump, clearly unhappy with the impeachment inquiry prompted by a whistleblower complaint about his communications with Ukraine, later bashed Pelosi and Schiff on Twitter.
"Nancy Pelosi just said that she is interested in lowering prescription drug prices & working on the desperately needed (United States–Mexico–Canada Agreement)," Trump tweeted. "She is incapable of working on either. It is just camouflage for trying to win an election through impeachment."
Trump continued with a criticism of Schiff, who is leading the House's impeachment inquiry.
"Adam Schiff should only be so lucky to have the brains, honor and strength of Secretary of State Mike Pompeo," Trump tweeted. "For a lowlife like Schiff, who completely fabricated my words and read them to Congress as though they were said by me, to demean a First in Class at West Point, is SAD!"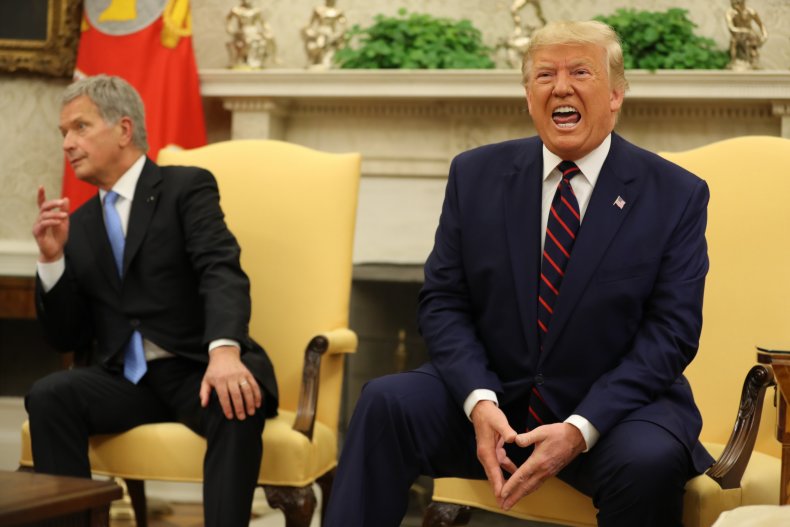 At the press conference on Capitol Hill, Pelosi said that the framers of the Constitution did not take foreign interference in U.S. elections lightly and that "having an investigation to impeach a president is not anything to be joyful about."
Schiff said that Trump's efforts to stonewall the release of documents relating to the whistleblower complaint appeared to be "further evidence of obstruction of justice."
Many Twitter users sympathized with Niinistö, whose country took No. 1 in the 2019 World Happiness Report, as well as in 2018. The U.S. ranked No. 19 of 20 countries in this year's report.