Trump 'Is Right' and Everything Else Bernie Sanders Has Said About $2,000 Stimulus Checks
Since the spring, Senator Bernie Sanders has been a leading advocate for direct payments as part of economic relief measures during the pandemic, but over the past week he's been hailed a national treasure for his efforts to get $2,000 stimulus checks approved in Congress.
The push has found Sanders on the same side as President Donald Trump, who kick-started the legislative battle by slamming the $600 checks included in the latest coronavirus relief package as "ridiculously low." The president said the amount should be raised to $2,000.
"That's great!" Sanders responded in a tweet on December 22. "I first introduced a bill to provide a $2,000 direct payment with @SenKamalaHarris & @EdMarkey 7 months ago. Now, Mr. President, get Mitch McConnell and your Republican friends to stop opposing it and we can provide working class Americans with $2,000. Let's do it."
The Democratic-controlled House of Representatives quickly moved on Trump's request, passing the Caring for Americans With Supplemental Help (CASH) Act on Monday. Sanders vowed to tie up other legislative affairs until a vote is held on the House bill in the Senate. The Vermont senator specifically promised to filibuster the Senate's override of Trump's veto of the National Defense Authorization Act, a crucial defense-spending bill.
"Let me be clear: If Senator McConnell doesn't agree to an up or down vote to provide the working people of our country a $2,000 direct payment, Congress will not be going home for New Year's Eve. Let's do our job," Sanders said in a statement.
On Tuesday, he took to the podium to ask the Senate to take up the bill, which would more than triple the $600 payment, but Senate Majority Leader Mitch McConnell objected.
"The leaders of our country—President Trump, President-elect Biden, Minority Leader Chuck Schumer, the Speaker of the House Nancy Pelosi—are all in agreement: We have got to raise that direct payment to $2,000. That is where we are right now in this historic moment," Sanders said Tuesday on the Senate floor.
He asked lawmakers, "Do we turn our backs on struggling working families, or do we respond to their pain?"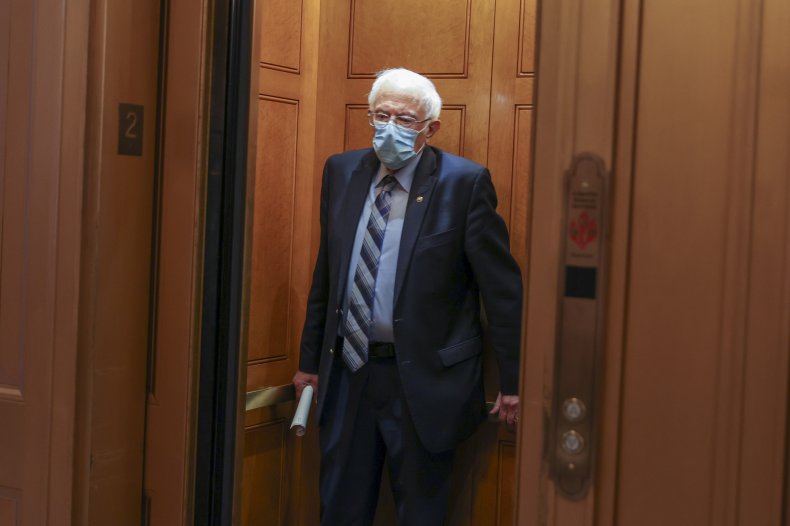 On Wednesday, Sanders used a tweet from Trump that said "$2,000 ASAP" as a visual aid as he continued to push for the increased benefit. In his remarks from the Senate floor, Sanders accused McConnell of not acting in the interest of his constituents after the majority leader said $2,000 stimulus checks had "no realistic path to quickly pass the Senate."
"Let me just make it clear for the majority leader that 10 out of the poorest 25 counties in the United States of America are located in Kentucky," Sanders said. "So maybe my colleague, the majority leader, might want to get on the phone and start talking to working families in Kentucky and find out how they feel about the need for immediate help in terms of a $2,000 check for adults."
He added, "We have a very unlikely ally in President Trump.... So even on this issue, amazingly enough, the president of the United States is right."
On Wednesday night, Sanders took aim at the Republicans' argument that $2,000 stimulus checks are too expensive for the federal government. Implementing them has been estimated to cost roughly $464 billion. But the senator called this "hypocrisy" after the Republican Party pushed for tax breaks for the wealthy in legislation two years ago.
On Thursday, as the battle over the check amounts continued for a third day in the Senate, McConnell criticized the CASH bill as "socialism for rich people," since more Americans would be eligible to get the $2,000 payment than the $600 payment.
In response, Sanders pointed to the 2018 Republican tax bill and argued that the party has "used this body to provide massive tax breaks to the rich, providing corporate welfare to corporations who don't need it."
"The argument that this bill in any significant way benefits the rich is just not accurate," Sanders said. But let us talk about who this bill does benefit. This bill benefits tens of millions of Americans who, as a result of this pandemic, have...lost their jobs."
He continued, "All that we are asking is give us the opportunity to vote up or down on whether or not working families in this country should be able to receive a $2,000 check."
Newsweek reached out to Sanders' office for additional comment but did not hear back in time for publication.