Trump is Allowing Right-Wing Extremists to 'Start a Race War,' Ex-DHS Official Says
A domestic terrorism expert who worked under President Donald Trump has accused his administration of downplaying the threat posed by right-wing terrorists.
Elizabeth Neumann, who stepped down in April as assistant secretary at the Department of Homeland Security (DHS) expressed concern at the portrayal by speakers at the Republican National Convention this week of lawless Democratic cities, where protests initially sparked by the death of George Floyd have raged throughout the U.S.
She said Trump's rhetoric ignored the far greater threat posed by groups such as white supremacists. "It is completely a sideshow to distract from the real threat and it's extremely dangerous," Neumann told Skullduggery, a Yahoo News podcast.
"There are multiple arrests that the FBI has conducted in the last few months at these peaceful protests where you have right-wing extremists coming in trying to take advantage of the cover of the protests to carry out these violent acts and they are trying to start a race war.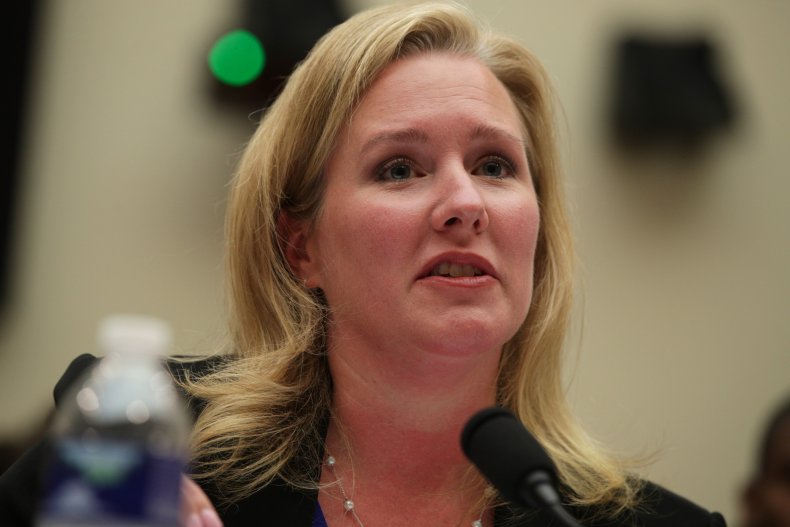 "They're very clear about their ideology and what they're trying to do and we won't say it. We won't call it like it is and that's a problem," she added.
Neumann, who also worked in the George W. Bush administration, said she had been alarmed at Trump's reaction to the white supremacist rally in Charlottesville in 2017 in which one person was killed and 35 injured, after which he said there were "very fine people" on both sides of the protests.
She went on to say that more Americans have been killed by white supremacists in the last five years than all other threats combined, and so the biggest threat is "right-wing extremism. It is not antifa."
"We need to have an honest discussion with the American people about the nature of this threat. Quite frankly, if we would just be honest about it, it would reduce the ability for people to be recruited because I think a lot of people don't appreciate what is happening when they are being recruited," she told Yahoo.
Neumann has endorsed Joe Biden and has featured in a new attack ad by Republic Voters Against Trump in which she says that the president's actions and his language "gave permission to white supremacists to think that what they were doing is permissible."
In the ad, she also took aim at his response to the coronavirus, saying he was "hired to handle America's worst day," adding "and you've absolutely failed."
Earlier in August, former DHS chief of staff Miles Taylor also came out against the president and endorsed Biden in a video for Republican Voters Against Trump.
Neumann and Taylor have formed the Republican Political Alliance for Integrity and Reform, or REPAIR, and are trying to get other former Trump officials to join them, Politico reported.
Newsweek has contacted the White House for comment.