Trump Ripped by Alex Jones for Recommending COVID Vaccines After Being Booed at Rally
Right-wing radio host and conspiracy theorist Alex Jones attacked Donald Trump after the former president was booed at his own rally over the weekend for recommending COVID-19 vaccination to his supporters.
"Shame on you, Trump. Seriously," Jones said on a Sunday episode of The Alex Jones Show. "Hey, if you don't have the good sense to save yourself and your political career, that's OK. At least you're going to get some good Republicans elected and we like you, but my God, maybe you're not that bright. Maybe Trump's actually a dumba**."
A day earlier, Trump was met with boos at a rally he held in Cullman, Alabama, when he encouraged the crowd to get vaccinated against COVID-19.
"I believe totally in your freedoms, I do. You gotta do what you gotta do, but I recommend take the vaccines. I did it. It's good," Trump told the crowd.
Amid the booing from his supporters, he continued, "That's OK, that's all right. You got your freedoms, but I happen to take the vaccine. If it doesn't work, you'll be the first to know, OK? I'll call up Alabama and say, 'Hey, you know what?' But it is working."
Reacting on his show, Jones said, "BS, Trump. That's a lie, you're not stupid. Just two weeks ago, they said it was 65 percent, then 40 percent. Saw a number put out about Pfizer shots, 30-something percent. Because they just want to tell you it doesn't work so you run and get the new damn shot. And then they'll tell you in six months that one doesn't work. It's called rope-a-dope."
Jones said that he still thinks Trump is a "good person" and that he "really cares about" the former president, but he slammed him for promoting the vaccines because of alleged pressure from the media.
"CNN snaps their fingers. [CNN President] Jeff Zucker snaps his fingers, and Trump clicks his heels and hops up there at attention and says, 'How high do you want me to jump, boss?'" the radio host said.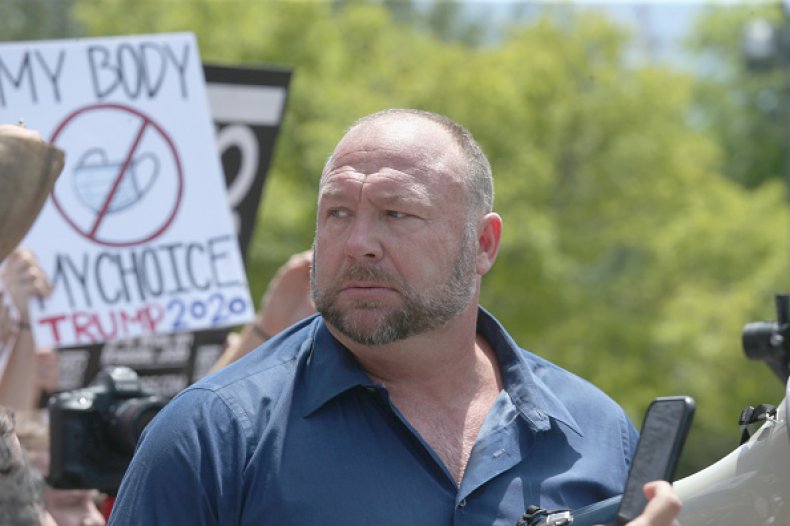 A number of prominent Republican officials and conservative media personalities have begun urging people to get vaccinated as the highly transmissible Delta variant causes coronavirus case surges and overwhelms hospital systems across the country with sick people.
But despite those efforts to join the Biden administration's messaging on the safety and efficiency of the vaccines, other GOP members have continued to spread misinformation.
Public health officials have emphasized that unvaccinated individuals make up the great majority of COVID-19 hospitalizations and deaths. Last month, the Centers for Disease Control and Prevention reported that unvaccinated people account for 97 percent of hospitalizations and 99 percent of deaths.
Newsweek reached out to Trump's representatives for comment but did not hear back before publication.