Trump at Risk for a Heart Attack With Dangerous Weight and Skyrocketing Cholesterol
The White House released details about President Donald Trump's health on Friday after his annual medical exam—and numbers don't lie. A statement from the White House on Friday said Trump is "extremely healthy." But the results of some basic screening tests look more concerning than those of his predecessor. Specifically, his weight and cholesterol could be putting him at risk for heart disease.
A military physician, Ronny Jackson, did the exam at Walter Reed National Military Medical Center. Jackson also performed former President Barack Obama's last physical in March 2016.
Heart health is among the biggest concerns for a man Trump's age—he is 71. Determining the health of Trump's heart relies on several factors, Dr. Elizabeth Roth, an internist at Massachusetts General Hospital, told Newsweek. Weight and cholesterol are two crucial issues.
Trump's body mass index, which is 29.9, means he's considered overweight. He's gained about three pounds since last year. That number is just squeaking under the line between "overweight" and "obese." (For comparison's sake, Obama's last reported BMI was 22.8.) Trump's total cholesterol has also risen from 169 last year to 223; his level of so-called "bad" cholesterol has also increased from 94 to 143. According to the NIH's MedlinePlus, those numbers are "borderline high."
These numbers put him at increased risk of heart disease or having a heart attack or stroke, according to joint guidelines from the American College of Cardiology and American Heart Association. However, Jackson said on Friday that Trump's heart health was also excellent. "He falls into a category that portends years of event-free living," he said.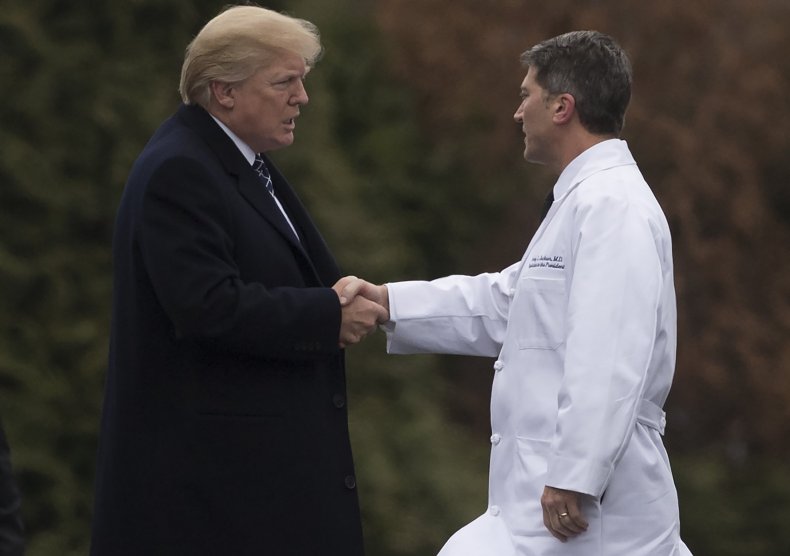 Trump's baseline risk for a heart attack is about 16 percent, according to one calculator that uses guidelines established by the American College of Cardiology and the American Heart Association. "That is your risk of having a heart attack in the next 10 years," Dr. Leigh Simmons, also an internist at Massachusetts General, explained. "If you take 100 people exactly like him and you put them in a room for 10 years, 13 of them would have a heart attack." Last year, Trump's 10-year risk for a heart attack was 13.9 percent.
By comparison, in 2016, Obama's risk likely would have been between 5.3 and 7.5 percent—just below the line that's typically used to define someone at an elevated risk of a heart attack.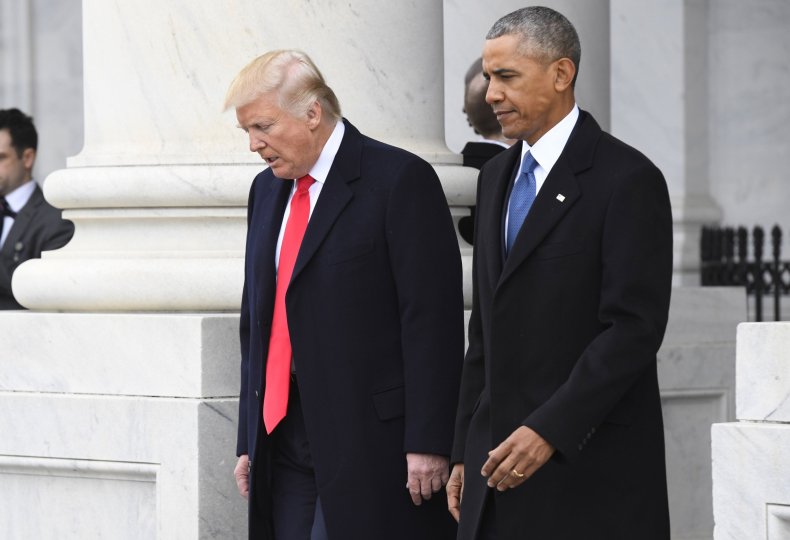 It's not surprising, then, that Trump has continued to take a statin and an aspirin. Both should lower a person's heart disease risk. "You can expect that a statin medication may lower one's risk of a heart attack by 30 to 40 percent," Simmons said. The benefits are especially noticeable for people whose risk is higher. According to the Mayo Clinic's Statin Choice Decision Aid, Trump's actual risk with his statin is probably closer to 13 percent.
Jackson noted that Trump would be increasing the dose of statin he is taking, which should decrease his risk further. "The dose of his cholesterol medicine is very low, so we have a lot of room to increase that," Jackson said on Tuesday during a press conference. But any benefit assumes Trump will take it regularly—which, Simmons noted, only about 50 percent of people do after six months.
Prostate cancer may also be a concern. For now, the best way we have to screen for prostate cancer risk is the prostate-specific antigen, or PSA, test. Trump's PSA result was within the limits of what has historically been considered normal, according to the National Cancer Institute. It's also lower than Obama's last reported PSA level, which was .84 ng/ml. (Notably, Trump has taken Propecia—also known as finasteride—in the past, which can lower a person's PSA levels.)
However, "prostate cancer screening is quite controversial," said Roth. Some believe the test is an important screening tool that can reduce the number of deaths from prostate cancer in a meaningful way; others claim the risks of treatment for prostate cancers that are detected may outweigh the benefit for some people. (The U.S. Preventive Services Task Force's guidelines on PSA screening are currently under review.) But as limiting as PSA is right now, this approach is the best we have, Roth said. "It's not that we have a better test to recommend, at this point."
Simmons emphasized that there was far more to assessing a person's (or a president's) health than the lab tests and their heart disease risk numbers. Physicals for older people also include discussions about fall risks, health care proxies, and cancer screening preferences. And finally, an annual exam can also include a depression screening and a conversation about a person's social support network. "If I could focus on one thing, it's on their mental health and their social connectedness and wellbeing."