Donald Trump Reportedly 'Riveted' by Brett Kavanaugh's Defiant Testimony: 'This Is Why I Nominated Him'
President Donald Trump was reportedly "riveted" by Brett Kavanaugh's defiant testimony Thursday as he defended himself following the charge of sexual assault by Christine Blasey Ford earlier in the day.
Kavanaugh opened his testimony with a statement different from the one released Wednesday, and he hammered the media, Democratic senators, and others for "character assassination" while vehemently denying ever committing sexual assault against anyone.
Trump was reportedly pleased with Kavanaugh's firebrand testimony, according to The Washington Post citing an unnamed source close to the president, as Trump said: "This is why I nominated him."
Ford delivered dramatic testimony before the Senate Judiciary Committee ahead of Kavanaugh's appearance, and her performance led to numerous reports about whether the president, White House and Republicans were in danger of losing a vote on Kavanaugh's confirmation.
Trump had publicly and consistently defended Kavanaugh, though he suggested Wednesday that he could be swayed by Ford's testimony.
But Kavanaugh appeared to take hold of phrases and attacks similar to those used by the president. Kavanaugh blasted "the left" for smearing his name and career while damaging his family as revenge for his investigation of President Bill Clinton and for Hillary Clinton losing the 2016 election.
Kavanaugh also appeared to call out comments by Senator Cory Booker of New Jersey. Though he did not refer to Booker by name, Kavanaugh referred to Booker's comment that support for his confirmation to the court would make a person "complicit in the evil."
The longtime federal court judge also teared up and had to pause his emotional testimony when speaking about one of his daughters and his father.
In his defense, Kavanaugh also noted the detailed calendars he provided to the committee that he claimed showed he was out of town throughout every weekend of the summer of 1982. Ford claimed the assault took place during that time period, but could not remember exactly when or where.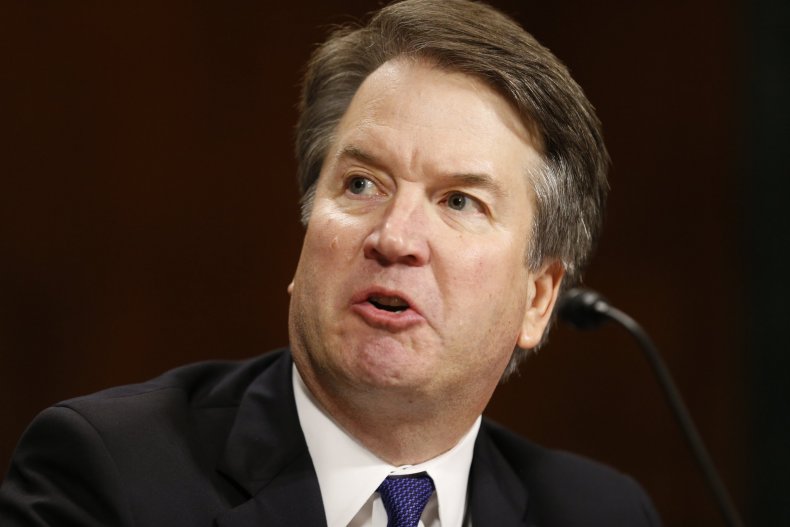 The president's eldest child, Donald Trump Jr., also offered praise for Kavanaugh and his attitude toward the committee.
"I love Kavanaugh's tone. It's nice to see a conservative man fight for his honor and his family against a 35 year old claim with ZERO evidence and lots of holes that amounts to nothing more than a political hit job by the Dems. Others in the GOP should take notice! " Trump Jr. tweeted.