Trump and RNC Out-Fundraise Biden and DNC by Nearly $30 Million in July
President Donald Trump's re-election campaign and the Republican National Committee raked in nearly $30 million more than the Democratic presidential candidate Joe Biden and the Democratic National Committee last month.
July marked the best-ever fundraising month for the RNC, with some $55.3 million in total contributions bringing the cash on hand total to nearly $110 million, The Hill reported on Thursday. When combined with the Trump campaign, Republicans brought in a whopping combined $169.3 million in July—or nearly $30 million more than the DNC and Biden.
The Biden campaign and the DNC previously reported that they'd raised about $140 million in July. Thus far in the 2020 election cycle, the Trump campaign and the RNC have brought in about $1.1 billion. In total, the GOP and the president have about $300 million of that on hand to spend.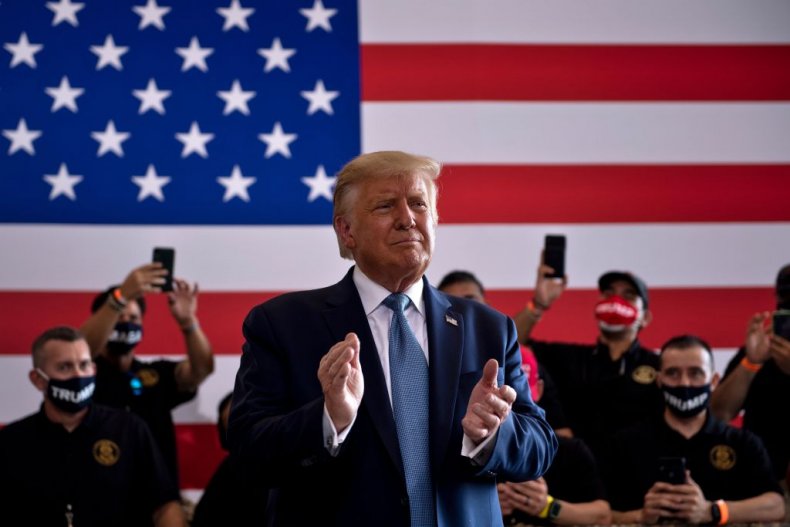 "Voters express their support for President Trump in many different ways and donating to his campaign is one of the most personal, because they feel invested in his successes and the future success of the country," Bill Stepien, Trump 2020 campaign manager, said in a press release emailed to Newsweek by the president's re-election campaign.
Newsweek reached out to the Biden campaign as well as the DNC and RNC for comment, but did not receive a response by the time of publication.
Biden campaign manager Jen O'Malley Dillon spoke positively of the July fundraising numbers earlier this month.
"Fueled by our growing community of grassroots supporters, we are rapidly expanding our operations around the country to create many paths to the 270 electoral votes we need to defeat Donald Trump this fall and win the battle for the soul of our nation," O'Malley Dillon told CNN.
In June, Biden out-raised Trump by about $10 million, but the Democratic candidate's overall war chest was just about $242 million compared to the president's $295 million.
Meanwhile, polling still shows Biden as the clear frontrunner less than 75 days out from Election Day. The current RealClearPolitics average of national polls shows Biden ahead by about 7.5 points, with the backing of nearly 50 percent of voters. A recent poll conducted by The Economist/YouGov from August 16 to 18 showed Biden ahead by 10 points, with the support of 50 percent of voters compared to Trump's 40 percent.
Perhaps more concerning to the GOP and Trump is Biden's lead in key battleground states, including Florida, Michigan, Pennsylvania and Wisconsin. Although the four states voted for Democratic President Barack Obama in 2008 and 2012, they went red for Trump in 2016. Democrats aim to win them back in November, and Biden currently appears to be ahead by a range of 5 to 6.7 percentage points in each state, according to the RealClearPolitics averages.
But Trump and his campaign officials have consistently dismissed negative polling. They argue most pollsters are biased against Trump and Republicans, while also pointing to the 2016 election when most polls suggested former Democratic presidential candidate Hillary Clinton would win. Although Clinton garnered nearly 3 million more votes than Trump, the president won big in the Electoral College by pulling off a series of wins in vital swing states.