Trump Rolled Back Obama-Era Policies on Health Care, Immigration, Climate—Biden Plans to Bring Them Back
President Donald Trump has a long history of rolling back policies instituted by his Oval Office predecessor, but the public can expect some of those initiatives to make a comeback with a Joe Biden administration.
The former vice president and presumptive Democratic nominee has already pledged to immediately reinstate several Obama-era policies on such issues as health care, immigration and climate change if he is elected this November.
Biden has spent much of his campaign on a platform that promises to return America to what he sees as the stability and decency of Barack Obama's leadership, often referring to the 2020 election as a "battle for the soul of our nation."
While Obama initially kept his distance and didn't endorse Biden during the Democratic primary, the two have recently been reuniting, with fewer than 100 days until the general election. Biden and Obama joined forces for a socially distant conversation on topics including the coronavirus pandemic, reviving the American economy, and the national push for racial equity and justice.
"The thing I've got confidence in, Joe, is your heart and your character and the fact that you are going to be able to reassemble the kind of government that cares about people and brings people together," Obama said in a 15-minute video.
National polling has shown Biden with a substantial lead over Trump. A YouGov survey from earlier this month found the former vice president ahead by 9 points. Of 1,229 registered voters surveyed, 49 percent backed Biden while 40 percent supported Trump.
The Trump campaign pushed back against Biden's plan to bring back the policies, arguing that the 2016 election was proof the policies were not popular among voters.
"Americans already rejected the former administration's radical left agenda by electing President Trump—and let's be frank, if Americans thought those policies were extreme, wait till they dive into Biden's socialist manifesto written by Bernie Sanders and AOC," Ken Farnaso, deputy national press secretary, told Newsweek.
Representatives from Biden's campaign did not respond to Newsweek's requests for comment.
Here are some of the biggest policy rollbacks Biden has promised to enact if he defeats Trump on Election Day:
Individual Health Care Mandate
Trump got rid of a key pillar of Obama's Affordable Care Act when he signed the Republican tax bill into law in 2017: the individual mandate. The mandate penalized people for not being covered by health insurance, requiring them to either purchase a plan or face a financial fee.
Biden confirmed during a CNN interview in July that he would bring back the individual mandate. His campaign has said it would be reinstated through a combination of executive orders and working with Congress on a legislated addition to Obamacare.
The former vice president's proposal also calls for a public option for insurance but doesn't go so far as to back Medicare for All—which has resulted in criticism from the Democratic Party's left wing. In a video posted last month, Biden said that he understood the appeal of a universal health care plan but that "folks supporting it should be clear that it means getting rid of Obamacare. And I'm not for that."
Deferred Action for Childhood Arrivals Program
Biden vowed to make the DACA program, which shields nearly 700,000 young undocumented immigrants from deportation, permanent on "day one" of his presidency if he is elected.
"I will continue to stand with DACA recipients, their parents and their families at every step, and in November, joined by millions across this country, we will reject the president who tried to rip so many of our family members, friends and co-workers out of our lives," Biden said in a statement in June.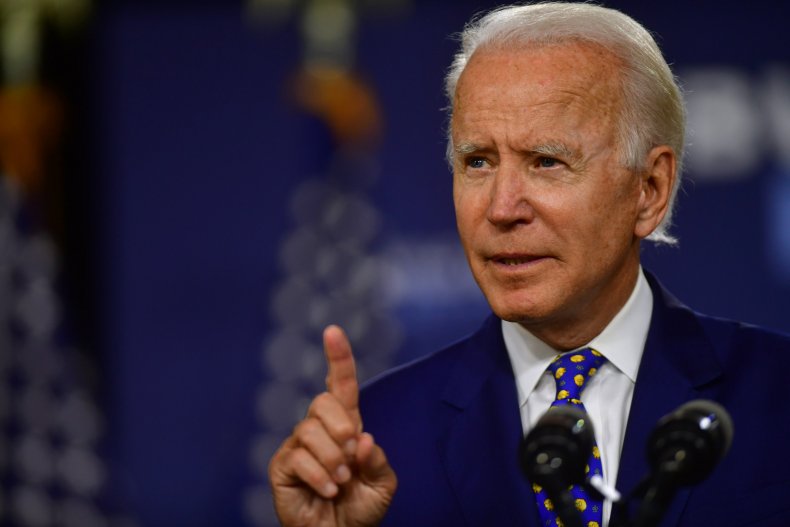 The statement came after the Supreme Court blocked the Trump administration from ending the Obama-era immigration program. Despite the court's ruling, the administration has refused to process new applications. Instead, it has put them on hold as the government determines the program's future.
"President Trump will stop at nothing to push his anti-immigrant political agenda, even at the expense of young people who have grown up in this country and are Americans through and through," Biden said in response to the administration's effort to reject new applications.
Paris Climate Agreement
Another "day one" promise for Biden is to have the U.S. rejoin the historic Paris Agreement, which was a cornerstone of Obama's environmental legacy. Under the 2015 agreement, nearly 200 nations pledged to cut greenhouse emissions and help poor countries cope with the worst effects of global warming.
"Biden will rejoin the Paris Agreement, but simply rejoining is not enough. Biden will use every tool of American foreign policy to push the rest of the world to raise their ambitions alongside the United States," the candidate's climate change and environmental justice proposal said.
The U.S. is officially set to exit the deal on November 4, just one day after the election. America is the second-largest emitter of greenhouse gases and responsible for the largest share of emissions to date.